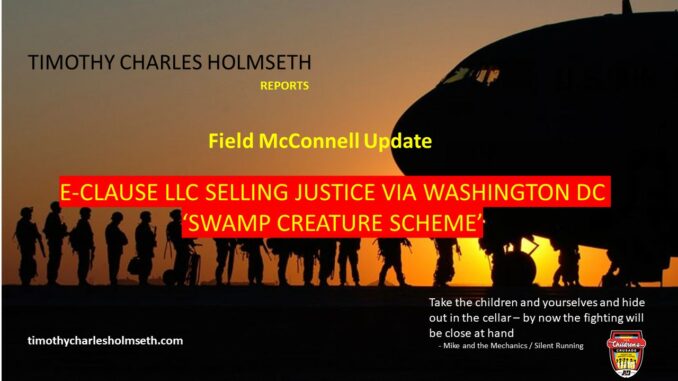 by Timothy Charles Holmseth on January 9, 2019 at 1:22 P.M
Has a man from Florida been attempting to sell justice through a scheme involving his license wherein he claims connections to high level Washington DC swamp creatures?
More specifically…
Could Chris Hallett, CEO, E-Clause LLC, lose his license, be sued, or even be criminally prosecuted for benefiting from the incarceration of former U.S. Marine Field McConnell?
According to an industry expert, Hallett may be in serious trouble regarding his actions as they pertain to McConnell and Timothy Charles Holmseth (this reporter).
It stems from E-Clause's fiduciary duties.
A fiduciary must not profit from the fiduciary position. This includes any benefits or profits which, although unrelated to the fiduciary position, came about because of an opportunity that the fiduciary position afforded. It is unnecessary that the principal would have been unable to make the profit; if the fiduciary makes a profit, by virtue of his role as fiduciary for the principal, then the fiduciary must report the profit to the principal. If the principal provides fully informed consent, then the fiduciary may keep the benefit and be absolved of any liability for what would be a breach of fiduciary duty. If this requirement is not met then the property is deemed by the court to be held by the fiduciary on constructive trust for the principal.
https://en.wikipedia.org/wiki/Fiduciary#No-profit_rule
In fact – E-Clause may be subject to several lawsuits.
Here's the backstory…
On November 4, 2019 Field McConnell, 70, Plum City, Wisconsin, was snatched off the street in front of his online radio studio in Plum City.
Kirk Pendergrass, agent, E-Clause, Idaho, was physically present when McConnell was kidnapped. Pendergrass then immediately began hosting McConnell's wildly popular program called The Field Report.
Pendergrass already hosted his own program with Chris Hallett called Kirk's Law Corner on Facebook and You Tube where Hallett and Pendergrass request donations and sell E-Clause merchandise.
Pendergrass and Hallett publicly stated that Pendergrass traveled to Wisconsin in November of 2019 to represent McConnell. McConnell, a 911 whistleblower against Boeing, had a list of grievances against government bad actors in Wisconsin who were targeting his property, and subsequently, his Constitutional rights and physical freedom.
Pendergrass and Hallett state the only thing Pendergrass was supposed to do for McConnell was file a grievance with the legislature regarding violations by bad actors in the Wisconsin government. They support this by pointing out McConnell was arrested after Pendergrass arrived – not before.
Pendergrass admits he planned to remain in Wisconsin for 4-6 months.
So…
Here's the details…
On November 4, 2019 McConnell was kidnapped (i.e. – arrested by Pierce County (Wisconsin) deputies based upon a fake court file number from Florida that does not even exist) while Pendergrass was present.
Pendergrass was already living with McConnell (for one day) and remained in contact with McConnell over the jail telephone. On many occasions thereafter, McConnell expressed his dismay as to why he was still being held in jail with no bail and no Grand Jury Indictment.
McConnell clearly believed someone was trying to secure his release.
However…
During a livestream show, Pendergrass said McConnell is in jail without bond and there is nothing anyone can do to get him out because he is awaiting extradition.
This where serious trouble may begin for Hallett and Pendergrass.
"There was no incentive for E-Clause to get Field McConnell out of jail because they were all benefiting from him being in jail. Chris Hallett would know this. Chris Hallett is licensed so he would know this," the expert said.
The expert continued.
"You have to get permission in advance before you take a benefit. E-Clause sat down in Field's studio chair almost immediately after Field was taken away in a cop car. An E-Clause agent kept hosting the show – show after show. Was there a prior agreement between E-Clause and McConnell for E-Clause to become the host of The Field Report? Did E-Clause receive donations from that day on? Were Field's subscribed viewers harvested? Did E-Clause benefit? If E-Clause received any consideration at all it would be a violation?" the expert said.
Evidence also shows the program called The Field Report is actually under the full control of a man from Canada who goes by the name "Eager Beaver". Pendergrass and E-Clause continue to work with Eager Beaver using Field McConnell's name, image, and plight of false imprisonment to entice audiences and solicit donations.
Hallett and Pendergrass recently published a video where they asserted the only thing E-Clause does is file grievances with the legislature – that they do not consider working with state or federal courts.
However…
That is not true.
Pendergrass and Hallett both engaged in strategic planning and communications between themselves, and with others attempting to assist McConnell, regarding the filing of documents with state and federal courts to secure McConnell's release.
Hallett and Pendergrass discussed that McConnell's release could be secured through a Writ of Habeas Corpus.
No documents were ever prepared or filed by E-Clause.
PATTERN OF DECEPTION BY E-CLAUSE FOR PROMOTION AND PROFIT – THE 'BADGE'
Chris Hallett has publicly and privately claimed he has been offered a special 'Badge' from 'Congress' that can be used to arrest bad actors in government. I (Timothy Holmseth) can find no evidence that any such "Badge" exists. I can find no such legal/lawful authority of any man/person/government/agency/etc to claim such powers. My only conception of a bad actor in government being arrested is by a Sheriff or U.S. Marshal. If such arrest powers exist it is above my pay grade.
Pendergrass filed documents in STATE OF MINNESOTA v. TIMOTHY CHARLES HOLMSETH wherein Pendergrass successfully challenged/demanded MINNESOTA show proof of jurisdiction over Timothy Holmseth, which MINNESOTA did not even attempt to prove (MINNESOTA did not file one single response whatsoever).
Hallett subsequently promoted E-Clause when he publicly stated on Facebook that E-Clause had Holmseth's MINNESOTA case expunged.
Chris Hallett, CEO, E-Clause LLC, announced the warrant issued for Timothy Holmseth no longer existed. "They couldn't obtain a warrant using sharia law. The warrant and process were not lawful. So we had it all #Expunged," Hallett said.

However, the case has not been expunged.
Hallett lied.
Hallet also told Holmseth STATE OF MINNESOTA admitted they 'never had standing' to bring criminal charges against Holmseth (an award winning news reporter charged for publishing and talking about organized crime and black market baby sales through the Ukrainian Embassy) based upon a Family Court order from Florida.
Holmseth contacted Hallett to request documents and a to ask for a progress report on his file and Hallett blocked his email.
Hallett's claims of huge success and connections to powerful officials were known to McConnell, and it appears McConnell fell for it to his own peril.