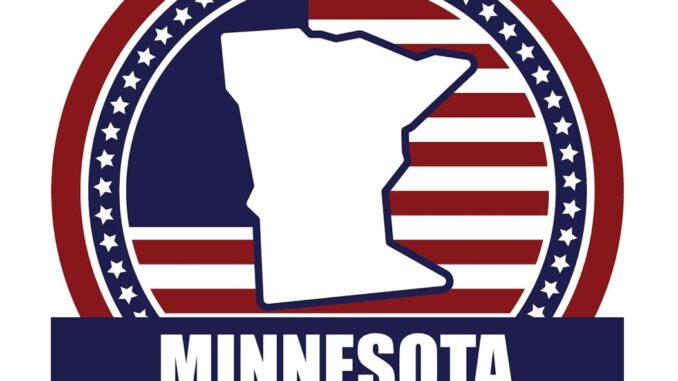 by Pentagon Pedophile Task Force on September 28, 2021 at 3:21 P.M.
Ten officials in Stearns County, Minnesota abruptly took their oaths to the Constitution of the United States and the State of Minnesota today.
But this was not your regular swearing-in ceremony – and the implications are profound.
The Minnesota officials took their oaths following a debate that started in March, 2021 regarding real estate records that were being held by an unapproved third-party vendor.
In March, 2021 Randi L. Erickson, a Minnesota Notary, contacted Jeff Johnson, Property Services Director, Stearns County, Minnesota, and asked Johnson why all the real estate records were not being kept at the Stearns County Recorder's Office as required by law.
Erickson said the records were being kept online – and, that the records were being split up between two different vendors – one which was not approved by the County Board, which Erickson said is "unlawful".
Erickson subsequently asked Johnson to provide her with a copy of his Oath of Office, which Erickson said, is required if you work in a position of "public trust".
According to Erickson, Johnson said he was advised by the Stearns County Attorney's Office that he was not required to take that oath under Minnesota law.
On September 16, 2021 Erickson emailed Johnson and said:
~begin~
Good Morning Jeff and Rita..
I am going to show you.. that both you and Rita, as persons appointed  (you want to say the word "delegated") to a position in public trust (Jeff you are claiming the title of "Land Services Director" and Rita is claiming "County Recorder", you both MUST take an oath of office.  That Oath of office, must be taken regardless of what you are told.. by the bar member called the county attorney
US Code 3331 – Oath of offices
An individual, except the President, elected or appointed to an office of honor or profit in the civil service or uniformed services, shall take the following oath: "I, AB, do solemnly swear (or affirm) that I will support and defend the Constitution of the United States against all enemies, foreign and domestic; that I will bear true faith and allegiance to the same; that I take this obligation freely, without any mental reservation or purpose of evasion; and that I will well and faithfully discharge the duties of the office on which I am about to enter. So help me God." This section does not affect other oaths required by law.
https://www.law.cornell.edu/uscode/text/5/3331
5 U.S. Code § 3331 – Oath of office | U.S. Code | US Law | LII / Legal Information Institute
All but the quoted language in R.S. § 1757 is omitted as obsolete since R.S. § 1757 was originally an alternative oath to the oath prescribed in R.S. § 1756 which oath was repealed by the Act of May 13, 1884, ch. 46, § 2, 23 Stat. 22.The words "An individual, except the President, . . . in the civil service or uniformed services" are substituted for "any person . . . either in the …
EITHER ELECTED OR APPOINTED !!
CIVIL SERVICE MEANING – Permanent professional branches of a government's administration, excluding military and judicial branches and elected politicians.
AND FROM BLACK LAW DICTIONARY MEANING: The administrative branches of a government.  The group of people employed by these branches.
THIS IS A FORMAL DEMAND… that both you and Rita take the oath of office with regards to your positions you claim to hold.. or I (as an officer of the court) must move forward to impeach or have you both removed from offices you are claiming to run. I expect those oaths of offices to be placed in the record in the offices of the County Recorder immediately.
Regards,
Randi Erickson,
Notary Public commission #20049304:
MN abstractor license 40605145
~end~
On September 28, 2021 Johnson emailed Erickson and advised her that ten oaths were taken and provided Erickson with copies.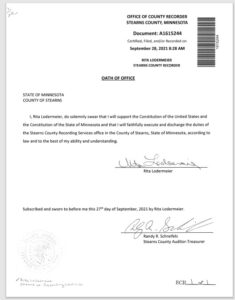 Oath of Office and Appointments
RANDI L. ERICKSON BEING HUNTED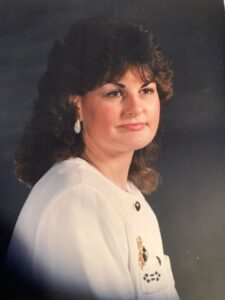 Randi L. Erickson is a licensed abstractor in the State of Minnesota; a licensed broker in the State of Florida; former Deputy Recorder/Registrar of Titles in Anoka County, Minnesota; a former Tribunal Judge in Blaine, Minnesota; and former city council member in the City of Nowthen, Minnesota. Erickson is required to pass regular FBI checks.
Erickson is being targeted because she stayed loyal to her oaths and commission after seeing the Constitutional rights of a Minnesota news reporter named Timothy Charles Holmseth being violated. Erickson observed Holmseth was being victimized in a racketeering scheme that violated THE HOBBS ACT.
In 2019, Erickson purchased the website www.timothycharlesholmseth.com, as well as all of the investigative work-product of award-winning news reporter Timothy Charles Holmseth. Erickson is presently the publisher of www.timothycharlesholmseth.com
Erickson is an acting member of the Pentagon Pedophile Task Force, which was formed within the White House of President Donald J. Trump and gathers actionable intelligence of international crimes through the United States Army Intelligence Support Activity, which is then turned over to the U.S. military through Joint Special Operations Command via a special liaison to President Trump.
Records show Erickson's Elk River, Minnesota home has been swatted multiple times by Anoka County Sheriff's deputy's who were colluding with operatives connected to Hillary Clinton's former personal security guard, Navy SEAL Craig Randall (Sawman) Sawyer, founder of the fraudulent CIA black operations called Veterans For Child Rescue Inc, Arizona.
Sawyer's CIA black operation is tied to VP Michael Pence and other high level government officials who are operating the largest human trafficking and human harvesting operation in the history of mankind.
Sawyer is publishing fake WANTED/REWARD posters featuring the faces of Randi Erickson and Timothy Charles Holmseth and distributing them all over the world.
Sawyer is offering $2,000.00 for information leading to the "location" and "arrest" of Erickson; despite Erickson having no criminal record and a lifetime of passing FBI background checks.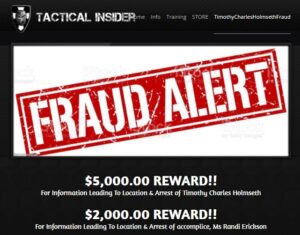 READ ALSO…