Chelsea Clinton, Ashton Kutcher, Demi Moore, and Big Tech confess to 'working with' [possession of] child porn with no law enforcement oversight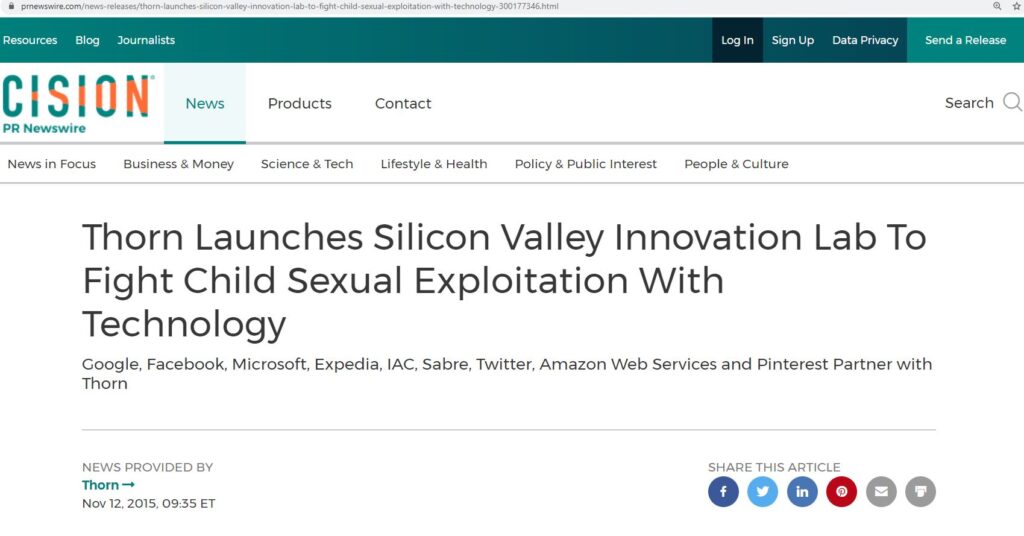 by Lisa C. Melbourne on August 25, 2020 at 9:51 A.M.
Attention: President Trump, U.S. Military (JSOC), U.S. Department of Justice, U.S. Attorney General Bill Bar, U.S. Attorney John Durham, U.S. Department of Homeland Security, Federal Bureau of Investigation:
EVIDENCE: There exists in the United States today, a collective of psychotic criminals that are engaging in crimes against children, and crimes against humanity, under the guise and excuse that the crimes being committed are "research".
Chelsea Clinton, Ashton Kutcher, Demi Moore, and a gamut of Big Tech corporations publicly announced they have a physical brick and mortar "lab" where they are privately working with data and Dark Web material involving sex crimes against children.
Of course…it is impossible to create software, or engage in any type of process designed to combat sex crimes against children, without accessing, viewing, receiving, or possessing material/data that meets the definition of child pornography and/or child exploitation under U.S. Criminal Code.
The aforementioned criminal collective published a summary wherein they admit they privately possess the forbidden material.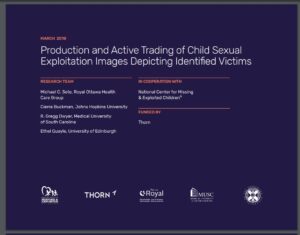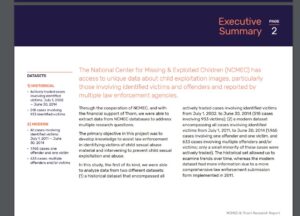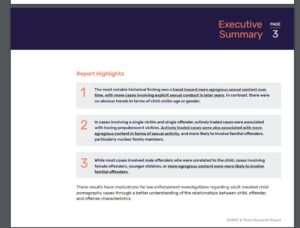 Note: Timothy Charles Holmseth (news reporter for the Pentagon Pedophile Task Force [operating under Presidential Executive Order through Joint Special Operations Command contact] was personally contacted and warned in writing by Hillary Clinton's former body guard, Navy SEAL (SEAL TEAM 6) Craig Sawyer, president, Veterans For Child Rescue, that Sawyer's "Team" is coming to get Holmseth after he (Timothy) began to expose this information.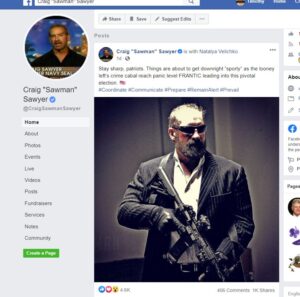 The following (below) describes federal law regarding child pornography.
~begin~
Child pornography under federal law is defined as any visual depiction of sexually explicit conduct involving a minor (someone under 18 years of age). Visual depictions include photographs, videos, digital or computer generated images indistinguishable from an actual minor, and images created, adapted, or modified, but appear to depict an identifiable, actual minor. Undeveloped film, undeveloped videotape, and electronically stored data that can be converted into a visual image of child pornography are also deemed illegal visual depictions under federal law.
Federal law prohibits the production, distribution, reception, and possession of an image of child pornography using or affecting any means or facility of interstate or foreign commerce (18 U.S.C. § 2251; 18 U.S.C. § 2252; 18 U.S.C. § 2252A).
~end~
Yesterday, Timothy Charles Holmseth REPORTS reported Chelsea Clinton, Vice Chair of the Clinton Foundation, and Director, IAC, was behind the Daily Beast hit-piece that attacked the QANON movement.
Daily Beast published a two part series that focused squarely on Epstein/Ukraine child trafficking expose' reporter and FBI witness Timothy Charles Holmseth, and, Boeing Uninterruptible Auto Pilot/Ukraine Baby Sales Whistleblower Field McConnell.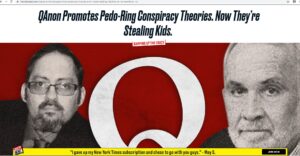 The Daily Beast story set the stage for a news reporter to ask President Trump about QANON – thrusting the subject into the mainstream news where FOX NEWS and other shows are now badgering public officials such as U.S. Representative Steve Scalise and White House Chief of Staff Mark Meadows to denounce and disavow the Q movement as a "domestic terror threat".
During a White House press briefing a news reporter asked President Trump about, "…this belief that you are secretly saving the work from this satanic cult of pedophiles and cannibals. Does that sound like something you are behind?"
Wallace asked Meadows about "QANON – a conspiracy theory group that the FBI has called a domestic terror threat."
However…
Wallace and other fake news presenters are engaging in flagrant deceit, and in many instances, through the use of public airwaves, posing a serious threat to public safety when they deliberately and cynically use the phrase "conspiracy theory" to discuss the horrors and crimes against humanity being brought to light by QANON.
Deep State bad actors at FOX NEWS and other major (public airwaves) networks, as well as a gamut of Big Tech operatives, already acknowledge that they factually know about the horrors of child sex trafficking, child pornography, and depraved crimes against humanity that exist on the Dark Web.
They know, because they, themselves, as a collective, have publicly stated in their own press release(s) that they have a special lab in Silicon Valley, California where they are working with and processing child sex crime data. 
In 2015 the following was published on CISION PRNewswire.
~begin~
Thorn Launches Silicon Valley Innovation Lab To Fight Child Sexual Exploitation With Technology
Google, Facebook, Microsoft, Expedia, IAC, Sabre, Twitter, Amazon Web Services and Pinterest Partner with Thorn
LOS ANGELES, Nov. 12, 2015 /PRNewswire/ — Thorn: Digital Defenders of Children, a non-profit organization dedicated to driving technology innovation to fight child sexual exploitation, announced today the launch of The Thorn Innovation Lab in Silicon Valley. The Lab will serve as a physical think tank for a team of engineers and data scientists to research technologies, create partnerships and build innovative technology solutions to fight child sexual exploitation.
~end~
Google, Facebook, Microsoft, Expedia, IAC, Sabre, Twitter, Amazon Web Services and Pinterest are partners with Thorn.
Big Tech corporations and their employees are NOT LAW ENFORCEMENT.
What is Thorn?
Thorn: Digital Defenders of Children, previously known as DNA Foundation, is an international anti-human trafficking organization that works to address the sexual exploitation of children.
Thorn's founders are Ashton Kutcher and Demi Moore. 
CHELSEA CLINTON – DIRECTOR, IAC
According to the IAC website, Suzanne Kennedy, Director of the Office of the Chairman, Head of Philanthropic Giving for IAC, was behind "the launch of the Innovation Lab at Thorn: Digital Defenders of Children."
POSSESSION OF CHILD PORNOGRAPHY BY NON LAW ENFORCEMENT, PERSONS, AND ENTITIES 
The November, 2015 PRNewswire press release further stated:
"Technology plays a huge role in child sexual exploitation and we are committed to making the Internet a more hostile environment for predators," said Ashton Kutcher, Co-Founder, Thorn. "Our focus at Thorn, and especially through the Lab, is to harness the best and the brightest minds in technology to be a part of the solution and create proactive tools to stop this abuse."
The Lab's initial areas of focus include child sex trafficking, dark web child abuse and exploitation, and social platform cybersafety. Technically, these initiatives will span a wide variety of engineering and analysis topics relevant to cybersecurity and intelligence, including adaptive crawling, statistical analysis, search, machine learning (image processing, natural language processing, time series analysis), entity resolution, data pipeline development, UX design and API design. Concepts generated through the Lab will be directly deployed through Thorn's programmatic work or through the work of its partners.
"Unfortunately, all too often individuals have chosen to use the Internet to exploit children. At Google, we have taken many proactive steps to stop our platforms from being used for this type of abuse," said Susan Molinari, Vice President of Public Policy and Government Relations at Google. "Google.org, our philanthropic arm, has invested nearly $20 million in organizations fighting child exploitation and human trafficking. We are proud to lead this investment in Thorn to help create a center 100% dedicated to creating good applications of technology that will help protect children, find victims and stop abusive behavior."
The You Tube video below constitutes evidence of federal crimes committed by Ashton Kutcher and other subjects speaking.
CRIMES AGAINST HUMANITY EXCUSED/JUSTIFIED AS 'RESEARCH' 
"…research collected in the field…" is a vague cover statement which likely translates to a veiled confession of kidnapping, child sex abuse, trafficking, torture, and murder, which is done in the name of 'research'.