2100 CAGED KIDS IN TUNNELS RESCUED BY US MARINES IN CALIFORNIA – TAKEN TO HOSPITALS – MOST BELIEVED TO BE ABDUCTED BY CPS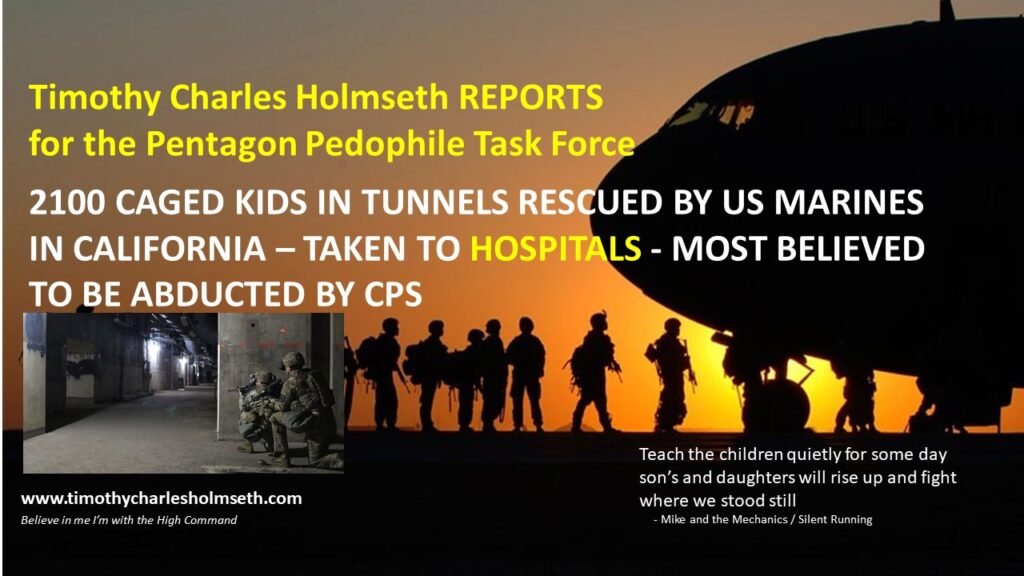 by Timothy Charles Holmseth on April 1, 2020 at 9:44 A.M.
On October 14, 2019 the Pentagon Pedophile Task Force reported 2,100 children were rescued by U.S. Marines from underground bases in California.
The children were rescued during night raids conducted by U.S. Marines using night vision at five different locations in California.
The military had PG&E cut the power in advance.
The children were held in hell-on-earth conditions of Biblical proportions.
My source, who I will refer to as Pentagon 1, referenced movies such as It, The Matrix, Back to the Future, and The Wizard of Oz to describe the insanity.
There were arrests and the children were taken to various medical and psychiatric facilities.
"I'm almost going to guarantee the majority probably came from CPS," said Pentagon 1.
The children's ages are "anywhere from three to seventeen," Pentagon 1 said.
"There's both girls and boys. I would say mostly girls but there's both. All their needs are being met right now. They are being taken care of – the military has stepped up," Pentagon 1 said.
"Not all those kids are making it. There all in base hospitals. There all trying to be fixed up and made whole and get some nutrition in them and they were in incredibly bad shape. And it's going to be a long lengthy process to get those kids back on their feet" Pentagon 1 said.
"To investigate – to find all their parents – I mean it's going to be a freakin' nightmare," Pentagon 1 said.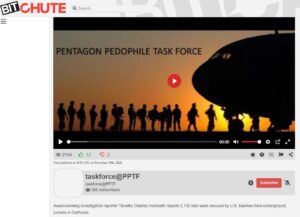 https://www.youtube.com/watch?v=v-WnXh-yhvU&feature=youtu.be&fbclid=IwAR1eTsK0g1ZUxXHhrmzqflJTx8AMPvqFgfIle3ED4K0E-uWS_waxPboAAhM
THE NIGHT-TIME RESCUE OPERATION
Pentagon 1 said the operation was done under cover of darkness.
"Why do you think PG&E shut the power off? That was the military telling PG&E to shut the power down they got to go in in the dark. So, they went in with all night vision – all in the dark. They did this stuff in the middle of the night," Pentagon 1 said.
"And they blew – all those underground fires was because [those] military boys were pissed. They just blew it. There was tremendous amount of emotion there," Pentagon 1 said.
THE TRUMP WALL
"A lot of [the children] are not from the U.S. A lot of Spanish (children) from Mexico and Guatemala and South America. You know? Who knows who their freakin parents are? That's a big reason [Trump] is putting up the wall. It's to protect all of us – everybody," Pentagon 1 said.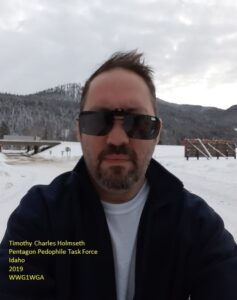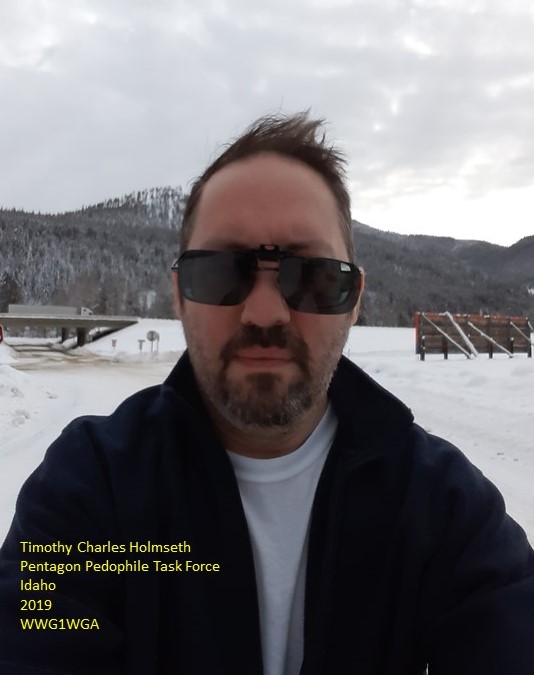 About Author