CHILD PORN, BABY PORN, and ANIMAL PORN in U.S. COURT – MINNESOTA

by Pentagon Pedophile Task Force on September 12, 2022 – USA
Timothy Charles Holmseth posted a link to the following video on Truth Social on September 10, 2022.
~begin~
CHILD PORN, BABY PORN, and ANIMAL PORN in U.S. COURT – MINNESOTA
There is a [SEALED] document from the U.S. Court in MN that has been leaked onto Web that reveals Tracy-Jo Remington reported information about child rape and beastiality.
The document is referred to as Page 1 of 1. However, according to a source, the Clerk of Court broke the Certified Copy Seal created by the Notary, Randi Lynn Erickson, and the filing actually contained 38 pages.
It's published at cathyfox.wordpress.com/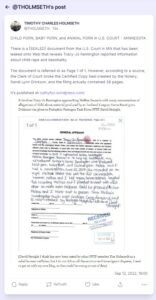 About Author