DID JAMES 'WHITYEY' BULGER LOOK-A-LIKE WILLIAM K. MURTAUGH MAKE THE ANONYMOUS CHILD PORN TIP TO NCMEC THAT RESULTED IN CHILD PORN RAID AND ARREST OF JUSTIN FOLEY IN OHIO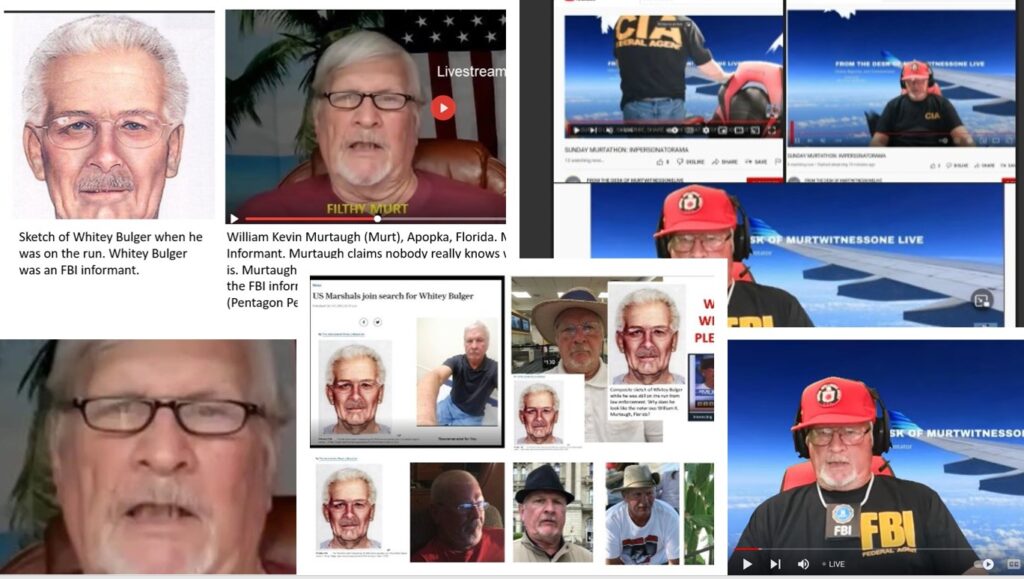 Pentagon Pedophile Task Force on October 18, 2022 – USA
Did an FBI operative and impersonator from Florida (who is a dead ringer for the U.S. Marshal's sketch of FBI informant and serial killer James 'Whitey' Bulger) participate in a conspiracy to plant pornography on a judge's telephone?
Evidence is rapidly emerging that William K. Murtaugh, Apopka, Florida, may be involved in the 'anonymous' tip that sparked the child pornography raid and arrest of Justin Foley in Ohio.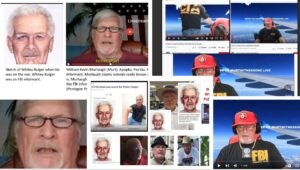 BACKGROUND
On August 13, 2022, Alexandria Goddard, Ohio, texted a photo of a very small vagina to former Minnesota judge Randi Lynn Erickson.
Facts and evidence easily show Goddard was attempting to plant the image on Erickson's telephone.
Leary of the strange photo that only featured the mid-section of a small naked female with no pubic hair and possibly some bruising, Erickson contacted a friend connected to law enforcement in Minnesota. Her friend told her to report the image to law enforcement in the jurisdiction from where it was transmitted.
Erickson contacted the Belmont County Sheriff's Office in Ohio (where Goddard resides) and tried to file a report; but the Sheriff refused to take a report. The Sheriff referred Erickson to the Martins Ferry Police Department, and they refused to take a report. Erickson then traveled to the Tennessee Bureau of Investigation (TBI) headquarters in Nashville and met with agents regarding the image of the vagina and a human trafficking operation in Tennessee. The image was presented to the TBI agents.
Subsequently – Timothy Charles Holmseth turned the image over to the Belmont County Clerk of Courts and a Prosecuting attorney named Kevin Flanagan.
Erickson contacted the investigator in charge of the Justin Foley child pornography case and prosecution in Ohio and explained facts and circumstances surrounding the photo Goddard sent to her (Erickson). Erickson requested the investigator compare the Goddard vagina image to the evidence seized from Foley to see if there is a match.
Holmseth sent the image via FED EX to the Cleveland FBI, Ohio Attorney General, and the Ohio Attorney General's commission on organized crime.
UPDATE
Emerging facts and information show that William K. Murtaugh, Apopka, Florida, has taken a suspicious interest in the pornographic image that was transmitted to Erickson by Goddard.
Murtaugh is a very close media associate of Goddard.
On October 11, 2022, a video entitled, OHIO INVESTIGATOR ON JUSTIN FOLEY PORN CASE TALKS TO RANDI ERICKSON ABOUT ALEX GODDARD VAGINA PHOTO
The call features Erickson suggesting to the investigator that there may be a connection between Goddard, Justin Foley, and the anonymous tip that was sent into the National Center for Missing and Exploited Children on August 16, 2022.
Murtaugh was never mentioned during the call.
Shortly after the video was published, Murtaugh, an FBI impersonator who has made the mainstream news in Florida for his involvement in missing child cases, and who has been accused by many of being a child rapist and serial killer, logged in to Bitchute and began making comments under the video of Erickson talking to the investigator.
Murtaugh's comments are nothing short of astonishing.
"Looks like Randi may have earned herself a felony. That call was not a bright idea. I have a phone also," Murtaugh said.
After being laughed at for referring to a tip as a felony, Murtaugh responded. "It is not a tip. It is obstruction and providing false information to law enforcement. I also have a telephone capable of giving "tips," Murtaugh said.