"DO YOU WANT TO SEE MY PUSSY?"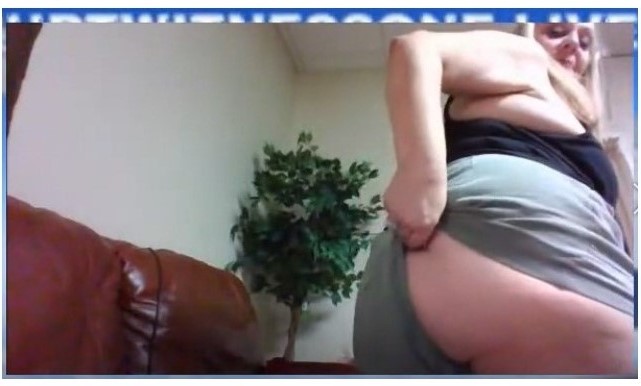 Pentagon Pedophile Task Force on November 13, 2022 – USA
August 12, 2022 – STATE OF OHIO charges Randi Lynn Erickson (and Timothy Charles Holmseth) for "stalking" based upon (according to Alexandria Goddard in live interviews [there is no other public record whatsoever of the details of the charges]) a message left by Erickson on an answering machine at a California number for Goddard.
August 13, 2022 – Alexandria Goddard text messages Randi Erickson and invites her to watch her have sex online. Goddard repeatedly asks Erickson if she wants to see her (Goddard's) "pussy". Goddard then tells Erickson she (Goddard) has to Facetime her boyfriend and "get him off". Goddard said, "you want to watch?" Goddard said she would be right back because "he gets off fast". Goddard then said, "he came". Goddard, who is morbidly obese, then texts a photo of a small naked female (no face) that is zoomed in on the small vagina with no pubic hair and strange bruising – possibly a corpse.
Now… what was that again about stalking?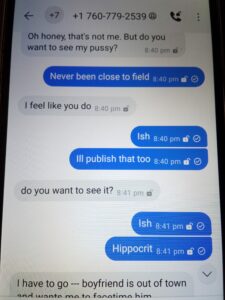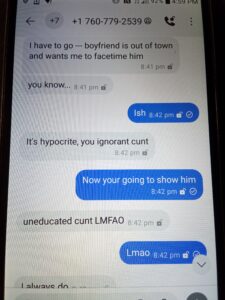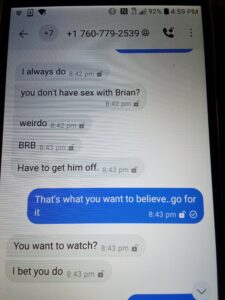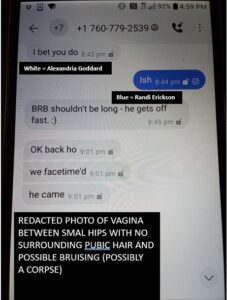 CLICK HERE TO LEARN ABOUT ADMITTED KIDNAPPER, RAPIST, AND SEXUAL TORTURER (WHO KIDNAPS AND RAPES AND SEXUALLY TORTURES VICTIMS WITH OHIO COPS) ALEXANDRIA GODDARD