FBI [WILLIAM MURTAUGH] REPORTS TO THE PUBLIC THAT TIMOTHY HOLMSETH IS PROVIDING THE U.S. COURT A BOGUS ADDRESS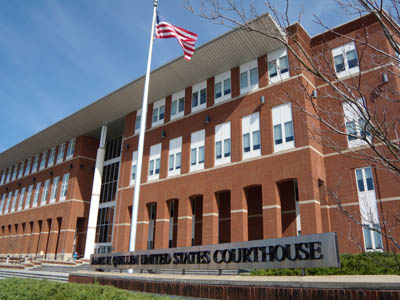 by Pentagon Pedophile Task Force on July 28, 2023 – USA
Yesterday we reported, "BREAKING NOW: HUNTER BIDEN COURT FILE TAMPERING CASE ONLY THE TIP OF THE ICEBERG! [U.S. MAIL FRAUD] [U.S. COURT]".
William Kevin Murtaugh, Apopka, Florida, reporter and commentator, From The Desk of Murtwitnessonelive, is reporting on his Twitter account @MURTWITNESSONE about a mail piece that appeared on PACER for Case Number 2:23-cv-00011, Eastern District of Tennessee.
Murtaugh posted a photographic image of U.S. Mail that was scanned in by the U.S. Clerk of Court, that had been mailed on June 29, 2023, and subsequently returned to the Clerk as undeliverable.
Murtaugh reported, "TIMMY'S BIG LIE. THE TRUTH HERE IS THAT THE PO BOX WAS DEACTIVATED BY HOLMSETH IN MARCH OF 2022. HE LOVES TO LIE TO HIS CULT. NOTE THE "RETURN TO SENDER STICKER. PROVIDE A VALID ADDRESS TIMMY.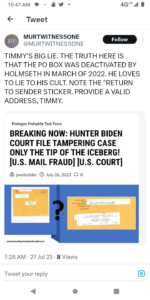 Murtaugh also posted a photo on Twitter of a business and said, "THIS IS THE LOACATION OF TIMMY'S FORMER PO BOX ADDRESS. HE IS SCAMMING HIS CULT".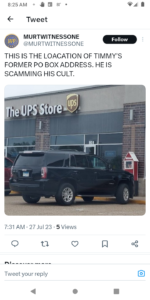 Records show Murtaugh is named in the federal case in Tennessee's Eastern District. Records show that he reported on his news program that he met with the FBI and Tennessee Bureau of Investigation (TBI) in Florida to investigate a photograph of a vagina that was on his telephone. Murtaugh said a thorough investigation involving himself, FBI, and TBI was conducted, and that they identified the faceless female whose small vagina was shown on an image on his telephone. Murtaugh said it was not a child and further said the case was "closed".
An Order from the U.S. Court was issued that appears to reference the "illicit image" that was placed into the record by Holmseth.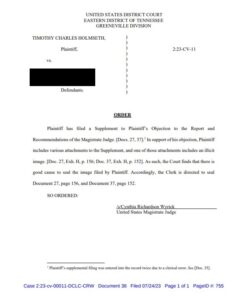 An entry in the PACER records shows a report was sent to the FBI by Holmseth.

The Report sent to the FBI reportedly involves Murtaugh and posts Murtaugh made on Twitter in reference to the possibility of him being the infamous mobster and FBI informant James 'Whitey' Bulger.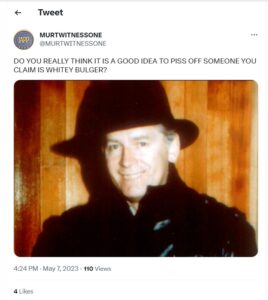 There is increasing speculation and suspicion surrounding Murtaugh's identity because he appears to be the same man shown in an FBI sketch that was published by the U.S. Marshals of James 'Whitey' Bulger.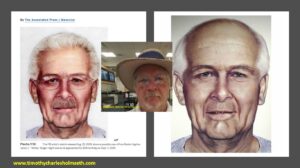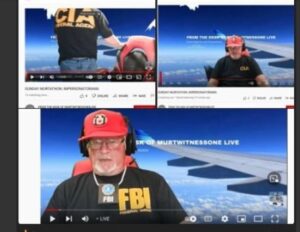 About Author