LIBERTY GERMAN'S GRANDMA TALKS TO NBC ABOUT "PHOTOS" [MYSTERY SURROUNDS SMALL NAKED FEMALE IN PHOTO SENT TO INDIANA STATE POLICE]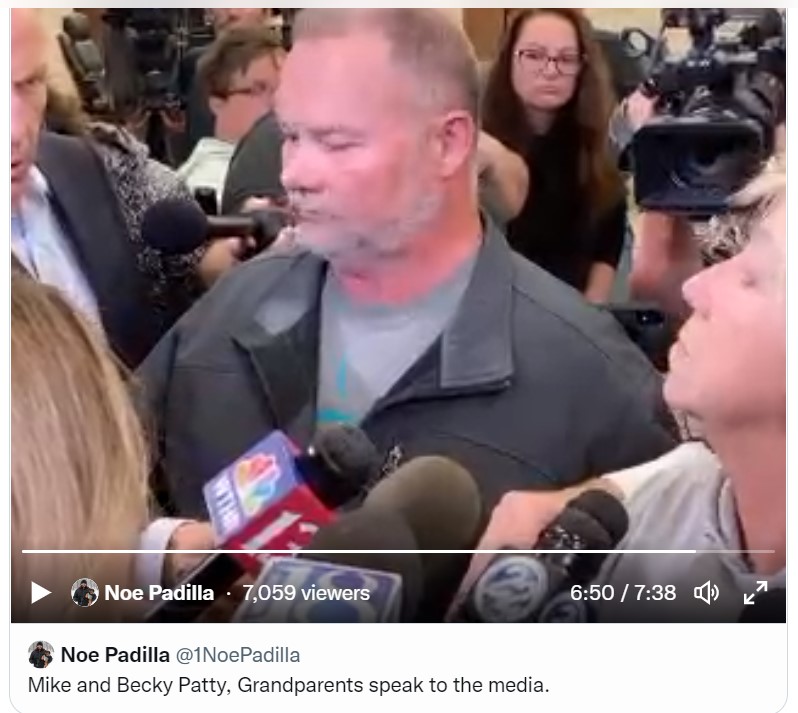 by Pentagon Pedophile Task Force on November 3, 2022 – USA
Mystery surrounds the identity of a small naked female whose private parts were featured very close-up in a disturbing photograph, that has now been submitted to the Indiana State Police (ISP) as evidence in the Delphi murder case.
The photograph was submitted as evidence via FED EX to ISP Superintendent Douglas G. Carter by investigative journalist Timothy Charles Holmseth on November 1, 2022.
The disturbing photo of the small naked female with no pubic hair and strange varying colors on the skin (possibly bruising) (possibly a corpse) was first brought to the attention of law enforcement after it was texted to a former Minnesota judge named Randi Lynn Erickson by Alexandria Goddard, Martins Ferry, Ohio, on August 13, 2022.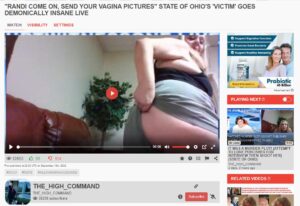 Goddard is a public figure who describes herself as an "investigator" "Guardian Ad Litem" and advocate who fights against "rape culture". Goddard says she testifies in court on behalf of children, and recommends the children be taken away from their parents if they are "pieces of shit".
However, evidence shows Goddard herself is a sadistic rapist. Goddard publicly boasted to the NEW YORKER and other media that she once conspired with local police in Ohio to kidnap a man and sexually torture him with "hot sauce" while he was handcuffed to a bed and "crying". Goddard appeared on a You Tube show hosted by Levi Page, Tennesse, called 'Crime and Scandal' where she giggled and laughed about torturing children in her basement to raise their adrenochrome levels.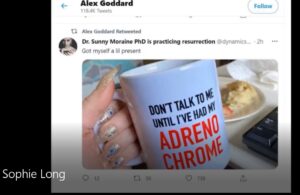 Erickson told Goddard during their text communications that she (Erickson) was going to travel to Ohio and report Goddard. Erickson told Goddard she was going to go the courthouse in Belmont County, Ohio and alert authorities about the 'vagina' photo.
Goddard quickly arranged to have Erickson (and Timothy Charles Holmseth) criminally charged with stalking by police. According to the Belmont County Court's website, Erickson and Holmseth were charged by the STATE OF OHIO on August 16, 2022, for an offense they allegedly committed on August 12, 2022.
The charges are a complete fabrication.
Erickson and Holmseth were not together on August 12, 2022, and neither were in Ohio. The false charges appear ridiculous on their face because Goddard texted the vagina photo to Erickson on August 13, 2022 (the day AFTER she was allegedly 'stalked'), and then repeatedly taunted Erickson via text messages to come to her home (which Erickson did not do because she wasn't in Ohio).
Erickson was very concerned about the photograph of the vagina Goddard texted to her and tried to report it to the Belmont County Sheriff's Office, and Martins Ferry Police Department in Ohio but both refused to take a report – even hanging-up on Erickson.
On September 13, 2022, Holmseth submitted a USB flash drive and affidavit to the Belmont County Clerk of Court and Prosecutor Kevin Flanagan that contained the text exchange between Erickson and Goddard. The text exchange featured the 'vagina' photo.
Belmont County did not record receipt of the evidence on their website's Register of Actions.
THE JUSTIN FOLEY CHILD PORN ARREST IN COLUMBUS OHIO
On September 20, 2022, law enforcement in Ohio arrested a schoolteacher from Columbus named Justin Foley on charges of child pornography. News reports said the Justin Foley arrest was sparked by a tip that came into the National Center for Missing and Exploited Children on August 16, 2022 (the exact same day STATE OF OHIO charged out-of-state residents Erickson and Holmseth with stalking Goddard).
Erickson and Holmseth saw the news report regarding the arrest of Justin Foley and started seeing red flags popping up everywhere.
Erickson subsequently telephoned the investigator on the Justin Foley case and alerted him to the strange photograph of a small naked female texted to her (Erickson) by Goddard. Erickson told the investigator she believed Goddard attempted to plant the pornographic image on her (Erickson's) phone. Erickson asked the investigator to obtain the photograph from the Belmont County Court and compare it to the child porn photos seized from Foley to determine if the 'vagina' photo matched any photos Foley possessed.
THE VAGINA PHOTO IS SENT TO THE CLEVELAND FBI AND OHIO ATTORNEY GENERAL
On October 7, 2022, Holmseth submitted the entire text exchange (that contained the naked picture Goddard texted to Erickson unsolicited) between Goddard and Erickson to the FBI in Cleveland.
Holmseth also submitted the evidence to Ohio Attorney General Dave Yost and his commission that investigates organized crime.
"Attached you will find evidence of what appears to be the federal crime of interstate electronic transmission of child pornography.  Enclosed is a litany of documents and files that will aid your investigation," Holmseth's letter said.
"Clear and convincing evidence shows Alexandria Goddard conspired with others, including members of law enforcement in Ohio, as they conspired to frame Randi Lynn Erickson, as well as myself," Holmseth said.
THE ARREST OF RICHARD ALLEN IN THE FIVE-YEAR-OLD DELPHI MURDER INVESTIGATION
According to Becky Patty, the grandmother of Liberty German, they learned that on Wednesday, October 26, 2022, an arrest had been made in the Delphi murder case.
"We were called in on Wednesday and told they had detained somebody," Becky Patty told the media.
By Friday the news was leaking out.
ANOTHER VAGINA PHOTO
On Thursday, October 27, 2022, Holmseth placed the disturbing photo of the little naked female into a FED EX package and sent it overnight to the FBI in Jacksonville, Florida. Holmseth asked the FBI to compare the image to yet another 'vagina' photo – one of missing child HaLeigh Cummings, that Holmseth had been told about during his journalistic investigation of the HaLeigh Cummings disappearance in 2009. The naked photo of HaLeigh Cummings, 5, was in the possession of someone who uses the services of Alexandria Goddard. 
LIBERTY GERMAN'S GRANDMOTHER TALKS TO THE MEDIA ABOUT PHOTOGRAPHS
On October 31, 2022, law enforcement held a press conference in Delphi, Indiana to announce murder charges had been filed against a local man named Richard Allen for the murders of Abigail Williams and Liberty German in February 2017.
Videos online show that at the press conference, Mike and Becky Patty, the grandparents of slain teenager Liberty German, spoke with the media.
During the conference an NBC news reporter asked the Patty's about 'photographs'.
'There's a report going around right now that this Mr. Allen actually processed some photos for the family – do you know if that's accurate," the NBC reporter said.
"That is accurate," replied Becky Patty.
"Okay and that he didn't charge the family when they came in to claim the photos," the reporter said.
"That is correct," Becky Patty said.
People reported, "It is unclear if those photos were processed before or after the killings, and the content of those photos is also unclear".
GODDARD THREATENS TO HAVE TIMOTHY CHARLES HOLMSETH ARRESTED BY OHIO POLICE FOR TURNING OVER EVIDENCE TO INDIANA LAW ENFORCEMENT INVESTIGATING THE DELPHI MURDERS
On November 1, 2002, Timothy Charles Holmseth issued a Press Release on his TRUTH SOCIAL account.
~begin~
DELPHI MURDER CASE
Superintendent Douglas G. Carter, Indiana State Police, has received evidence regarding the murder of two young girls in Delphi, Indiana.
It includes an image of the 'privates' of a small girl – no pubic hair – strange bruising that might be a corpse. It was texted unsolicited to Randi Lynn Erickson from admitted kidnapper and sexual torturer Alexandria Goddard, Ohio.
Goddard speculated a snuff film was made of the murders.
~end~
Goddard responded to Holmseth's media release by logging into her Twitter account @prinniedidit and announcing she was going to turn Holmseth into local police in Ohio.
"Somebody is begging for additional charges. Will be sending all of this to my local police department and asking for referral to prosecutor. This is disgusting to do to the families of these murdered girls," Goddard said.