Loud Explosion heard near Ft. Campbell in Clarksville, TN after Timothy Charles Holmseth reports on "secret graveyard" at Army Base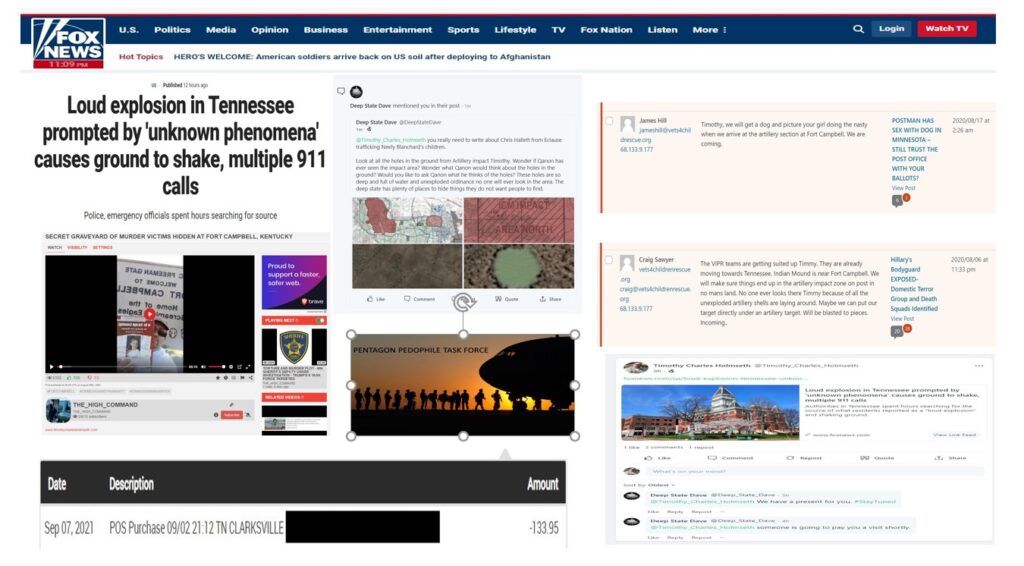 by Pentagon Pedophile Task Force on September 7, 2021 at 9:17 P.M.
Today, FOX NEWS reported 'Loud explosion in Tennessee prompted by 'unknown phenomena' causes ground to shake, multiple 911 calls – Police, emergency officials spent hours searching for source'
Timothy Holmseth posted a link to the FOX NEWS story on GAB and, shortly thereafter, he (Holmseth) received  ominous messages from an account called Deep State Dave.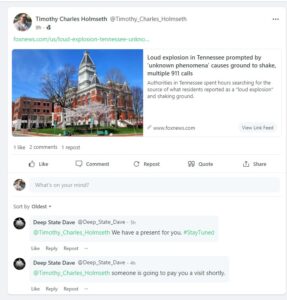 FOX NEWS reported, "The sound was heard across many parts of Montgomery County but there have been no reports of any injuries or property damage. The Clarksville Police Department, Fire Department, Montgomery County Sheriffs Office and Emergency Medical Services (EMS) searched for a couple of hours but were unable to locate the source.," the department wrote."
"Fort Campbell is on a Four Day weekend due to the Labor Day holiday, and does not appear to be conducting any type of training or exercise," the police added. "Currently, this seems to be some sort of unknown phenomena until someone reports actual damage," FOX NEWS said.
There is speculation the threats against Holmseth are connected to a news report on a video that was published August 26, 2021 entitled SECRET GRAVEYARD OF MURDER VICTIMS HIDDEN AT FORT CAMPBELL, KENTUCKY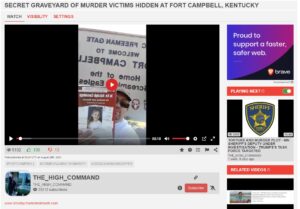 The video featured a myriad of threats made to Holmseth by an Arizona group called Veterans For Child Rescue Inc, which is operated by Hillary Clinton's former chief of security, Craig (Sawman) Sawyer, and another organization that calls itself "The Order".
Pentagon Pedophile Task Force was recently in Clarksville, TN.

About Author