U.S. CONGRESS HAS RECEIVED JESSIE MARIE CZEBOTAR'S PETITION TO APPEAR AND TESTIFY [READ IT HERE]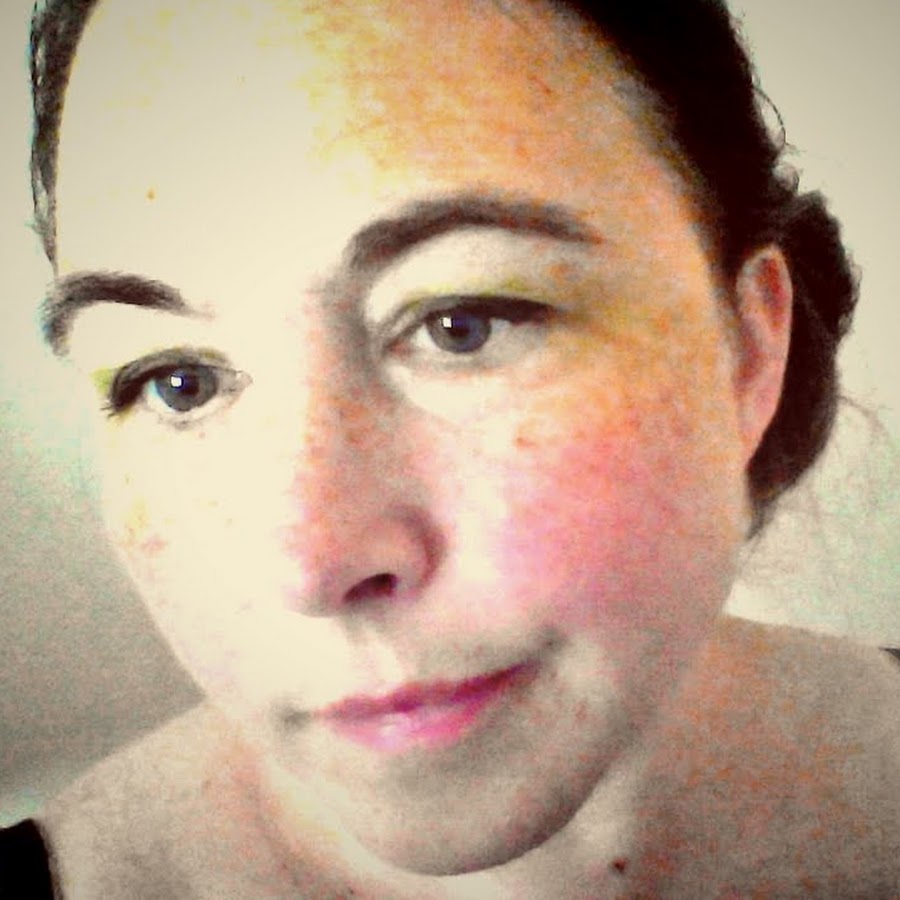 by Pentagon Pedophile Task Force on February 21, 2023 – USA
Timothy Charles Holmseth confirmed on TRUTH SOCIAL today that the Petition authored and submitted to U.S. Congress by Jessie Marie Czebotar was delivered and received.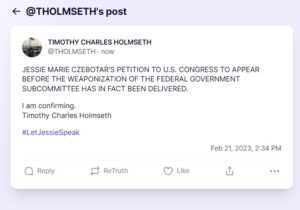 Below you will find Jessie Marie Czebotar's Petition.
~begin~
February 14, 2023
On Behalf of :
We The People of the United States of America
Jessie Czebotar
Timothy Charles Holmseth
Randi Lynn Erickson
United States Congress
Judiciary Committee on "Weaponization of Government"
Attention: Jim Jordan, Chair– Judiciary Committee/ Washington D.C.
United States House of Representatives
Attention: Kevin McCarthy Washington D.C.
Attention: Diana Harshbarger (TN)
Attention Tim Burchett (TN)
Attention Chuck Fleischmann (TN)
Attention Scott DesJarlais (TN)
Jim Jordan Phone: 202-225-2676
Donald J. Trump, 45th President of the United States
Attention to: Trump's Attorney's Peter Tickton/ 270 SW Natura Ave/ Deerfield Beach, FL 33441
Lindsey Halligan/ 511 SE 5th Ave/ Fort Lauderdale, FL 3330102984
Florida
PART X: INVESTIGATIONS AND PUBLIC ORDER
CHAPTER 73: INVESTIGATIONS BY LEGISLATIVE BODIES
Sec 795: Right of Legislative Body to Make Investigations
In the Matter of FEDERAL CASE: 3:22-CV-00912
In RE:
Middle District of TN/ RICO
Timothy Charles Holmseth v Levi Page et al
Case 3:22-cv-00912
Federal Court Filing in MN District Court/ SEALED Affidavits
Erickson v ******
Case 0:21-CV-02536-ECT-ECW
Judge: Eric C. Tostrud
District Court of FL/RICO/ CRIMES AGAINST HUMANITY
Case numbers: 9:22-MJ-08332-BER and 5DC19-3383
(Affidavits submitted to: Tickton Law Firm Group/ 270 SW Natura Ave/ Deerfield Beach, FL 33441)
And
Affidavits submitted to: (Attorney Lindsey Halligan/ 511 SE 5th Ave/ Fort Lauderdale, FL 33301-2984)
Tribunal number: 42-2016-DR-3626-HJ
Dear Mr. Speaker:
This is my petition to come before Congress and the Honorable Judicial Committee "Weaponization of the Federal Government". It is my desire to share my testimony and grievance against the weaponization of the U.S. Government and the U.S. Military and their crimes against me and thousands of children.  My desire is to bring to the attention of Congress crimes that are being committed against children and individuals, both in the United States as well as worldwide by the U.S Government and the U.S. Military. These grotesque crimes include sexual exploitation, human trafficking, rape, torture, satanic rituals, cannibalism, and the weaponization of children. Those behind these crimes are an organized System disguising itself as a religion called the Luciferian Brotherhood. The Luciferian Brotherhood has targeted me and those supporting my testimony and those helping me to bring it forward publicly and, in the courts, their targeting efforts include Timothy Charles Holmseth and Randi Lynn Erickson. Timothy Charles Holmseth is the journalist who has rights to publish my affidavits. Randi Lynn Erickson being the one who escrowed my affidavits.
In 2021, I submitted my testimony of eyewitness accounts of crimes by the U.S Government, the U.S. Military, Politicians, and Presidents in affidavit form with evidence sealed through Randi Lynn Erickson to the JAG at Fort Campbell Military Base. The affidavits and evidence is now sealed in the District Court of MN. I want to exercise my right to bring my grievance before Congress about the corruption and weaponization of the media, judicial system, and courts as an effort to thwart my testimony against individuals in the U.S. Government and U.S. Military, who I experienced and witnessed committing crimes against children. Due process has been repeatedly denied me, this includes in the giving of my testimony about the crimes that I witnessed and experienced by our government and military against children, and the reporting process of such crimes. Part of these crimes were committed by a Nazi named Michael Karkoc, who was the Ukrainian Legion of Defense Leader for Adolf Hitler. Michael Karkoc had a high position within the Luciferian Brotherhood which gave him vital connections to the U.S. Military in teaching their generals how to train children to serve in various positions, that enabled the Luciferian Brotherhood to survive worldwide in the U.S Government and U.S. Military.  Karkoc's connection to the U.S. Military gave him and other Nazis access to top U.S. Military training programs where they weaponized children. Denial of my rights and the weaponization against me include:
To this day, my right to file a complaint against the U.S. Military has been rejected and not received. It is my desire to file a complaint against specific departments and branches that were privy to my abuse and the individuals who worked for them who were aware of the crimes being committed against me and other children. I have made every attempt to contact the JAGs in my state and the Pentagon to get information on who I could file a complaint with. I have sent multiple emails requesting to file complaints to Andrew Perniciaro (Special Agent at Fort Campbell Military Base) with no reply or response. It is my understanding that Military JAGs are supposed to receive complaints when there are grievances against members of the U.S. Military.  I also contacted the Pentagon. The secretary gave me four telephone numbers for JAGs in my State, however, two numbers were wrong and the other two numbers never replied or responded back to my multiple messages asking to file a military complaint. Finally, I spoke with the Pentagon Assistant District Attorney who outright told me, "We will not help you."
Droel Law Firm, lawyers, and Military members broke notary/affidavit SEAL of my affidavits in the District Court of MN, and without my testimony, evidence, or discovery, they PUBLISHED top Government and Military individual names that I have named in my affidavit. Such names include Vice President Michael Pence, Hillary Clinton, Bill Clinton, Senator John Kerry, Dick Cheney, and Elon Musk.
After these names were published on the record, the YouTube channel creator William Murtaugh PUBLISHED the information on his YouTube channel Murtwitnessone. Not only did he publish the names from my unsealed affidavits, he proceeded with a web of harassers to call the named individuals to notify them of my affidavits and testimony against them and informed them that I witnessed them, "rape, torture, satanically ritualize, and cannibalize children".
The web of harassers then began to organize and coordinate attacks, threats, and plots to silence, discredit, and hinder my testimony from going forward publicly as well as in the courts making it look like I am widely discredited online. Some of their efforts include:
Death threats. They created a Telegram channel called "Death of Timothy Charles Holmseth?" where they post real pictures of bodies that have been maimed, mutilated, and graphically killed. The channel posts threats to me, Timothy Charles Holmseth, Randi Lynn Erickson, and Chris Hallett (who was murdered in November 2021) and show depictions of us being murdered. The depictions have included: beheading, throats being slit, bodies being burned, death in hospitals by injection and tampering, as well as drownings.
In 2021 (individuals believed to be connected to these harassers) laced my heating vents with gasoline. Then poisoned me through a McDonalds iced tea and threatened through the World Governing Council and my email, so that I had to flee two residences. My North Dakota residence in March 2021 and my Texas Residence in September of 2021. It is my belief that the U.S. Military individuals in question purposely were trying to get me to the Texas area because they were working with individuals connected to the U.S. Military and foreign intelligence and military in that area who betrayed me and divulged my location to them.
An individual connected to the harassers (Larry Gaiters) sabotaged a podcast I was on. These podcasts are my livelihood and are where I namely shared pieces of my testimony. They include Right On Radio, The Reveal Report, Aquarius Rising Africa, and The Watchmen Podcast (along with several podcasts that I appear on periodically). Larry Gaiters directly threatened me and my minor children by publicly putting out locations of where my children were residing and pictures of the inside of my residence in the midst of fleeing from operatives seeking our lives. Two weeks after this attack, my 17-year-old son Josiah died in a car accident. It just so happened to be the day I mailed off an affidavit about trafficking in the California and Oregon areas, which Josiah was residing in at the time. He died the day I mailed the affidavit off, on one of the two roads I named in that affidavit, by going off a cliff.
After Josiah's funeral, harassers put a lock on my water at the street connection. We went for 5 days with no water. The public utility kept telling me everything was fine and never sent anyone out to fix the issue. I requested someone to come remove it.
The harassers have made a coordinated effort to prevent me, Timothy Charles Holmseth, Randi Lynn Erickson, and those who host the podcasts I speak on from having a livelihood. This includes stalking and harassing our platforms of employment and people we work with, stalking, doxing, and harassing us until we lose the platforms, generating mass amounts of letters against us that they send daily to platforms that generate our income through video streams and shows. This includes Patreon, GoFundMe, You Tube, and others. They have harassed the podcast hosts I work with and guests we have on our podcasts in order to get me removed from the podcasts. These efforts are documented on their Telegram chat "The Truth About Jessie Czebotar" and the telegram channel "Jessie Czebotar Exposed".
They have targeted my book sales and conferences and promotion and marketing efforts. They have engaged in libel and slander. To paraphrase their own words they claim that it is their duty to, "make sure the whole world is aware of my grifting and lies." The harassers wrongly accuse me of wire fraud, tax evasion, not registering donations I receive under the 501C3 status, and grifting and exploiting money through my son's death. My businesses are set up as a for-profit organization, I have an accountant (who they also have stalked, doxed, and harassed), and I pay my taxes.
The web of harassers have shown posts of communication that show they are working with the very individuals who broke the notary and affidavit seal which includes: Attorney *** ******* and Navy Seal ***** *****. They also show in posts that they are working with individuals I've named in my affidavits such as Lanzifer Eligos Longinus aka Federico Serna, who is of the Brotherhood Sovereign Military Order of Satanic Knights Templars.
Instead of due process where JAGS would receive my testimony, investigate, and act upon findings, the harasser's consorted efforts have led to people I bear testimony about directly contacting me, discrediting, harassing, and threatening without me being able to bring forward my testimony and discovery of evidence against them.
The harassers have created accounts on various social media sites such as You Tube impersonating various family members of mine and threatening me in their comments. In one such comment, they targeted me in the chat while I was doing a podcast. The account had the name of my grandmother who I have named as a perpetrator committing crimes against children in my affidavit that documented the massacre of 44 children on my 44th birthday on April 24th It read, "Jessie, are you going to take my place as QMOD (her position in the Luciferian Brotherhood) and save the 46 that I will take on April 24th or will you let more die?"
The harassers have relentlessly stalked, doxed, and harassed both perpetrators and victims I have named in my affidavits and those connected to my business.
The harassers have claimed that they have or have seen "arrest warrants" and "dossiers" against me. I have turned in evidence to the TN Major Crimes Unit that shows the Superior Court of Solano County in the State of CA processed a fake subpoena where they requested me to testify in a case. The case involved a real individual that had assaulted me in 2004. I made a police report at that time. The CA DA told me the individual had now gone beyond assaulting and had raped two women and she wanted me to testify about my assault to show the longevity of his crimes. However, when I got the subpoena, I noticed in my address bar an arrest date and numbers under my name. The CA District Attorney (number: V171425) put an arrest date (July 31, 2017) and a warrant number (BPD17-01472) in my address bar, they were not connected to the case or individual I was asked to testify about. As I looked into the matter, it was discovered that the warrant number and arrest date were connected to me. However, I have never been arrested, nor committed any crimes. The warrant is sitting in the CA database with my name but filed as blank. Meaning that there is no evidence against me. It's just sitting in their system idle.
The harassers claim that the dossier entails crimes I've committed through the U.S. Military and in Satanic Rituals as a terrorist. They have posted online, shared with people that they draw into private conversations that I ritually killed my son Josiah among other children throughout the years, that I am an operative of the CIA and work for foreign countries such as Russia. I did not ritually kill my son. I have not ritually killed, nor have I committed any crimes during my time as a child in the military programs that I was in. I am not a CIA operative. I am not a terrorist. And I do not work for any foreign countries.
The web of harassers, members of the BAR, and military members harass me about my affidavits and any truths I bring out about the crimes that I have experienced or witnessed. They threaten that I will be arrested, imprisoned, or indicted with treason.
Those who are in this web of harassers are not limited to the United States. Some of the other countries include the UK, Germany, and Australia. There is also a connection to the harassers and these countries and their foreign intelligence and militaries. They all seem to get the same memo to operate from, with the same narratives and harassing techniques.
I am requesting that I not only be given my right to file a military complaint against the departments and individuals in the U.S. Military, but I am also requesting the right to file military complaints against those involved in foreign intelligence and foreign militaries.
Every day the threats on my life and the relentless attacks increase. I am asking for immediate response due to the nature of the attacks and because my son and others bringing forth similar truths have been murdered.
I am requesting that the Weaponization Committee provide me with the opportunity to share my testimony and evidence and that due process, justice, and immediate protection and action be afforded me.
Mr. Jordan, and this Honorable Judiciary committee, thank you for upholding your fiduciary
duties and Oaths to We The People and in the name of Justice in these cases and for immediate
actions to aid and assist these victims to Justice so desperately deserved.
Respectfully Submitted:
Jessie Marie Czebotar:
On behalf of the children and one of the Several People of The United States of America;
Standing with the above Plaintiffs are the following Petitioners:
About Author