$40 MILLION RICO COMPLAINT MENTIONS ELON MUSK & DELPHI MURDERS: "HILLARY CLINTON" SCALDED CHILD WITH BOILING WATER AND ATE A "GLAND" FROM THE CHILD'S HEAD DURING "SATANIC RITUAL"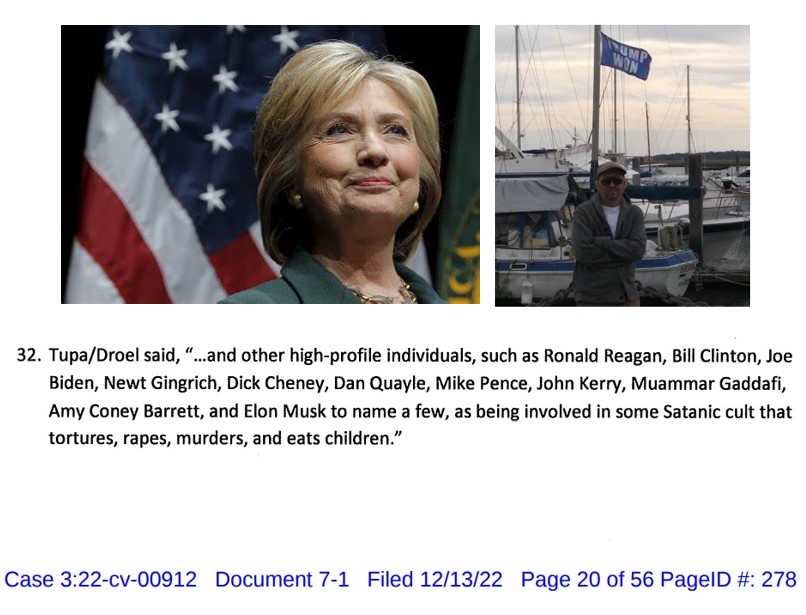 by Pentagon Pedophile Task Force on December 14, 2022
An extortion and murder operation funded by the U.S. Government is before the U.S. Court.
The investigative journalist who reported the graphic details of an eyewitness account to Hillary Clinton and her henchman torturing children, so Clinton could eat a gland from a child and get high from the adrenochrome, has filed a RICO complaint in Tennessee alleging he is being hunted by retired FBI and former SEAL TEAM 6 members who are funded by U.S. Government programs.
The U.S. COURT PACER system shows that on December 13, 2022, the U.S. Court – Tennessee Middle District received an AMENDED COMPLAINT in Holmseth v. Page et al 3:22-cv-00912.
"The Defendants are organized and using a former FBI agent and SEAL TEAM 6 in attempt to locate and murder me for my work as a news reporter and journalist reporting about child trafficking, human trafficking, crimes against humanity and cannibalism," the filing by Timothy Charles Holmseth said.
The Complaint shows the racketeering enterprise received funding from Alex Jones' Info Wars, and a government program called "Operation Stone Garden" which is a grant through FEMA and the Department of Homeland Security.
The Complaint shows that on January 4, 2021, Attorney Lin Wood contributed to the enterprise's fabricated international manhunt for journalist Timothy Charles Holmseth, by Tweeting a link to a Holmseth MEMO, whereupon a homemade WANTED/REWARD poster was Tweeted internationally at President Trump's 88 million followers on Twitter.
The Complaint shows a series of threats to murder Holmseth, as well as his escrow agent, Randi Lynn Erickson, who herself filed in U.S. Court – MN, after the group began trying to hunt her down and kill her. Erickson is a former tribunal judge who settled tax evaluation claims for the government in Minnesota, and escrowed the affidavits of Jessie Maries Czebotar, who, according to Droel Law Firm, witnessed crimes against humanity by U.S. Presidents, world leaders, a Supreme Court Justice, and Elon Musk.
The Complaint shows one of the messages transmitted to Holmseth came from retired Vice Admiral Charles W. Moore who pressured Holmseth to stop his reporting, and name-dropped General Mark Milley, retired General Michael Flynn, and President Trump.
The Complaint includes information pertaining to the Delphi double-murder case in Indiana, and a photograph of a small naked female that is zoomed-in close to the vagina – that may be a corpse. The photograph was texted, unsolicited, to Randi Lynn Erickson by Alexandria Hannelore Goddard, a Defendant in the RICO action. Holmseth submitted the photo to the Indiana State Police because evidence shows the photo may be child murder victim Abigail Williams. Goddard publicly stated she was going to have Holmseth arrested by her local police department in Martins Ferry, Ohio for referring to Goddard in his report to Indiana detectives.
The Complaint shows a pattern of racketeering that utilizes "fake news" and weaponized media, along with an army of agents, to target and hunt humans and violate the victim's Constitutional rights.
Holmseth is suing for $40 Million.