Americans are requesting Wisconsin governor release U.S. Marine Field McConnell – requests made for investigation into child torture film producer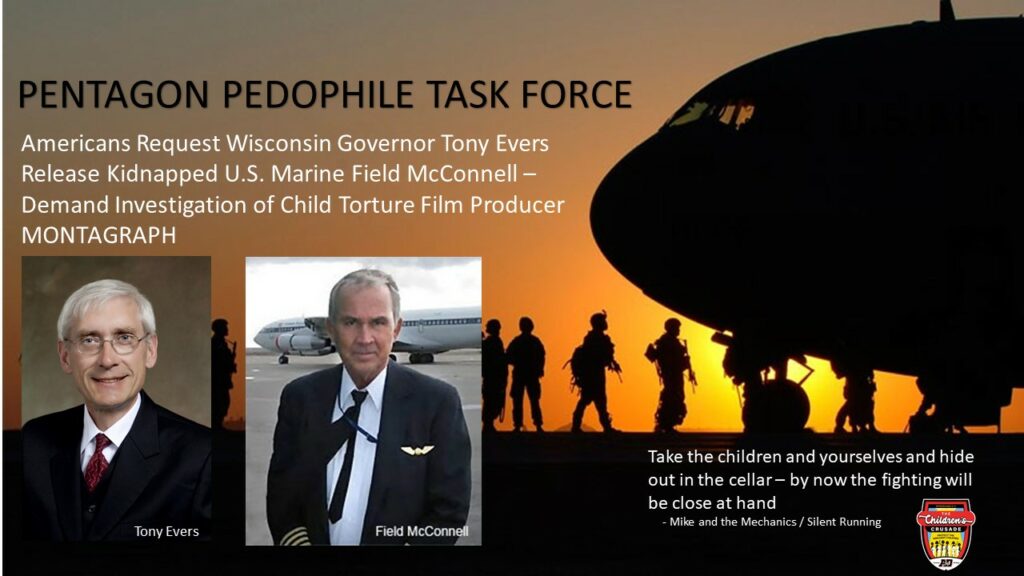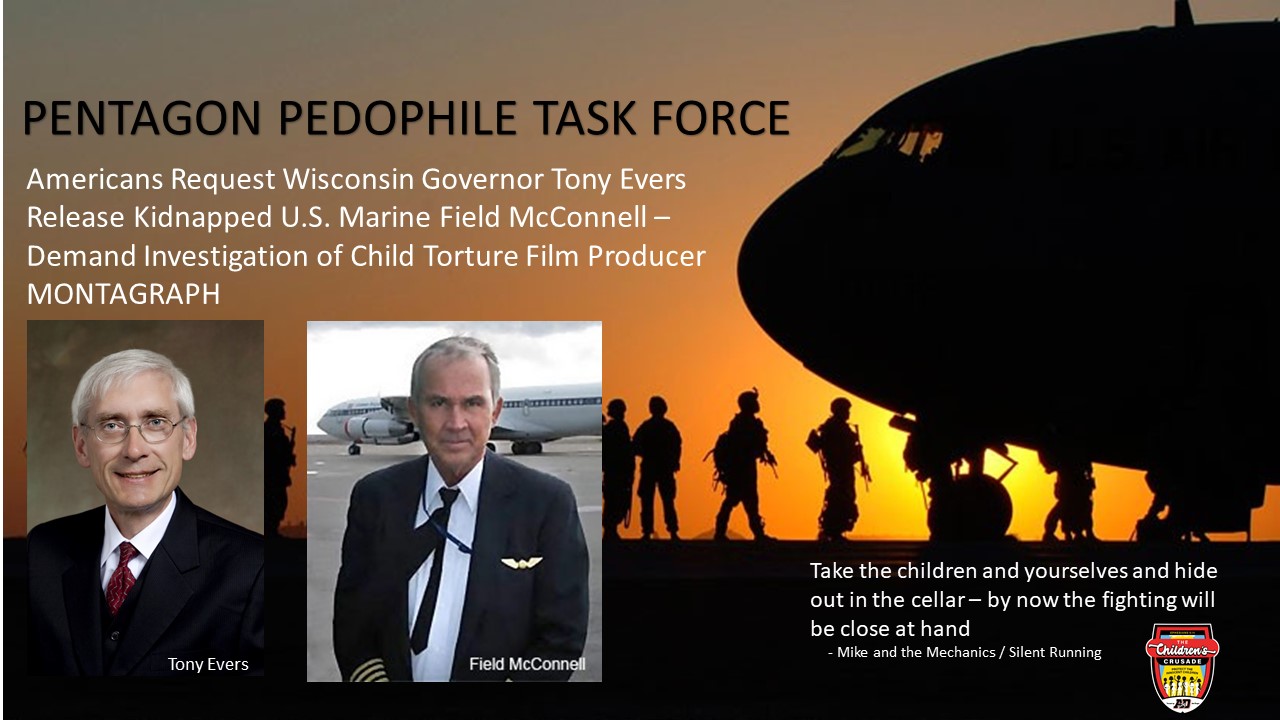 by Timothy Charles Holmseth on December 4, 2019 at 11:35 A.M.
Should a United States Marine with no criminal record who founded an organization called The Children Crusade to protect sexually abused children, be in locked up in a jail? – while he is ruthlessly mocked and laughed at by a man that tied a little girl (little girl who has NEVER been identified by law enforcement) to a chair wearing a pig snout and verbally sexually abused her – with a gunshot heard at the end?
The child torture film producer, MONTAGRAPH (Dale Ellis Bennett, Colorado) claims to possess highly incriminating data in his "Illuminati data base" and has been Livestreaming  ominous telephone calls to U.S. Congressmen and High Level Executives including Adam Schiff, Joe Biden, Trey Gowdy, Lindsey Graham and many more.
MONTAGRAPH was wearing a COMCAST jacket when he claimed he could obtain any cell phone number in the world and boasted he had just obtained Vice President Mike Pence's cell phone number. He then boasted he was going to provoke Pence's Secret Service to come to his home so he could show them highly incriminating data regarding things such as 'trips to Thailand'.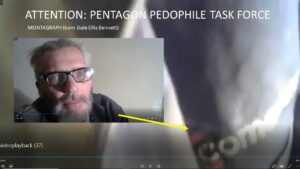 Field McConnell was preparing to air real-life stories with victims of CPS kidnappings which had been requested by President Donald Trump when he was abruptly kidnapped off the street in Plum City, Wisconsin. McConnell was 'arrested' based upon an 'arrest warrant' from Broward County, Florida that contains a criminal case file number written by hand that does not even show up in the Broward County, Florida Clerk of Court systems. 
Learn More – Washington DC PARALYZED by SECRET ILLUMINATI DATA BASE on DARK WEB? – – – MONTAGRAPH to be arrested by military? – – – Former FBI Director James Comey JOHN DOE #2 at Oklahoma Bombing?
U.S. Marines Rescue 2,100 Children From Underground Bases in California
Americans are standing up and saying enough is enough.
The following letter was mailed to Wisconsin Governor Tony Evers by a concerned American.
Publisher's Note: Many letters addressed to Governor Tony Evers (Wisconsin) and Ron DeSantis (Florida) have been received and are being reviewed for publication.
Publishers Note: I cannot confirm the rumor that American Marines and ex-military are quietly assembling to move against Pierce County, Wisconsin where McConnell is being held as a prisoner of war.
      * * * * *
Governor Tony Evers
115 E. Capitol #1
Madison, WI 57302
Dear Governor Tony Evers:
I am writing today to draw your attention to the illegal arrest of Mr. Field McConnell on November 4, 2019. I am praying for the righteous to release this man. He is founder of the Children's Crusade.
There are many, many people that back Mr. Field McConnell and have learned about the corruption within Washington D.C. and across this Nation by listening to his videos, over the past year.
Mr. Kirk Pendergrass showed up in Wisconsin and showed everyone on video how the warrant was fraudulently issued. I have recently been to my own Court House, with a gentleman that has filed a remonstrance in Tennessee for changing the wording of the Constitution.
I know that this Christmas season, right now, you will find it in your heart to do the right thing and release this man of God. Please re-read Our Constitution and the Declaration of Independence.
There is absolutely no reason that Mr. Field McConnell should be jailed. Mr. Field McConnell has a wife, children and grand children that are awaiting his arrival home.
We are aware of Agent 19 and Dale Ellis Bennett aka: Montagraph. These people need to be investigated for putting out Demonic videos and harassing people on-line. Montagraph created Little Piggy and The Umbrella Man. This video is extremely concerning to many of us.
The monsters are allowed to upload Demonic videos. This video, Little Piggy and The Umbrella Man is very concerning and worries me that these people are walking our streets in America.
The video depicts a little girl. The little girl's eyes tell us she is approximately five – eight years old, she can not possibly be much older than that. If you have not watched this video, please do on YouTube.com; Little Piggy and the Umbrella Man https://www.youtube.com/watch?v=-NSdFU26jgU&t=453s

Mr. Field McConnell tells us that authorities arrested a sexual predator the same day as Mr. Field McConnell was taken into custody. The authorities released the sexual predators within hours of being arrested.
I thank you in advance for reviewing the Mr. Field McConnell Case.
Sincerely,
Lora Liddel