DAVID STRAIGHT SAYS PRESIDENT TRUMP USED THREE 747'S TO MOVE 50 METRIC TONS OF GOLD FROM HONG KONG TO TEXAS ON JANUARY 6, 2021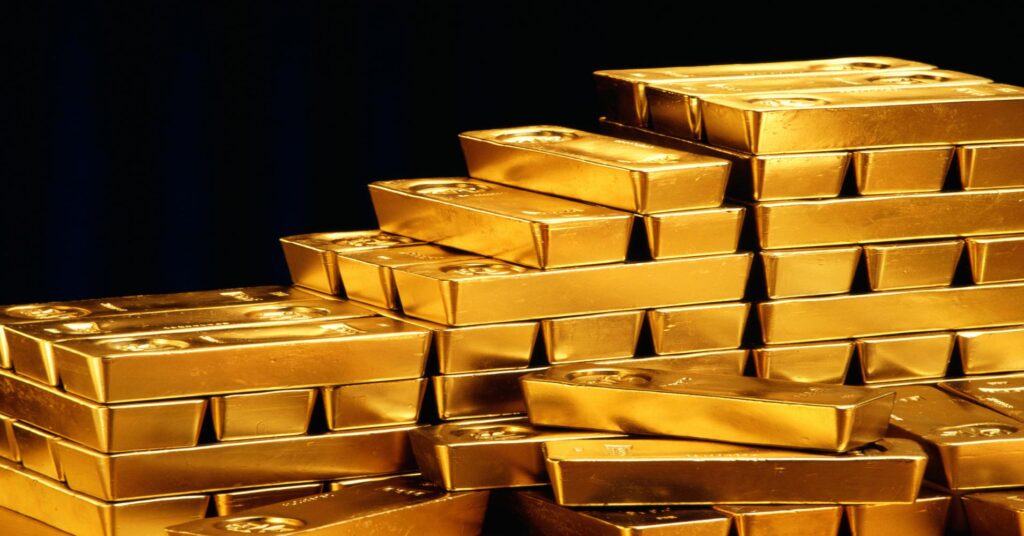 by Pentagon Pedophile Task Force on June 29, 2022, at 8:21 A.M. – USA
The following was posted on the GAB account of Timothy Charles Holmseth, today.
~begin~
PRESIDENT DONALD TRUMP USED THREE 747'S TO MOVE 50 METRIC TONS OF GOLD FROM HONG KONG TO TEXAS ON JANUARY 6, 2021 (ACCORDING TO DAVID LESTER STRAIGHT)
by Timothy Charles Holmseth – War Correspondent – on June 29, 2022, at 7:01 A.M. EST – USA
Yesterday I reported – "We're going to indict them – we're going to try them in the public – and we're going to carry out a sentence – and then we're going to hang them" – THE PLOT TO FRAME PRESIDENT DONALD J. TRUMP
The report featured statements from David Lester Straight made by Straight before January 6, 2021.
I am now reporting statements from Straight that were made after January 6, 2021.
Straight said he was putting on a law seminar in Texas that was not open to the public.
"I was going to let you know the next 30 days I'll be in Utah, northern Washington, Texas, and here. It's about an hour and a half southwest of Dallas Fort Worth Airport – it's a place called Keene. It's on the north side of – well, I guess, Keene, Waco, Killeen, are three closest areas around the military base there," Straight said.
Then, Straight mentioned Texas, again.
"I got a great phone call from Princess [Booba] on the seventh of January when I was in DC. And she told me, 'you know what President Trump did yesterday'. And I said 'no, tell me'. She said he declared that the United States was bankrupt to the Hague on the world stage and he sent a letter to the World Bank and he declared sovereignty of the United States of America and he ordered from [Princess Booba's] uncle 50 thousand metric tons of gold to be delivered to Texas the following day. So they had to scramble – they got three 747's to haul that 50 metric tons from Hong Kong to Texas," Straight said.
Straight said many times that he was "Secret Service" for George Bush (Texas). He said his Secret Service background is how he was able to view highly classified videos of VP Mike Pence raping a little boy.
Straight said he was appointed to three Presidential Commissions by Donald Trump. He said the commissions were "Judicial Corruption" "Human Trafficking" and "Space Force".
In 2022, Straight and his new wife, Bonnie Straight, created business cards identifying David Straight as a "Colonel" of the Republic of Texas, Texas Rangers, and Bonnie Straight as "Counsel General" for Republic of Texas. They then set up an Embassy in Keene, Texas. The website for the Republic of Texas provides pdf. files to send communications to the United Nations.
Former Minnesota judge Randi Lynn Erickson asked Straight if he is bonded through the State to be a Colonel who is gathering evidence of crimes against humanity from victims and witnesses. Straight laughed it off and said he is backed by "gold".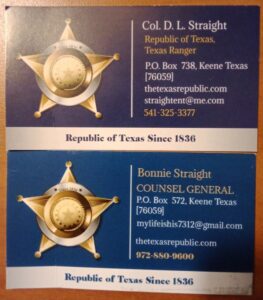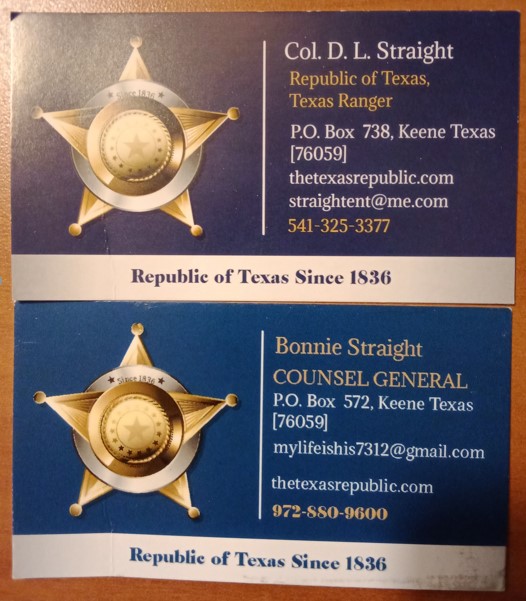 ~end~