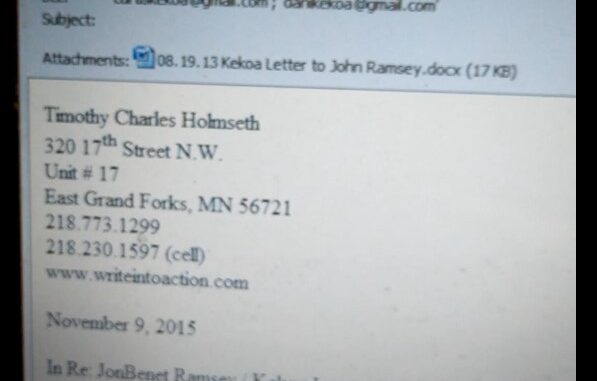 by Pentagon Pedophile Task Force on May 21, 2021 at 12:14 P.M.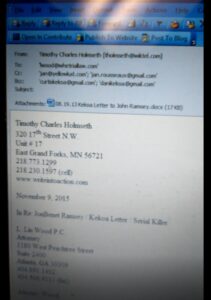 Timothy Charles Holmseth
320 17th Street N.W.
Unit # 17
East Grand Forks, MN 56721
218.773.1299
218.230.1597 (cell)
www.writeintoaction.com
November 9, 2015
In Re: JonBenet Ramsey / Kekoa Letter / Serial Killer
Lin Wood P.C.
Attorney
1180 West Peachtree Street
Suite 2400
Atlanta, GA 30309
404.891.1402
404.506.9111 (fax)
Attorney Wood,
I am an investigative journalist and author.
Beginning in 2009 I conducted interviews with key figures in the national profile case(s) surrounding the missing child HaLeigh Cummings, as well as slain toddler Caylee Anthony. I was subsequently interviewed by the Minneapolis FBI and asked for various recordings of audio interviews I conducted in those cases.
During my ongoing investigations I acquired very detailed knowledge of a satanic underground operating across the United States.
Attached you will find a Microsoft Word file containing a letter written to your client John Ramsey focusing on Robert Adolph Enyart and Kenneth Tyler Scott. The letter was sent to Mr. Ramsey by Curtis and Danielle Kekoa, Northglenn, Colorado. It would appear the Kekoa letter was their informative response to a Website published by Mr. Ramsey seeking information through 'The Fair Justice Foundation' and 'The Discovery Project' – the website was apparently taken down after the Kekoa's provided the information.
The Kekoa's believe Robert Enyart is a serial killer that murdered JonBenet Ramsey.
While this is a journalistic endeavor that began in 2009; I have independent information and evidence that causes me to believe this a serious public safety issue.
Therefore, my only question for you is; did your client pass the Kekoa letter on to the FBI?
Respectfully yours,
Timothy Charles Holmseth
Investigative Journalist/Author
Attached: Kekoa Letter to John Ramsey