FORMER MN JUDGE WHO ESCROWED CRIMES AGAINST HUMANITY EVIDENCE [CANNIBALISM/HILLARY] HAS SPOKEN WITH A SPECIAL AGENT

by Pentagon Pedophile Task Force on October 22, 2022 – USA
The following was posted on the TRUTH SOCIAL account of Timothy Charles Holmseth, today.
~begin~
Randi Lynn Erickson, a former Truth and Taxation judge from Minnesota has spoken with law enforcement.
Erickson was targeted for murder after she escrowed crimes against humanity (rape, murder, cannibalism) affidavits by Jessie Marie Czebotar that are in the files of the U.S. Court – Minnesota and U.S. Military.
It was a very productive meeting with the Special Agent.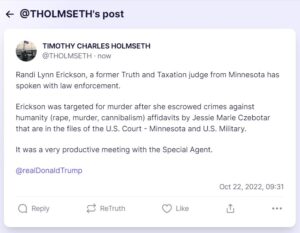 ~end~