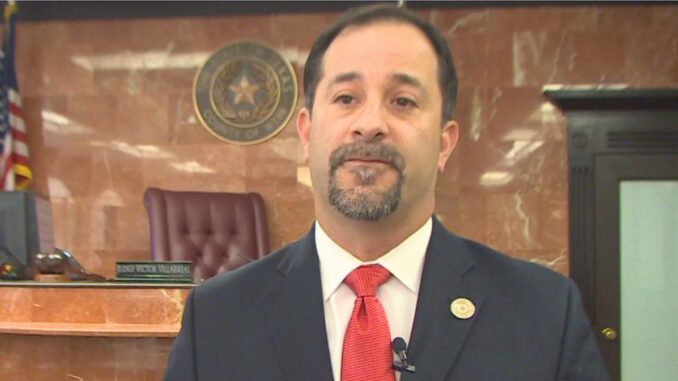 by Pentagon Pedophile Task Force on October 18, 2021 at 4:49 P.M.
Is the Webb County Attorney's Office in Texas trafficking children across the U.S. Border with the Cartel and a feux 'police department' created by a member of the BAR Association – staffed by private contractors?
Serious questions continue to mount surrounding the activities of the Webb County Attorney's Office (WCAO) in Texas, as evidence emerges that the Office is actively involved in a covert child trafficking operation.
On June 13, 2021 Pentagon Pedophile Task Force screen captured the following statement by Craig (Sawman) Sawyer on his GAB social account.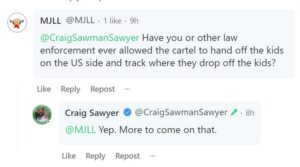 Here's what we know.
On August 8, 2021 D-list Hollywood actor and former Navy SEAL, Craig (Sawman) Sawyer, who operates Veterans For Child Rescue Inc, Arizona, went on You Tube and delivered what he called his "Texas Border Update" where he discussed a recent trip he took to Texas to conduct what he calls 'joint operations' with local and federal law enforcement.
During the August 8 statement by Sawyer – he states a U.S. Border patrol agent became concerned about something Sawyer and his men were doing, which included concerns the agent had about the presence of Sawyer's film crew. Sawyer said the agent filed a report to U.S. Border Patrol headquarters.
During the August 8 statement Sawyer said, "one of the guys on my VIPR team – a former BORTAC (Border Patrol Tactical Unit) and he was able to go down with us – and we even brought a film crew because we we were able to turn over a Raptor – and it didn't get there until the Monday after we left – sadly, but a highly modified For Raptor for law enforcement use down there that one of our supporters brought for us to help facilitate that donation". 
When Sawyer described his trip to Texas he said it was cut short by a week.
Sawyer's statement that he brought a "film crew" because he was able to turn over a Ford Raptor as a "donation" is strange because Sawyer added that the Raptor didn't get there until the following Monday.
It doesn't make sense.
Sawyer never named the donor.
On Wednesday, August 11, 2021 Sawyer published a video entitled "Bonus Clip of V4CR Texas Border Ops" where he showed a brief clip of the Ford Raptor he talked about on August 8.
And this is where things begin to get even more strange.
The Ford Raptor has the words "Webb County Attorney's Office" "POLICE" "911" and "Operation Stone Garden" written on the vehicle.  Operation Stone Garden is a FEMA /DHS program funded federally.
On September 15, 2021 Sawyer published a video of himself wearing his VIPR team tactical vest conducting 'joint operations' with WCAO. Sawyer did a quick in-vehicle video interview of Jose Ramirez, investigator, WCAO, as they sat alongside another vehicle with men they working with on the operation.
Ramirez has appeared in many photos with Sawyer at various locations.
On September 18, 2021 Sawyer published a photo on GAB social of himself and a group of men in tactical gear standing amidst two pick up trucks; one the trucks being the Ford Raptor marked "Webb County Attorney's Office" "POLICE" "911" "Operation Stone Garden". Some of the men were carrying automatic weapons.
On October 18, 2021 Webb County Sheriff Martin Cuellar responded to an inquiry from Timothy Charles Holmseth regarding Third Party Funding documentation for Sawyer's involvement with Webb County.
Cuellar said Webb County activity with Operation Stone Garden was not his personnel, noting that it was the personnel of the County Attorney's office.
Cuellar also told Holmseth, "Good job".
If everything is taken at face value…it appears the Webb County Attorney's Office has created it's own 'police department' which is receiving federal funds from FEMA for Operation Stone Garden.
It appears the 'police department' is staffed by Jose Ramirez, Craig Sawyer, and others who are not part of the Sheriff's Office and may be classified as private contractors.
Sawyer has been issuing written threats to kidnap, torture, rape, and murder news reporters, publishers, and  their children if they don't shut up.
We contacted Webb County Attorney Marco Montemayor regarding this story but received no response before publication.
WATCH ALSO…
CHILD RAPE NATIONAL EMERGENCY – "BUS LOAD OF KIDS! BUS LOAD OF KIDS EVERYBODY! BUS LOAD OF KIDS!"
CHILD RAPE NATIONAL EMERGENCY – "BUS LOAD OF KIDS! BUS LOAD OF KIDS EVERYBODY! BUS LOAD OF KIDS!" (bitchute.com)
PHOTO SHOWS WEBB COUNTY TX WORKING WITH ARIZONA V4CR WHO THREATENED TO HAVE DOG RAPE CHILD – MURDER
PHOTO SHOWS WEBB COUNTY TX WORKING WITH ARIZONA V4CR WHO THREATENED TO HAVE DOG RAPE CHILD – MURDER (bitchute.com)