Melania Trump's 'kids in cages' dress causes Twitter explosion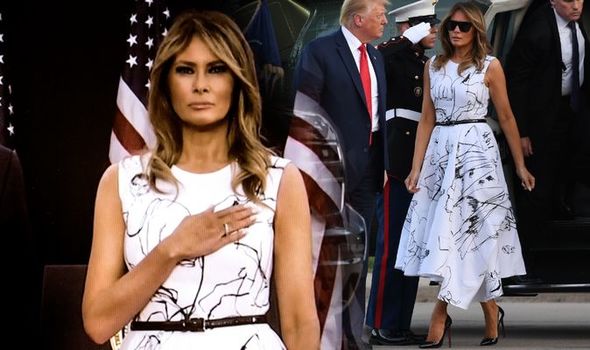 by Carlene P. Lisden on July 6, 2020 at 11:01 A.M.
In the wake of the Ghislaine Maxwell child trafficking arrest… Melania Trump's fashion statement at Mt. Rushmore has taken the world by the storm.
On July 3, 2020 Melania Trump captivated the world with her dress when she appeared with President Trump in South Dakota for a patriotic event at Mt. Rushmore.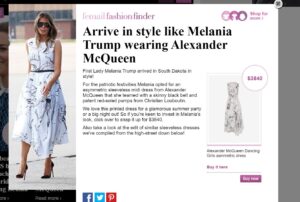 It didn't take long for the search of the hidden meanings behind Melania's dress-design to sweep social media.
On July 5 Dawn Michael PhD posted on Twitter PhD and said, "The First Lady it amazing wearing a dress designed by Alexander McQueen using sketches drawn by victims of child sexual abuse to describe their feelings and the media makes fun of it!"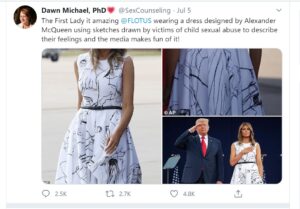 A short time later…
Twitter user Khasoggi's Ghost replied to the First Lady's tweet and said, "Maybe if the First Lady acted like she cared about children, including the ones in cages, people would be more empathetic? Besides, it's not like anyone knew what the drawing was about. Most of us just thought it was a stupid dress. Most of us care more about abused children."

Ironically…
It appears Khasoggi and other Trump haters took the bait.
According to sources, as the arrest of Jeffrey Epstein's co-conspirator  Ghislaine Maxwell dominated the news, Melania Trump specifically intended to bring attention to child abuse and crimes against children.
And of course – as usual – the Trump haters got trolled big time.
On March 31, 2020 investigative journalist Timothy Charles Holmseth published a video entitled 2100 CAGED KIDS IN TUNNELS RESCUED BY US MARINES IN CALIFORNIA – MOST BELIEVED TO BE ABDUCTED BY CPS.
https://www.youtube.com/watch?v=v-WnXh-yhvU&t=1s
The video has nearly 222, 000 views.
"[I am] the only journalist authorized to report exclusive content for the Pentagon Pedophile Task Force and there is one person between me and President Donald Trump and that person meets face to face with President Trump and his wife Melania," Holmseth said.
According to Holmseth's bio he is a news reporter assisting investigations taking place under Joint Special Operations Command with the U.S. Army.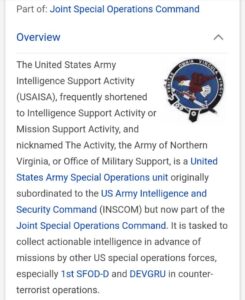 Holmseth reported 2,100 tortured 'kids in cages' had been rescued from underground tunnels in California by U.S Marines.
And he said this…
"Our President – Donald J. Trump, and our First Lady Melania Trump want the world to know that. And now you do," Holmseth said.