Minnesota sheriff's office accused of kidnapping six-year-old – child's grandmother affiliated with Pentagon Pedophile Task Force – story to be part of video series requested by PRESIDENT TRUMP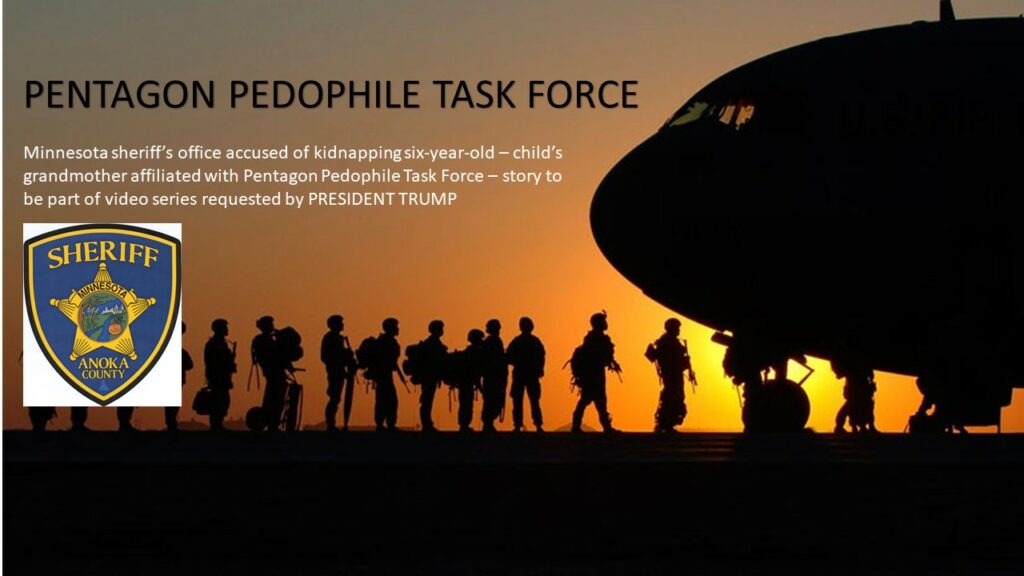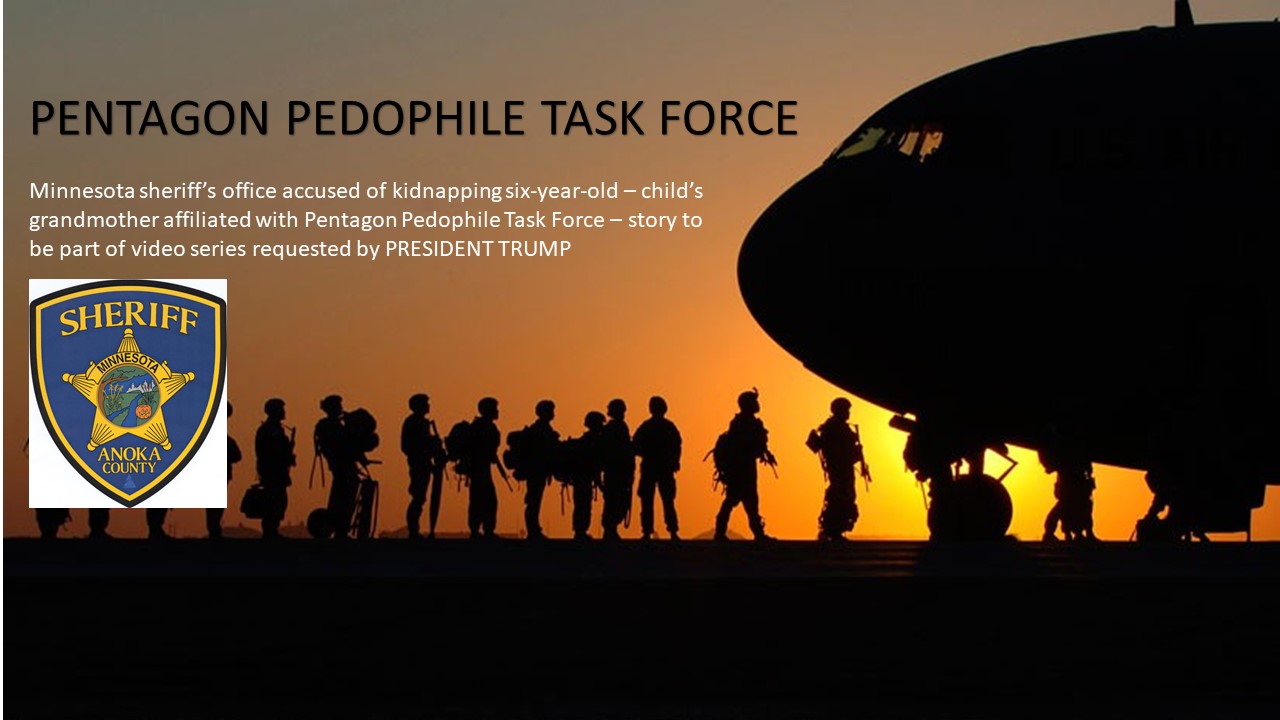 by Timothy Charles Holmseth on October 31, 2019 at 5:11 P.M.
Did law enforcement in Minnesota kidnap a six-year-old child from his home this afternoon?
Was an act of human trafficking by law enforcement caught on tape today?
President Trump and the Department of Justice may get the final word on this one.
The details surrounding an incident that occurred today in Anoka County, Minnesota is going to be seen by President Trump as part of a video series The White House requested of the Pentagon Pedophile Task Force, E-Clause LLC, and the Children's Crusade. The up-coming series will feature real life victims stories of CPS abductions and law enforcement misconduct as President Trump prepares to stop Sharia Law from taking hold in the United States.
The incident in question that occurred today involved the Anoka County Sheriff's Office.
Multiple witnesses who were interviewed within minutes of the event say they witnessed a "kidnapping" of a small child – a kidnapping committed by deputies.
HERE'S THE RUSH VERSION OF THIS DEVELOPING STORY
The incident began around noon in the town of Cedar which is located in Anoka County, Minnesota.
According to Melissa Grover, approximately eight Anoka County Sheriff's Deputies came to her home to serve an 'Order For Protection' filed against her adult son, Jason Youngstrand.
Grover said she told the deputies they needed to leave and return with a proper Warrant from an Article 3 court with a raised Court Seal because she was not giving them permission to enter her home.
The deputies ignored her demand.
Grover said the pretense of the deputies executing an 'Order For Protection' is totally bogus because her son, Jason Youngstrand, had already obtained an 'Order For Protection' last week in Anoka County against the child's mother's side of the family, and a hearing was scheduled for this Friday.
"They were here to serve him (Jason Youngstrand) with an 'Order For Protection' that they got from another county (Sherburne County) that she (Gail Youngstrand) doesn't even live in. She lives in this county (Anoka). And they kidnapped Buckely. After they put us in the squad cars. They went in my house with no Warrant and took the baby," Melissa Grover said.
The fact-pattern appears to show one Party, after being properly served with a court order and given a court date, went to another county where they did not even live and obtained their own court order, and then, deputies served it.
"I get here at 12:30 and the house is fucking surrounded by cops – deputy sheriffs," Jason Youngstrand said.
Grover, who is affiliated with the Pentagon Pedophile Task Force and very familiar with her Constitutional rights said she knew what to do. Grover said she quickly began filming with her cell phone, told the deputies they need a "warrant" and quickly called Kirk Pendergrass, agent, E-Clause LLC (E-Clause LLC does loss prevention for the United States government).
Grover said she was talking to Pendergrass when a deputy took her phone and locked her in the back of a car. She said the deputy then executed a function on her phone that made it so she could not user her phone to record anything for over half an hour.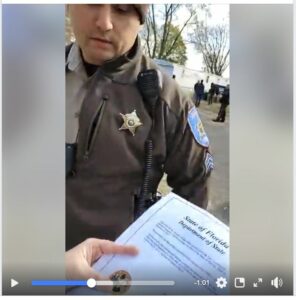 Amidst the terrorization and violence the deputies got what they wanted.
"They were going to break my patio door window in the middle of the winter is what they were going to do. They [said] they were going to take him with or without me if I obstruct them," Michael Grover said.
"I didn't obstruct. They already had [my wife Melissa Grover] in cuffs and Jason on the ground," Michael Grover said.
Michael Grover said he agreed the uniformed deputies could go into his home because he thought his wife and son-in-law were going to jail and there would be nobody left to post bail for anyone if he got arrested too.
Youngstrand said the other Party executed a similar plan against him regarding his first son, who he has not seen in five years.
Youngstrand has further suspicions regarding his wife's side of the family which will be discussed in formal interviews with E-Clause LLC.
According to a member of the Pentagon Pedophile Task Force, E-Clause will be conducting an audit of Anoka County.
Grover and Youngstrand were charged with 'Obstruction of Justice'.
Youngstrand said he does not know the whereabouts of his son.
This is a developing story.
Timothy Charles Holmseth is an award-winning news reporter with the North Dakota Newspaper Association. Timothy Holmseth is the only authorized reporter to report original content for the Pentagon Pedophile Task Force.
There is one man between Timothy Holmseth and President Trump.
* * * * *
The following was published by Melissa Grover on FACEBOOK immediately following the event.
"my grandson was just kidnapped, by these men who were dressed like police officers. they had no warrant, THEY SAID THEY WILL SURROUND OUR HOME AND BREAK THE PATIO DOOR DOWN TO GET TO MY GRANDSON, EVEN AFTER INSTRUCTED TO COME BACK WITH AN ARTICLE 3 WARRANT, RAISED COURT SEAL FROM AN ARTICLE 3 COURT, they had zero LAWFUL authority to do this. this is his home. there was an active OFP, court on Nov. 8th, 2019; the ORDER FOR PROTECTION was for Jason Nostrand, and his 2 sons. THEY ARRESTED ME, AND MY SON LONG ENOUGH TO TAKE MY (Grandson Buckley) My son Jason SON who is 4 years old the mother, left thursday on false claims of domestic by coaching from her mother, her mother had a harassment order on me for 21 years, and has been seen in my home streets with my daughter in law stalking my house and my son and daughter in laws home. The mother has several mental issues and is dangerous. this is the home of my daughter in law and my son and his son. SHE DOES NOT LIVE IN SHERBURNE COUNTY, THE JUDGE WHO SIGNED THE ORDER IS THE SAME JUDGE WHO KIDNAPPED MY SONS FIRST BORN SON AND HE HASN'T SEEN HIM IN 5 YEARS.
ROBIN R. AARON AN INDICTMENT IS FORTHCOMING!
THERE WAS EXCESSIVE FORCE, MORE VIDEO TO FOLLOW. I AM INJURED AND SO IS MY SON. 8 OFFICERS ATTACKED HIM, HE IS NOT DIVORCED, AND THEY HAD NO CAUSE OR AUTHORITY. I TOLD THEM UNDER ARTICLE 4, TREATISES ON FALSE ARREST AND IMPRISONMENT, I REMINDED THEM THEY ARE MY PUBLIC SERVANT AND THEY HAVE NO LAWFUL AUTHORITY TO DO THIS. THEY SAID, AND I QUOTE, "THEY DON'T CARE" THEY THREW THE PAPERS I SHOWED THEM, AND THREATENED TO BREAK OUR DOORS DOWN. THIS. IS. WAR! THEY BROKE MY PHONE. THREW IT ON THE GROUND.. MY SON IS STILL MARRIED HIS WIFE STILL LIVES HERE, THE KIDNAPPERS TOOK AN ORDER FROM SHERBURNE COUNTY.. WE ARE IN ANOKA COUNTY. THERE WERE SEVERAL WITNESSES. AND MORE VIDEO TO FOLLOW."