Patriots owner Florida sex bust in international human trafficking sting hits home in Northern Minnesota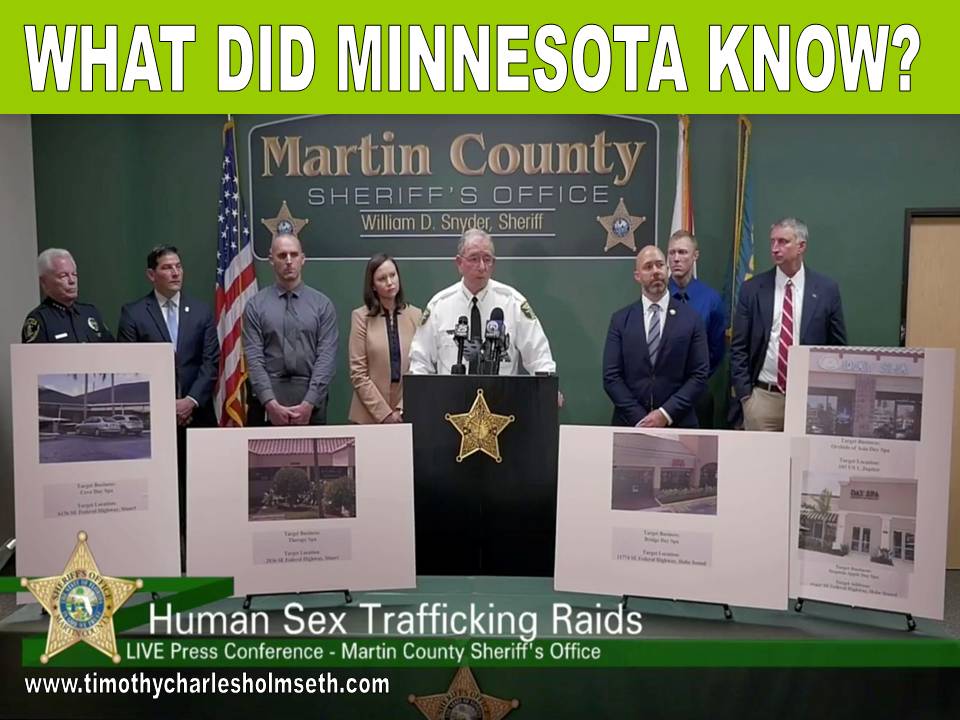 "Eventually, hundreds of arrests are expected, and were said to include prominent members of the community" reported CBS 13 WGME.
by Timothy Charles Holmseth on February 22, 2019 at 9:22 P.M. CST UPDATED February 23, 2019 at 12:56 P.M.
Why would the name of New England Patriots owner Bob Kraft ever come up in the same sentence with a little town in northern Minnesota called East Grand Forks?
The answer is as shocking as today's headlines out of Florida … its criminal charges pertaining to international human trafficking in Florida.
"New England Patriots owner and part-time Palm Beach resident Robert Kraft is one of 25 people facing charges of soliciting prostitutes as part of a series of human trafficking and prostitution arrests in Palm Beach County and the Treasure Coast, Jupiter Police Chief Daniel Kerr said Friday" the Palm Beach Post reported today.
Over two-thousand miles away…
The 9th Judicial District in Polk County, Minnesota contains troves of files and audio recordings in both the criminal and family divisions, where the words "Florida" and "international child sex trafficking" and "child prostitution" mark a courtroom battleground between a small city government, and an award-winning news reporter, who have been locked in a bizarre war spanning nearly a decade.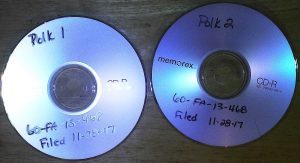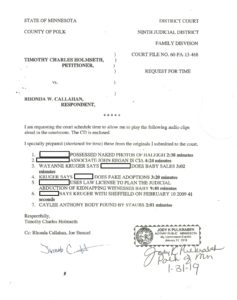 The war is over information and public safety.
In 2009, Timothy Charles Holmseth, 50, East Grand Forks, stumbled upon an international sex trafficking operation while conducting recorded interviews with key figures in the national profile kidnapping case of HaLeigh Cummings – a five year old who vanished from her bed in Satsuma, Florida.
Holmseth learned from a legal assistant from South Florida about child rape pornography of the missing child that was not turned over to police – and soon learned about an entire trafficking operation of babies, children, and young kids being moved abroad through Florida to a U.S. Embassy or across the U.S.-Mexican border.
It's all on tape.
The criminal charges against Patriots owner Bob Kraft are shining a fresh light on the Minnesota situation.
Holmseth, who was interviewed by the Minneapolis FBI at the request of the Jacksonville, Florida office twice in 2010, has been arrested three times locally, and is presently facing trial on four counts of violating a court order issued against him in Broward County, Florida in 2011. The order from Florida is so constricting and oppressive Holmseth cannot describe it and publish it on the Web without being arrested.
In October, 2018 the police in East Grand Forks went straight to Holmseth's apartment to arrest him after receiving a report that words had been written about the MAGA bomber in Florida and published in a Tweet on Holmseth's Twitter account. However, the police will not investigate reports Holmseth makes that could lead to online cyber criminals that have stalked him for a decade. Shortly before the October Twitter incident that led to Holmseth's arrest, Holmseth was doxxed by the internet hacktavist group 'Anonymous' and telephoned by VICE NEWS who called to interview Holmseth for a story entitled 'Anonymous is now doxxing Q-Anon supporters: "We gonna wreck you".
The VICE NEWS story featured a You Tube directed at Holmseth where a mechanical voice said, "That crazy pedophile connection you Q's are throwing around while ignoring Trump's own connection makes us wonder what – seems you've got some kooky political agenda".
However, the Kraft raid in Florida has been a massive reality check for the public that is not aware or in tune to the reality of sex trafficking.
"The investigation culminated in raids and numerous arrests of suspects who were involved with or customers of Asian massage parlors. Investigators say those businesses served as fronts for prostitution, with workers who were trafficked in from other countries,"reported CBS 13 WGME.
"Reports by Florida media outlets describe an extensive law enforcement response. At least eight so-called spas were raided and closed this week. Authorities say a related human trafficking ring has connections to China and New York," reported CBS 13 WGME.
Holmseth recognizes everything.
During recorded interviews with licensed private investigator and bail bondsman William E. Staubs, Case Closed Inc., Weston, Florida, Holmseth was told about a human trafficking corridor between Florida and New York.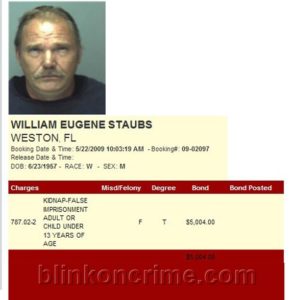 You couldn't make this up.
Staubs' knowledge-base of trafficking operations was extensive – in fact, he was arrested by the Putnam County Sheriff's Office in Florida in 2009 for kidnapping. In 2011, Staubs told Holmseth he was an informant for Florida Attorney General Pam Bondi and met with her personally.
Now the question is being asked.
Did a journalist/author in Polk County, Minnesota discover a human sex trafficking operation years ago while covering a high profile missing child case – only to receive death threats against his family including his grandchild, have his computer seized by armed task force agents, and find himself repeatedly arrested for talking about what he knew?
Holmseth was 'Roger Stoned' by the Minnesota Pine to Prairie Gang and Drug Task Force in 2012 when police with guns and bullet proof vests slammed a warrant into his chest as they stormed over the top of him into his home office in East Grand Forks. Holmseth's hard-drive and storage devices were all seized – nothing illegal was found and the hard-drive was rendered inoperable in police custody who kept no chain of custody records, according to Police Chief Michael Hedlund.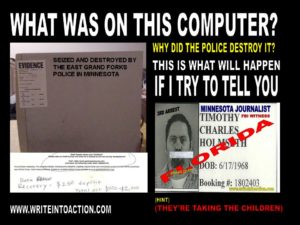 What were the police trying to get rid of?
The City of East Grand Forks has invested untold thousands into prosecuting Holmseth on baseless and unprovable claims involving content that appears on the Web.
Wayanne Kruger, an author and associate of Attorney Gloria Allred who represented Crystal Sheffield (the mother of HaLeigh Cummings) told Holmseth she believes HaLeigh Cummings and hundreds of other children were taken out of Florida and moved across the U.S. – Mexican border.
Whether or not the trafficking operations detailed to Holmseth are the same operators connected to the Kraft arrest is not readily known.But – there is irrefutable proof the police department and City of East Grand Forks is trying to hide something connected to Florida.
Secret emails, which were released by Polk County Attorney Greg Widseth, show the city of East Grand Forks took a secret and disturbing interest in preventing the recovery of missing child HaLeigh Cummings in 2009, when the ranking officer at the police department, Lt. Rodney Hajicek, secretly emailed a CNN reporter named Art Harris as they discussed how to prevent Holmseth from further assisting the FBI.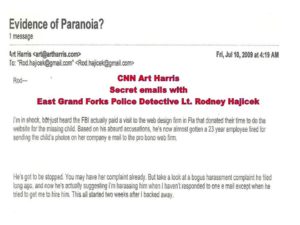 "I'm in shock, but just heard the FBI actually paid a visit to the Web design firm in Florida that donated their time to the website for the missing child. Based on [Timothy Holmseth's] absurd accusations he's now almost gotten a 23 year employee (Donna Wagoner, Xentel, Inc) fired for sending the child's photo on her company email to the pro bono web firm," Harris said to Hajicek, a police officer that was using his private Gmail account to talk about Holmseth in the middle of the night.
The quest to stop Holmseth from talking about the Florida trafficking operations became increasingly bizarre, and in 2013 Ronald Galstad, Galstad, Jensen, and McCann, got caught lying to a district judge about a fake relationship he professed to have with the Minnesota Bureau of Criminal Apprehension (BCA) regarding Holmseth's hard-drive, which the police seized.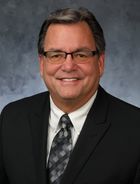 Galstad told Judge Tamara Yon in the 9th Minnesota District that he was working with the BCA – but when asked about the supposed relationship, BCA Superintendent Andrew Evans said Galstad was lying and the BCA never gave the police in East Grand Forks permission to use their evidence stickers.
"I've just been notified that the BCA, before they'll do a forensic search of that computer, wants either an Order of this court, or a search warrant that says they can – – we got the original search warrant, but for whatever reason the BCA wants something that says that they can actually search that hard-drive. So I am going to be either, one, asking – – or requesting an additional warrant for forensic search of that computer hard-drive or the Court can make that Order as they see fit, but I'm going to be doing that," court transcripts reveal.
Galstad was lying.
Drew Evans, superintendent, BCA, said the BCA played no role in the operation and knew nothing about it. "Mr. Holmseth – we were not asked to conduct a forensic examination of your computer," Evans said in a 2013 email.
However, the Pine to Prairie Task Force commander, Sgt. Aeisso Schrage, had attached MDPS/BCA stickers to evidence seized from Holmseth.
Jill Oliveira, the public information officer for the MNDPS/BCA said, "The BCA had no role in the investigation you describe and did not attach any tags to evidence in that case".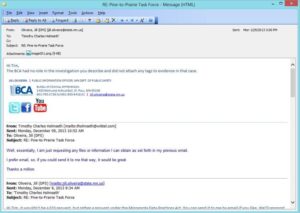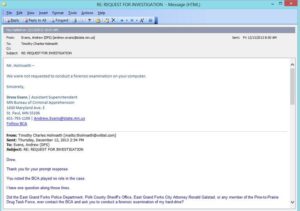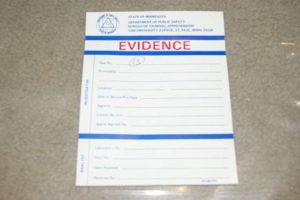 When the Grand Forks Herald contacted Holmseth regarding his news reporting for a Bismarck Tribune story in 2018, David Murphy, the city manger of East Grand Forks spoke out strongly against Holmseth.
East Grand Forks City Administrator Dave Murphy said he is the only city official Holmseth is allowed to talk to.
"Mr. Holmseth, in my opinion, wastes a lot of the city's time and energy in sending in Freedom of Information requests and calls," Murphy said, adding Holmseth uses a lot of the city's records to support "baseless accusations" against city officials and police.
"Quite frankly, I find it disgusting because these are hard-working state officers," Murphy said. "To have someone baselessly accusing them of being child sex traffickers is sick. – Bismarck Tribune / August 19, 2018 
Is it?
"Eventually, hundreds of arrests are expected, and were said to include prominent members of the community" reported CBS 13 WGME.
Perhaps that's why Holmseth easily passed the psychological evaluation requested by Galstad after Holmseth advised the Minnesota court he is filing a federal deprivation of rights lawsuit.
Update:
On February 23, 2019 FOX NEWS reported:
NFL owner Robert Kraft isn't the only prominent name—or billionaire– snagged in a Florida prostitution bust.
Others named in the sweeping sex sting include billionaire Wall Street financier John Childs, as well as a former Citigroup president and a president of a Florida Boys and Girls Club, according to reports.
At the same time, WPEC-TV reported Friday that the probe also nabbed three former law enforcement officers in Indian River County.
About Author