President Trump requests to review video-taped interviews of CPS kidnapping victims – Wisconsin publisher arrested before interviews could be conducted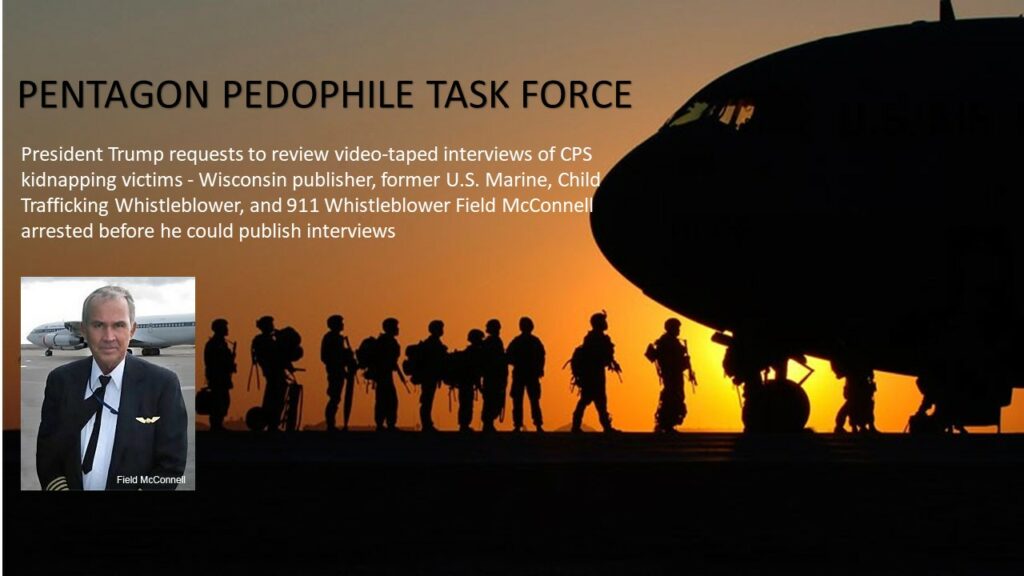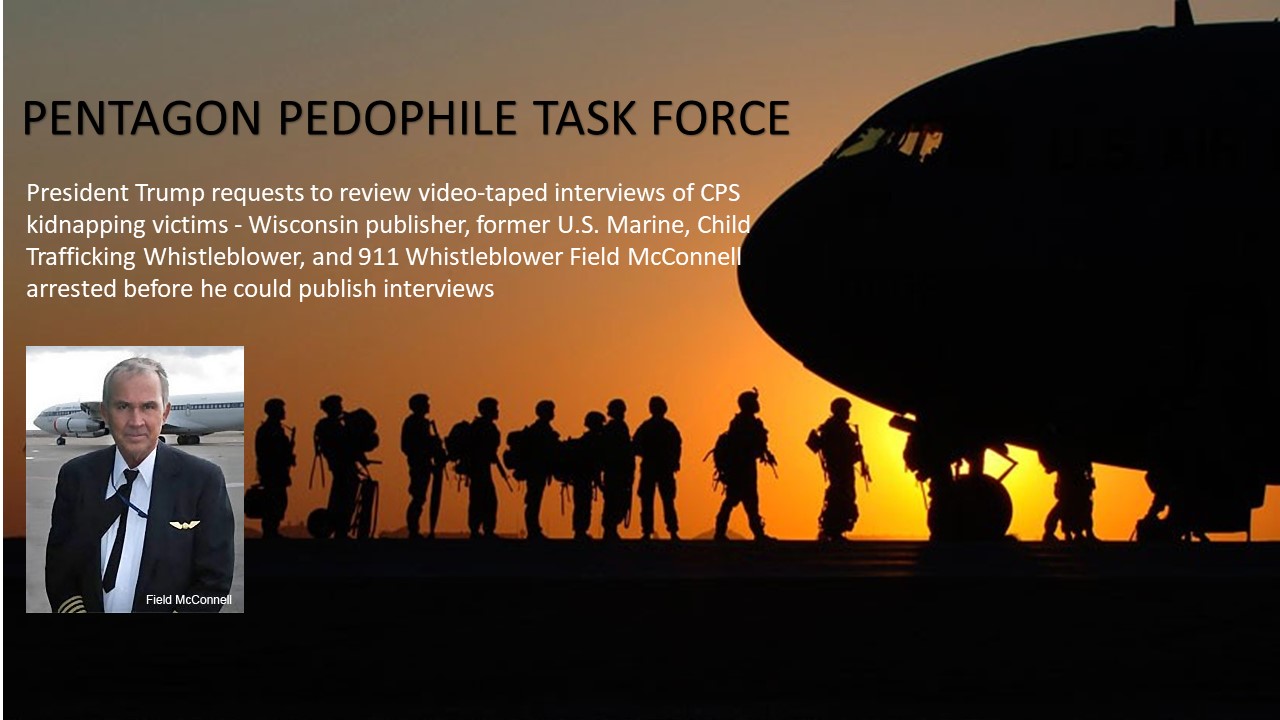 by Timothy Charles Holmseth on November 5, 2019 at 10:04 A.M.
The Wisconsin broadcaster that was scheduled to publish video-taped interviews of CPS kidnapping victims at the request of President Donald Trump has been arrested.
Field McConnell, 70, Plum City, Wisconsin was arrested by the Pierce County Sheriff's Office on November 4, 2019.
Whether or not there is actually a lawful Warrant with a raised court seal is in dispute and Pierce County Sheriff's Office won't release a copy of the so-called Warrant.
McConnell, a former U.S. Marine and pilot is the host of a You Tube program called The Field Report (formerly Abel Danger). McConnell is a 911 Whistleblower, author, and recently formed The Children's Crusade to expose the evil of child sex trafficking.
McConnell is/was scheduled to air interviews of victims of CPS child kidnappings which had been requested by President Donald Trump through E-Clause LLC, Florida, and coordinated by the Pentagon Pedophile Task Force (PPTF) with The Children's Crusade.
The weeks leading up to McConnell's arrest involve very public problems McConnell was having with a Colorado man who calls himself MONTAGRAPH who produced a child torture porn film called LITTLE PIGGY AND THE UMBRELLA MAN and is suspected by the PPTF of being present at the murder of JonBenet Ramsey in 1996. The child in the video tied to a chair with a pig snout around her face is sexually assaulted by MONTAGRAPH who makes her squeal like a pig and tells her he knows she likes it when strange men get on top of her and pound her like the little cunt that she is. The female has never been officially identified by law enforcement.

Following McConnell's arrest an unidentified man (whose identity is known by the Pentagon) on You Tube that calls himself "Agent 19" produced several videos claiming he, and his online counterpart called MONTAGRAPH, possessed personal advance knowledge that Field McConnell, Plum City, Wisconsin, was going to be arrested.
"Field McConnell was taken into custody earlier this afternoon as the direct result of his violation of a court ordered injunction issued out of Broward County, Florida," the man who calls himself Agent 19 said.
"Does this come as a surprise to anyone? Because it comes as absolutely no surprise to myself or MONTAGRAPH. You notice on my account that we've been teasing that this is going to occur for the last month or so. I've been making statement about Mr. McConnell being arrested. Being fitted for handcuffs etc. And over the past week or so you've heard MONTAGRAPH over his livestream saying something very interesting is going to happen. Well something very interesting has happened this week. We knew this was coming well in advance," the man who calls himself Agent 19 said.
According to a background check run by the Pentagon, MONTAGRAH's present legal name is Steve Quest. Records show he has also used the names Roy Warren Marshall and Dale Ellis Bennett.
MONTAGRAPH recently became a central figure in the case of murdered child JonBenet Ramsey who was found dead on December 25, 1996 in her parents Boulder, Colorado home. MONTAGRAPH's possible involvement was reported on timothycharlesholmseth.com
On October 20, 2019 Timothy Charles Holmseth (this writer) published JONBENET RAMSEY BREAKTHROUGH! EVIDENCE: Colorado Man That Produced Child Torture Porn CHANGED HIS NAME After Being Questioned by Law Enforcement About JonBenet Ramsey Murder
MONTAGRAPH stated in a video that a man named Mr. Bennett had been questioned about, what he called, 'the Boulder incident' but said he doesn't even look like that man and had never had the name Dale Ellis Bennett. Pentagon background records show he was named Dale Ellis Bennett and changed it.
MONTAGRAPH recently went on You Tube Livestream and, while acting extremely angry, began boasting how he can obtain anybody's telephone number he wants. He then then began telephoning elected officials live. He said he was going to telephone VICE PRESIDENT MIKE PENCE and purposely have Pence's Secret Service agents dispatched to his home so he can show them documents and data he possesses that contain incriminating information about people that have gone on 'Tours to Thailand' and have visited websites that they would not want anybody to know about.
MONTAGRAPH appeared to be blackmailing somebody, which should be investigated.
MONTAGRAPH telephoned JOE BIDEN, TREY GOWDY, and CAROLINE KENNEDY. He also claimed he was going to telephone SENATOR LINDSEY GRAHAM.
While MONTAGRAH boasted that he wished to speak with VP Mike Pence's Secret Service detail, he noted he had obtained PRESIDENT DONALD TRUMP's cell phone number but did not want a visit from Trump's Secret Service.
During MONTAGRAPH's video about VP Pence, the PPTF noticed MONTAGRAPH was wearing a Comcast jacket while bragging about his ability to obtain any information he wanted. When Timothy Holmseth reported MONTAGRAPH was wearing a Comcast uniform, MONTAGRAPH quickly took to Livestream and announced he did not work for Comcast but rather, he had purchased the jacket at a thrift store. Agent 19 was in the online chat room and said MONTAGRAPH wore the Comcast jacket to throw people off.
MONTAGRAPH subsequently removed several months of videos (copies of which have been retained by the PPTF).
ANOMALIES IN THE FIELD MCCONNELL ARREST
McConnell has no family in Florida that would qualify anybody to file any type of court action against McConnell using Family Court forms to be heard in the Domestic Violence Division.
Immediately following McConnell's arrest, multiple searches by the PPTF for Broward case number 19-007230 in the Broward County Clerk of Court records system showed no records whatsoever for the name Field McConnell. The case number was searched at the Pentagon level and my source confirmed no records for McConnell were appearing in Florida. This is extremely concerning because McConnell was served documents with a court file number and his arrest, according to Agent 19, was based upon the Florida court order.
ARREST WARRANT IN QUESTION
Kirk Pendergrass, agent, E-Clause LLC, was present when McConnell was arrested by the Pierce County Sheriff's Office who had traveled to Plum City to search for McConnell. "I asked them if they had a Warrant. They said no. He showed me some other piece of paper. I said this isn't a Warrant. He said, 'Well this is the way we have always done it,'" Pendergrass said.
"He admitted right there that they have been trespassing the law for as long as he can remember," Pendergrass said.
It is not readily known what the deputy showed Pendergrass.
Pendergrass, who is from Idaho, traveled to Wisconsin and had only been in Plum City for a few hours before his client McConnell was arrested.
E-Clause LLC, based in Florida, was created under direct consent of Congress and does loss prevention for the government of the United States of America. E-Clause is authorized in all 50 states. E-Clause conducts audits on government agencies for emoluments violations.
STATE OF MINNESOTA V. TIMOTHY CHARLES HOLMSETH
E-Clause LLC already broke up a corrupt Sharia Law sham against a news reporter that began in  Broward County, Florida and was executed by law enforcement in Polk County, Minnesota. The Minnesota/Florida Sharia Law sham is nearly an exact mirrored reflection of the Florida/Wisconsin case against McConnell.
STATE OF MINNESOTA V. TIMOTHY CHARLES HOLMSETH was reported to the Judiciary by E-Clause and is under investigation by the U.S. Department of Justice and Florida Department of Law Enforcement.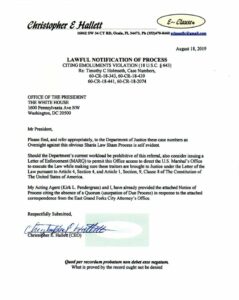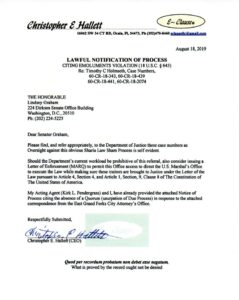 McConnell once stated to a judge during open court in Wisconsin that his sister, Kristine Marcy, operated a world-wide child sex trafficking operation with Hillary Clinton. McConnell said the judge put his hands over his ears and said "Blah, blah, blah too much information" and dismissed McConnell from jury duty.
The famous actress ROSEANNE recently published a video heralding President Trump and the Pentagon Pedophile Task Force.
This is a developing story.