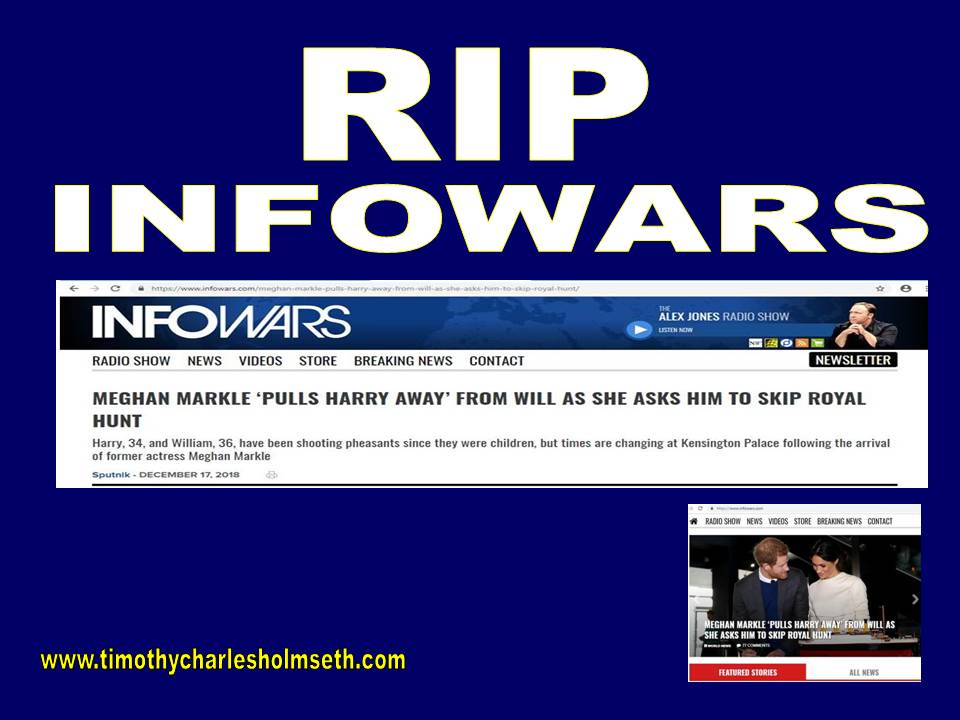 by Timothy Charles Holmseth on December 17, 2018 at 1:18 P.M. CST
Today, CIA operative Alex Jones (Bill Hicks) published pathetic grocery line propaganda about the world's most nefarious Luciferian family – the English (reptile) Royals – on his website Infowars.
The headline read: MEGHAN MARKLE 'PULLS HARRY AWAY' FROM WILL AS SHE ASKS HIM TO SKIP ROYAL HUNT – Harry, 34, and William, 36, have been shooting pheasants since they were children, but times are changing at Kensington Palace following the arrival of former actress Meghan Markle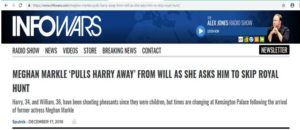 Fairy tale bullshit about evil satanic pedophiles is not 'information'.
Infowars is dead.
It was clear Jones/Hicks' show Infowars was on life-support when he joined Dr. Jerome Corsi in a failed attempt to hijack 'Q'. Jones and Corsi subsequently tried to discredit 'Q'.
Jones' true evil was revealed when he promoted Vets For Child Rescue with former Navy Seal and bodyguard for Hillary Clinton, Craig Sawyer. Jones and Sawyer tricked the public into believing Sawyer and his teams were going to rescue kidnapped children that were being held in cages and sex dens. None of Sawyer's promises ever materialized and he was ultimately exposed by a Board member who described the elaborate fraud.
This latest desperate action by Jones comes as EXPLOSIVE revelations are exposing the collapse of the satanic pedophile government as reported by Daniel John Lee.