Alleged child serial killer panics after report made to TBI in Summer Wells case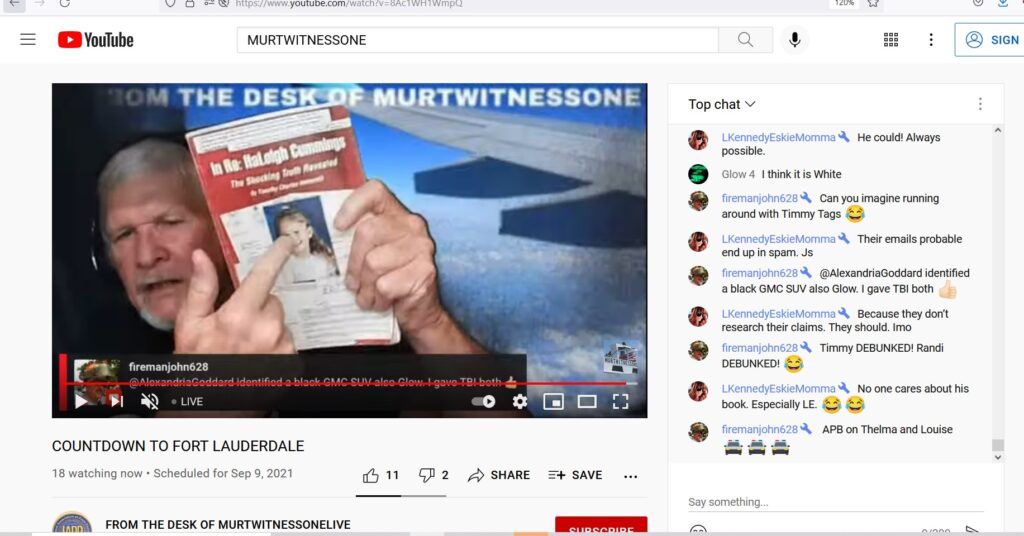 by Pentagon Pedophile Task Force on September 9, 2021 at 8:35 P.M.
An alleged child serial killer from Florida who travels the country to meet with FBI agents under established mission names such as "OPERATION CHAOS" – whereupon he gives the feds information he says about international human trafficking – had a strong reaction to a report we made earlier today.
Today we published 'Tennessee Bureau of Investigation alerted to organized kidnapping in Summer Wells case'.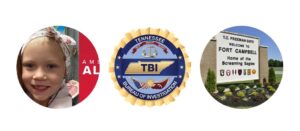 The information summitted to to TBI and U.S. Military by Timothy Charles Holmseth included information about William K. Murtaugh, Apopka, Florida.
Several hours after the report published, Murtaugh went Live on You Tube and announced he contacted the military and law enforcement to inquire about the report made by Holmseth.
Murtaugh announced that he was told that nobody received any letter from Holmseth.
The following screenshot shows the response Holmseth received from the TBI.

Murtaugh said law enforcement told him Holmseth is under investigation. Murtaugh said he was made privy to "confidential" information about Holmseth and Randi L. Erickson, publisher, www.timothycharlesholmseth.com.
Murtaugh told his 21 viewers that a spokesman at Fort Campbell advised him that Holmseth had been picked up on surveillance cameras at Fort Campbell holding his (Holmseth's) book. Murtaugh said Holmseth is going to be in trouble for reporting about the case of missing child Summer Wells. Murtaugh said Holmseth is "interfering" with the investigation.
Evidence shows Murtaugh has consistently involved himself in missing child cases for over a decade. Murtaugh was on the news in Florida during the search for slain toddler Caylee Anthony. News reporters said Murtaugh "apologized" after he published a letter online wherein he claimed to know the identify of missing child Trenton Duckett's abductor.
In 2020, Murtaugh traveled to Minnesota to meet with Minneapolis FBI agents as part of what he called "OPERATION CHAOS" he was running in conjunction with former Navy SEAL Craig Randall (Sawman) Sawyer, founder, Veterans For Child Rescue Inc, Arizona.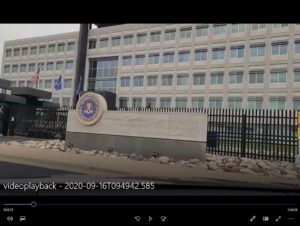 Chat logs under Murtaugh's name also reveal he confessed to murdering Trenton and five other children. The horrendous confession showed the author bragging that he raped and murdered little kids and laughed about the fecal matter that exits a child's anus when being raped.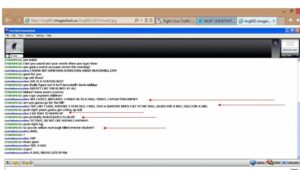 ~START~
STD8DOPO102: so how do we get in?
murtwitnessonelive: YOU DO NOT
STD8DOPO102: why not? Niggers not allowed?
murtwitnessonelive: NOPE
STD8DOPO102: I knew it
murtwitnessonelive: OH WELL
STD8DOPO102: I'm gonna scrub the black off my skin then I will get in
STD8DOPO102: or maybe I have to be an old granny
murtwitnessonelive: MABIE
STD8DOPO102:  maybe moron
STD8DOPO102: not mabie
STD8DOPO102: I bet you sound out your words when you type them
STD8DOPO102: you gonna watch sesame street this morning?
murtwitnessonelive: I FOUND OUT SOMETHING INTERESTING ABOUT BEACONHILL.COM
STD8DOPO102: good for you
STD8DOPO102: sup wid them?
murtwitnessonelive: SHE IS A SCIENTOLOGIST
STD8DOPO102: you finally figure out it isn't beaconhell? dumb midlcips
murtwitnessonelive: DOESN'T LIKE YOU BLOKES AT ALL
STD8DOPO102: blokes? Damn you're a moron
STD8DOPO102: you rape anymore children?
murtwitnessonelive: NOT LATELY. BEEN BUSY. I MIGHT GO TO A MALL TODAY, I AM GETTING HORNEY.
STD8DOPO102: Are you gonna go for the kill?
murtwitnessonelive: YUP, LIKE I SAID, ANOTHER 3 YEAR OLD. I WILL TOSS A QUARTER WHEN I GET TO THE MALL…HEADS FOR A BOY TAILS FOR A GIRL
STD8DOPO102: yeah right you're gonna get a blow up doll
murtwitnessonelive: I DO THAT TO WARM UP
STD8DOPO102: you probably fucked justice to death
murtwitnessonelive: TO TIGHT. DO NOT LIKE ANIMALS ANYWAY
STD8DOPO102: yeah right fag
STD8DOPO102: so you're mr. William murtaugh killed trenton duckett
murtwitnessonelive: UHIH
STD8DOPO102: ?
murtwitnessonelive: YUP
STD8DOPO102: that's good
murtwitnessonelive: YUP, A GAS
STD8DOPO102: a gas?
murtwitnessonelive: A GAS, MEANS LOTS OF RUN
STD8DOPO102: lurk moar
STD8DOPO102: you do caylee to?
murtwitnessonelive: NOPE, MOM BEAT ME TO IT
STD8DOPO102: but you wanted to? Would you have did her sexually?
murtwitnessonelive: SURE
STD8DOPO102: how much money did you get in donations?
murtwitnessonelive: LOTS, GOIN TO THE POORHOUSE
STD8DOPO102: that's what this is all about right? donations?
murtwitnessonelive: I MIGHT WRITE A BOOK THOUGH, AND MAKE SOME DOUGH
STD8DOPO102: it's all about the money right?
murtwitnessonelive: GOTTA EAT, YOU KNOW.
STD8DOPO102: get a real job sand nigger
STD8DOPO102: too much work?
murtwitnessonelive: AND WHAT JOB WOULD THAT BE
STD8DOPO102: rather be a worthless camwhore?
murtwitnessonelive: YUP
STD8DOPO102: you own your own business! Quit being a camwhore and go to work fuck
STD8DOPO102: how many have you killed?
murtwitnessonelive: 6
STD8DOPO102: only 6?
murtwitnessonelive TIME CONSTRAINTS
STD8DOPO102: what do you use?
STD8DOPO102: got names?
STD8DOPO102: was your son one of those?
murtwitnessonelive: NOPE I ONLY DO THOSE UNDER 5
murtwitnessonelive: NO NAMES YOU ALREADY KNOW ONE OF THEM
STD8DOPO102: do more
STD8DOPO102: you need more to be famous dud shit
murtwitnessonelive: PROBABLY WILL BE WHEN CAUGHT
STD8DOPO102: nah
STD8DOPO102: you need more kills first
murtwitnessonelive: WE WILL SEE. IF I CAN KEEP FROM BEING CAUGHT. DECIDED ON THE PINELLAS SQUARE MALL IN TAMPA. WILL BE OVER THERE THIS AFTERNOON.
STD8DOPO102: I thought you were going there yesterday dipshit?
murtwitnessonelive: THAT COP CAR THING SCREWED IT UP
STD8DOPO102: i guess we better call again
STD8DOPO102: to stop you
murtwitnessonelive: GO FOR IT
STD8DOPO102: lulz!
murtwitnessonelive: I THOUGHT YOU WANTED THE LUL?
STD8DOPO102: do a barrel roll!
murtwitnessonelive: NAH DO YOUR OWN BARRELL ROLL
STD8DOPO102: do a barrel roll on cam dude
murtwitnessonelive: NAH
STD8DOPO102: yes
STD8DOPO102: you love being trolled huh?
STD8DOPO102: ukmod is your bitch huh?
murtwitnessonelive: SEEMS THAT WAY
murtwitnessonelive: A BIT OLD
STD8DOPO102: he gonna be the next victim?
STD8DOPO102: I thought you and sherri broke up nigger?
STD8DOPO102: fucking bullshit queer
murtwitnessonelive: GOT TO KEEP THE GIRLS HAPPY. LET THEM THINK WHAT THEY WANT
STD8DOPO102: they want a dick and balls which are two things you do not have my friend
murtwitnessonelive: OH WELL
STD8DOPO102: how about getting a real job? that would shock the shit out of her I'm sure
murtwitnessonelive: WHATS AREAL JOB? A BIT HARD IN THIS ECONOMY. LOTS OF PEOPLE OUT OF WORK.
STD8DOPO102: not really you just don't want one
STD8DOPO102:  you'd rather sit on the cam all day like a queer female camwhore
murtwitnessonelive: WHATEVER
murtwitnessonelive: CAMWHORE IT IS
STD8DOPO102:  I bet, your took fucking stupid and lazy to get a real job you're a fucking a real job
murtwitnessonelive: I AM A PROFESSIONAL CAMWHORE; THAT;S MY JOB AND I AM STICKING TO IT
STD8DOPO102:  I bet your mother would be proud
STD8DOPO102:  i bet cathy would be proud
murtwitnessonelive: THEY PROBABLY WOULD
STD8DOPO102:  I doubt it
murtwitnessonelive: WHATEVER
STD8DOPO102:  theyd probably forsaken you
murtwitnessonelive: THEY ARE DEAD SO NO BIG DEAL
STD8DOPO102: sherry is just desperate
murtwitnessonelive: OH WELL, THAT IS LIFE
STD8DOPO102: i am sure she'd rather have a real man that is capable of supporting her
murtwitnessonelive: TRUE
STD8DOPO102: of course I don't know who would want her
murtwitnessonelive: I SUPPOSE YOU DO NOT
STD8DOPO102: thanks for answering
murtwitnessonelive: YOU ARE WELCOME, GLAD TO MAKE YOUR DAY
STD8DOPO102: its morgan and morgan
murtwitnessonelive: WHO?
STD8DOPO102: morgan and morgan
STD8DOPO102: if you live in fl you know who that is especially lake county
STD8DOPO102: if not lurk moar
murtwitnessonelive: WHAT IS LURK MOAR?
STD8DOPO102: lurk moar
murtwitnessonelive: WHO OR WHAT IS THAT?
STD8DOPO102: it means to lurk moar
murtwitnessonelive: I GUESS YOU LOST ME
STD8DOPO102: come on buddy I aint got all goddamn day to fucking be a teacher
STD8DOPO102: look it up
murtwitnessonelive: WELL YOU SEEM TO HAVE ALL GODDAMN DAY TO FUCK WITH ME
STD8DOPO102: of course there is always time for that
STD8DOPO102: and you seem to enjoy it as well
murtwitnessonelive: WELL THERE YOU GO
STD8DOPO102: you abandon your room for me
STD8DOPO102: lulz
STD8DOPO102: your room is garbage anyway
~END~