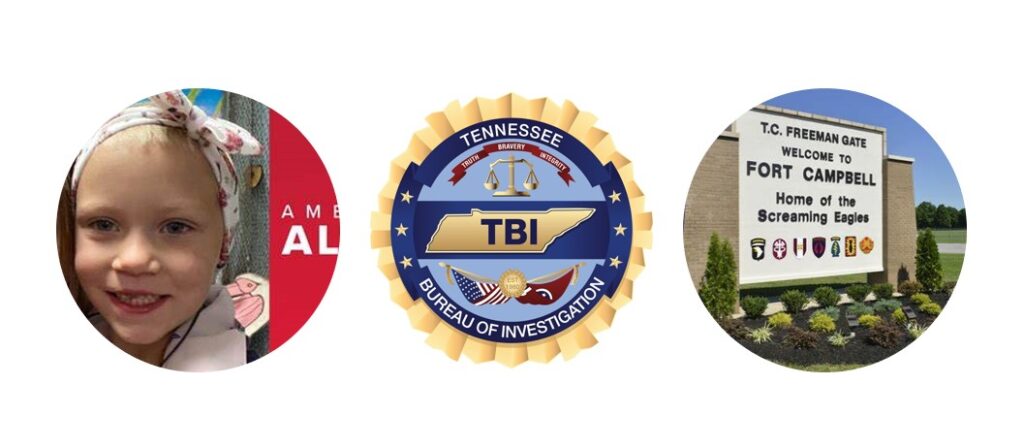 by Pentagon Pedophile Task Force on September 9, 2021 at 10:51 A.M.
The following information was transmitted to the Tennessee Bureau of Investigation and Fort Campbell Army Base today.
~ ~ ~ ~ ~
Timothy Charles Holmseth
tholmseth@wiktel.com
www.timothycharlesholmseth.com
In Re: Summer Wells
September 9, 2021
Chief Investigator
Tennessee Bureau of Investigation
Dear Chief Investigator,
On August 4, 2021 the TBI published on Twitter,  "#TNAMBERAlert: The investigation into the disappearance of Summer Wells remains ongoing. Misinformation shared on social media about the case continues to cause problems. We are again urging the public only to share info from official sources."
I have information that will lead you to specific individuals that are working as part of an organized operation that is in place to threaten and tamper with witnesses, obstruct justice, and strategically disseminate disinformation at a mass scale in many missing child cases including the case of Summer Wells.
MY BACKGROUND – Timothy Charles Holmseth About Timothy Holmseth – TIMOTHY CHARLES HOLMSETH™ Reports https://timothycharlesholmseth.com/about/
I am an investigative journalist, author, and have been an award-winning news reporter with the North Dakota Newspaper Association. I passed a security clearance background check performed by the U.S. Department of Agriculture and was authorized to enter the secure areas of a locked federal facility.
I am presently an independent journalist and report for the Pentagon Pedophile Task Force (PPTF), which was created via Presidential Executive Order within the Donald Trump White House per a liaison to the President, as part of the United State Army Intelligence Support Activity (USAISA) and Joint Special Operations Command (JSOC) which gathers actionable intelligence regarding international crimes and turns it over to the U.S. Military via liaison for review and possible action.
In December, 2017 I sent a MEMO to A.G. Jeff Sessions warning President Trump about the perils of Mike Pence and an international human harvesting operation. The MEMO was Tweeted by high profile attorney Lin Wood who encouraged the world to read it. https://timothycharlesholmseth.com/attorney-lin-wood-encouraged-the-world-to-read-timothy-charles-holmseths-memo-warning-trump-about-pence/
https://haleighcummingsdotme.wordpress.com/2017/12/20/memo-warns-attorney-general-jeff-sessions-of-vp-pence-and-florida-attorney-general-pam-bondi-after-minnesota-court-rules-on-international-child-trafficking-evidence/
In 2010, I was deemed a credible witness after I was interviewed by the Minneapolis FBI at the federal courthouse in Grand Forks, North Dakota. I was interviewed regarding recorded interviews I conducted with multiple key figures in the national profile kidnapping and AMBER ALERT case of five year-old HaLeigh Cummings, Florida. I learned HaLeigh was a sex abuse victim who had been photographed in ways that featured the damage to the child's private parts caused by the abuse. I learned the secret photographs (kiddy porn) were being secretly (unofficially) passed around by a team that involved HaLeigh's family, a CPS child protection worker, attorney(s), PI's, advocates, paralegals, events planners, etc. I learned Haleigh's family partnered with a licensed PI named William E. Staubs 'Cobra the Bounty Hunter' (Case Closed Inc, Florida) and, a convicted sex offender from Hastings, Florida named "John Regan" who dressed up as a pastor and involved himself in the search for HaLeigh. I interviewed scores of people who told me John Regan identified himself as a "pastor" (who possessed a Chaplain's Badge), an "undercover FBI agent", and a "CIA agent". John Regan and his son, Jeremiah Regan, met with Staubs and HaLeigh's family to conduct a 'private search' in a rural location for HaLeigh that turned up ominous [planted] items that seemingly connected to HaLeigh and created the [false] impression HaLeigh was dead. FBI Special Agent A.J. Eilerman, and, Major Gary Bowling, Director of Law Enforcement, Putnam County Sheriff's Office, Florida, both agreed that the group involving Staubs and the Regan's had planted the evidence to make HaLeigh appear dead so people would stop looking for her.
Wayanne Kruger, an associate of Hillary Clinton, and the official advocate for HaLeigh's mother, told me during recorded interviews that John Regan told her he was "CIA" and "FBI'. She said John Regan told her the "FBI" already had HaLeigh but wanted to keep it quiet. She told me John Regan told her he reported to "Washington". She told me John Regan was involved in an international human trafficking and baby sales operation that utilized CPS and other methods to obtain babies and children and move them out of the country through then Ukraine Embassy in Washington DC using faked church dossiers and faked medical records.
In 2020, the PPTF determined John Regan was one in the same as "Bob Hamer" who serves on the Board of Advisors for Veterans For Child Rescue Inc. (V4CR), Arizona. V4CR was founded by Hillary Clinton's former personal security agent, former Navy SEAL Craig Randall (Sawman) Sawyer. Sawyer publicly states he formed V4CR in April of 2017 with high ranking FBI, CIA, and other federal agencies and military groups.
Bob Hamer is billed by V4CR as a former FBI agent who posed as a pedophile to infiltrate North America Man Boy Love Association (NAMBLA). The NAMBLA case became a high profile media event that was covered by FOX NEWS and major media outlets. Hamer has appeared on Oprah, FOX NEWS, and other media where he talks about his exploits as an 'undercover' pedophile, international arms dealer, contract killer, etc. Clear and convincing evidence easily shows Bob Hamer and John Regan are the same man.
Evidence strongly suggests Bob Hamer did not actually 'infiltrate' NAMBLA. Evidence suggests he was a CIA pedophile and was in fact actually part of NAMBLA. It appears he got caught and a cover story was then created for him by the FBI wherein the FBI allowed Hamer to claim Hamer 'infiltrated' NAMBLA as part of a sting on sex tourism for pedophiles to Thailand. Evidence shows after the 2005 case regarding NAMBLA, Hamer 'retired' from the FBI.
Hamer then re-surfaced in 2009 as Pastor John Regan in the HaLeigh Cummings case.
THE FINDERS
https://vault.fbi.gov/the-finders/
In the late 1980's an investigation took place regarding an organization that later became known as THE CIA FINDERS CULT after six neglected and abused children were discovered with strange men in a Tallahassee, Florida park. According to FBI files that have been released, the FINDERS had a secret headquarters in a building in Washington DC which contained evidence of kidnapping tactics, child porn, ritual abuse, ritual sacrifice, and espionage involving China. Wayanne Kruger told me that John and Jeremiah Regan 'reminded' her of the FINDERS. Investigation records released by the FBI show child sex abuse victim, Max Livingston, 6, told detectives he believed everything belonged to "Mr. Reagen". Hamer told Sawyer in a published interview that he (Hamer) once possessed a "passport" that was made by the "Chinese" for him and that the passport is now in the "FBI museum".
THE FINDERS was/is a CIA operation that entails full spectrum tactics for international trafficking and racketeering that permeates every form of government and the private sector including social media and the mainstream corporate media.
Evidence shows organized operatives that are connected to Craig Sawyer and Bob Hamer at V4CR are operating a media disinformation system that is being used to threaten and intimidate witnesses with kidnapping, rape, beastiality, torture, forced porn with animals at Fort Campbell, murder, and false arrest. The operation is used to guide narratives and confuse investigators in missing child and child sex abuse cases.
Operatives within this criminal organization include:
Levi Page, Tennessee, and, Alexandria Godard (not an American citizen), Ohio. You can view Pages You Tube at  Levi Page – YouTube https://www.youtube.com/c/LeviPageTV/videos
William K. Murtaugh, Florida. You can view Murtaugh's You Tube at FROM THE DESK OF MURTWITNESSONELIVE – YouTube https://www.youtube.com/c/FROMTHEDESKOFMURTWITNESSONELIVE/videos
If you investigate these operatives it is very likely you will be led to missing children and you will determine who is responsible for their disappearances.
You should be advised CID at Fort Campbell has already requested, and received, the evidence of rape and murder threats made against me, my child, and my publisher Randi L. Erickson, by V4CR, that involved Fort Campbell being a burial ground for murder victims.
I visited Rogersville, Tennessee as part of PPTF operations and I was filmed in front of the Rogersville city sign. You can view that and other information in a video that was published at the following link TIP FOR TENNESSEE BUREAU OF INVESTIGATION ON SUMMER WELLS [CRAIG SAWYER'S KID FINDERS] (bitchute.com) https://www.bitchute.com/video/XIXFsS0FOlWP/
The following article will provide you further insight and the names of specific operatives. EXCLUSIVE: Federal Conspiracy Case: IT'S BIGGER THAN FLYNN! – TIMOTHY CHARLES HOLMSETH™ Reports https://timothycharlesholmseth.com/exclusive-federal-conspiracy-case-its-bigger-than-flynn/
Very Respectfully Yours,
Timothy Charles Holmseth
Reporter
USAISA
JSOC
Cc: Fort Campbell CID
Attached: 24 jpgs regarding threats, Craig Sawyer and Bob Hamer
About Author
Timothy Charles Holmseth is an award winning news reporter and investigative journalist. He is an FBI witness in a national profile kidnapping case. He captured rogue CIA and FBI child traffickers on tape discussing their operations. He has been targeted for a decade. In 2019 Timothy Charles Holmseth became part of the Pentagon Pedophile Task Force. Timothy Holmseth is the only reporter authorized to report original content for the PPTF. There is ONE MAN between Timothy Holmseth and President Trump.