AMAZING! MY PILLOW CEO MIKE LINDELL GLORIFIES JESUS CHRIST IN MAJOR FRANKSPEECH POLICY DECISION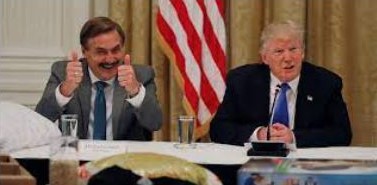 by Pentagon Pedophile Task Force on May 13, 2021 at 12:18 P.M.
President Trump's faith and trust in My Pillow CEO Mike Lindell has once again shown Trump's judgement is solid.
Lindell recently removed an avenue that was being created on his platform Frank Speech that would fuel chaos, pain, and unrest. Lindell glorified Jesus Christ in a way that showcased the story of the prostitute that was to be stoned per the Law. SEE VIDEO
Mike Lindell has continuously demonstrated his Godly wisdom leads to good things.
Click on image to view video

LEARN THE FRIGHTENING TRUTH ABOUT DANIEL JOHN LEE
http://spiritandtorah.info/
READ ALSO
Leviticus 20:13 – Was Jesus writing YOUR name in the sand?
About Author