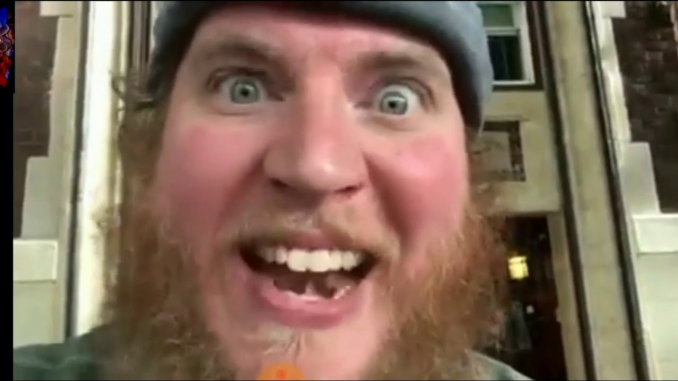 by Pentagon Pedophile Task Force on May 13, 2021 at 12:48 P.M.
Click image to view video

UPDATE: SEE VIDEO – – – The psychotic street preacher (Daniel John Lee) that publicly boasted he was to be on the Board of Influencers on Mike Lindell's new web platform FRANKSPEECH claims he is a prophet and told the world online that God told him Jesus Christ would return in 2017.
Lindell's security removed Lee from the platform.
Lee had been going online and declaring that homosexuals should be executed.
Intel shows Satanic operatives attempted to install Lee on Lindell's platform to embarrass Lindell. However, true to form, Lindell, who has the ear and respect of President Trump and other high profile Patriots foiled the plot quickly.
Some are calling Daniel Lee "Craig Sawyer Jr.".
Many are concerned about Daniel John Lee who is presently traveling the United States with his reported eighth girlfriend who he calls "my beautiful wife Deborah" while making jokes that her marriage to him is a prison. Concerns stem from the Elizabeth Smart story and her captors Brian David Mitchell and Wanda Barzee.
LEARN THE FRIGHTENING TRUTH ABOUT DANIEL JOHN LEE
http://spiritandtorah.info/
SOURCE VIDEO — – Daniel John Lee Exposed (Dangerous False Prophet dnajilion7) – – – https://www.youtube.com/watch?v=hjkjxo3_Q5M
Shttps://www.bitchute.com/video/mTgYX9nZEDSH/EE ALSO – – – AMAZING! MY PILLOW CEO MIKE LINDELL GLORIFIES JESUS CHRIST IN MAJOR FRANKSPEECH POLICY DECISION