ATTN: General Michael Flynn's Digital Army – ACTIVATE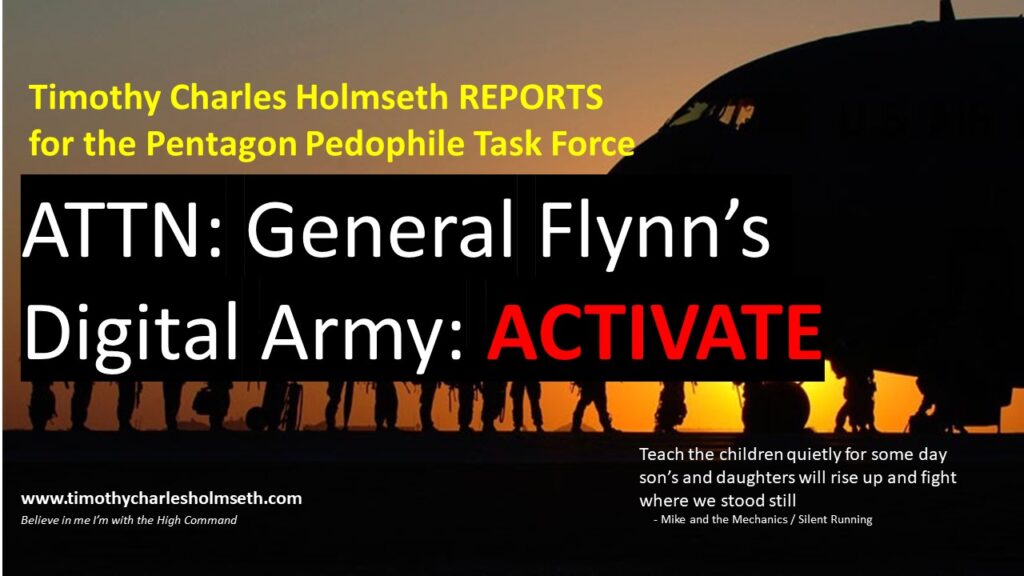 https://www.youtube.com/watch?v=Zks_lrJW2sc&feature=youtu.be
by Timothy Charles Holmseth on May , 2020 at 10:28 A.M.
The Pentagon Pedophile Task Force is asking all digital soldiers to assist in research of the following names (see list below).
Gen. Flynn's army is encouraged to create social media forums where evidence and information can be exchanged for research purposes.
The PPTF builds dossiers regarding international crimes (e.g. child trafficking) that are delivered in-person to General(s) in the U.S. Military.
The PPTF is responsible for saving thousands of children.
The following list will be regularly updated.
~start~
Michael Kaplan
MONTAGRAPH – a.k.a. – Dale Ellis Bennett, Roy Warren Marshall, Steve Quest
Agent 19
William K. Murtaugh – a.k.a. MURT
Wayanne Kruger
Tina Church, Specialized Investigative Consultants Inc.
Levi Page
Alexandria Goddard
Pete Klismet
Julie Tremp
Chad Cater
Tom Morrissey
Barbara Johnson
Art Harris
William Staubs – a.k.a. Cobra the Bounty Hunter
Gerald Brummell – a.k.a. Agent Margaritaville
DJ Jefani
Jeremiah Regan
John Regan
Rev. Richard Grund
Lt. Rodney Hajicek
Sgt. Aeisso Schrage
Michael Hedlund
Ronald Galstad
Donna Wagoner
Xentel
Rev. Bob Enyart
UPDATED 05/05/20
Titus Frost
Rebecca 1965 – on You Tube
Roy Potter
Defango
Unirock
George Webb
Jason Goodman
Divine Interloper on You Tube
Goldenmare on You Tube
Grey Moon on You Tube
About Author