BLOOD [BENEATH] THE TRACKS – MYSTERIOUS TRAIN DERAILMENTS ARE MAP TO UNDERGROUND TORTURE CHAMBERS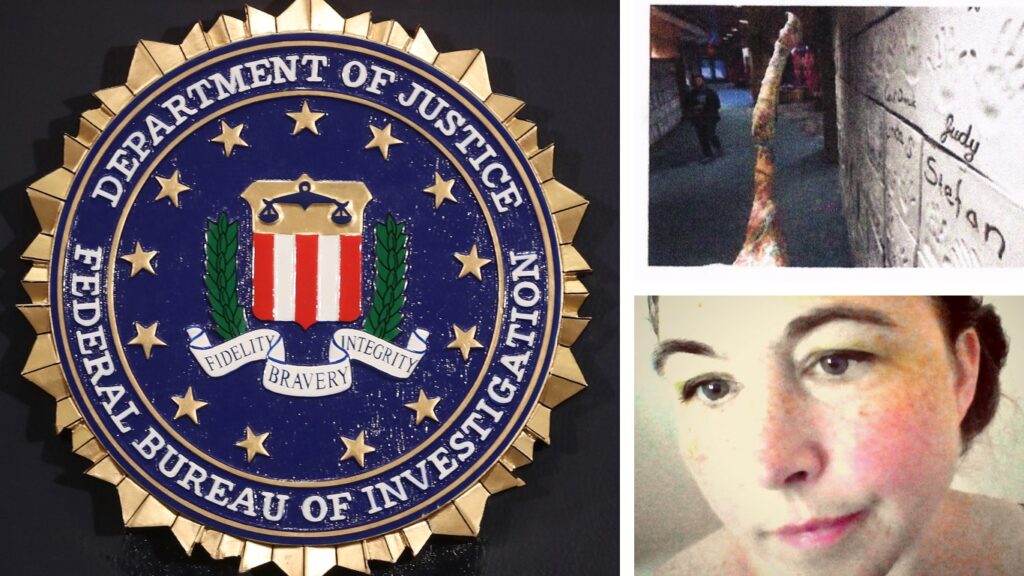 by Pentagon Pedophile Task Force on June 2, 2023 – USA
Mysterious train derailments are occurring in areas of the United States where human trafficking corridors, as well as facilities used for military science experiments on children are being exposed by eyewitnesses and whistleblowers.
And yes – it all leads to gods that demand the sacrifice of children.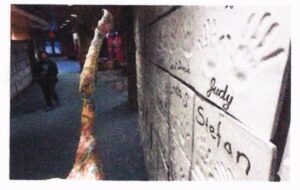 On May 28, 2023, WMTV Madison, Wisconsin reported "Several train cars overturned in Baraboo near the Devil's Lake State Park Sunday evening, according to the Baraboo Police Department".
On October 21, 2021, Jessie Marie Czebotar signed a 27-page affidavit Jessie regarding Cathedral of St. Peter in Rockford IL for the United States District Court, as well as the United States Army, that provided in-depth details and the very names of people and world leaders who were operating the largest human harvesting and torture operation in the history of mankind.
Czebotar was recently interviewed by the FBI.
Czebotar's affidavit spoke specifically about Baraboo, Wisconsin.
The affidavit Jessie regarding Cathedral of St. Peter in Rockford IL says in part:
~begin~
From my memory, The underground city Tsion has 3 pyramids. This is a significant End Time ritual area. There is a huge spiritual gate with ancient writing lying on the floor. The ritual prep we did entailed linking our blood to some of the occultic objects to be used. I remember those objects being five Nephilim skulls. As our bloody handprint is added to top of skull the prophesies written on it open and can be read. Around the sides of the room there are arch ways built into the walls. These archways are where I saw sisters of Light standing. The Sisters of Light are like the spiritual bodyguard and security team for Elite Members. I remember Callista was in one of these archway coves during the Ritual Prep.
b) I witnessed her teaching younger sisters of light such as (Amy Coney Barrett) how to interact, speak, and connect with fallen angels they called Paladians to capitalize on energy use in white magik. This occurred in Emerald City under the Pentagon and in various areas around Madison and WI area including Blue Mounds and Baraboo, WI. Callista was between ages of 16'20 and Amy was ages 8-12.
c) I testify for the record that Callista Gingrich and her husband Newt were present at some of the events I experienced through the Luciferian Brotherhood System that caused harm and injury to children in Government Experiments, Projects, Programs and in End Time Ritual Preparations. Newt Gingrich was present at some of the d) Looking Glass, Star Wars Now, Genesis 6, Phoenix and Voice of God Project Sessions with Colin A. Ross and Bennett Braun.
~end~
Another recent train derailment was on May 31, 2023, in the city of Lancaster which is located in Kittson County, Minnesota.
Lancaster is near the Canadian border.
On May 17, 2023, an audio interview was released that provided details of a Satanic cult that is operating a massive interstate underground human trafficking corridor that spans States across the top of the United States including routes into Canada. The interview was conducted by Neely Petrie Blanchard, an agent of E~Clause LLC, Florida. E~Clause was created by Christopher Edward Hallett, who received a MANDATE from a Florida Appellate Judge. Hallett uncovered and unraveled the elaborate coding system created by the international trafficking cartel which is used by Family Courts (Sharia law) to bypass the Constitution to imprison people with no criminal charge, and steal children with only one man's signature.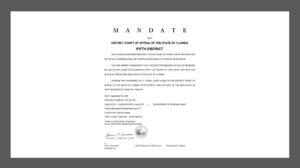 Click on image to hear Blanchard's interview with Satanic cult defector that was part of Trump's "Operation Legend".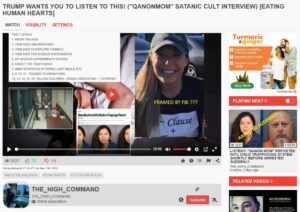 Hallett held Power of Attorney for FBI witness, investigative journalist, and war correspondent, Timothy Charles Holmseth, and possessed a trove of human trafficking evidence Holmseth obtained regarding baby sales through the Ukrainian Embassy in Washington DC, as well a child procurement operation called THE FINDERS. It was connected to Attorney Scott Rothstein, Jeffrey Epstein, and an FBI agent named John Regan.
On November 15, 2020, Hallett was assassinated in his Ocala, Florida home. Neely Blanchard was arrested under very, very suspicious circumstances and charged with 1st Degree Murder. Police bodycam shows when Blanchard was arrested in Georgia, she told law enforcement she had human trafficking evidence in her car and was part of President Trump's "Operation Legend".
Hallett was shot in the head shortly after FBI operative William Kevin Murtaugh, Apopka, Florida, met with the FBI in Brooklyn Center, Minnesota, in September 2020, to discuss "Operation Chaos" in a meeting that lasted "four hours". Murtaugh, who often reports news for the FBI wearing a shirt and badge that say "FBI" and "CIA" and/or a feature a U.S. Marshal badge, announced Hallett's group out of "Ocala" was on borrowed time. In October the chief of police in Ocala, Florida died in a plane crash. In November, Hallett was assassinated.
There is a Complaint to the FBI from Timothy Charles Holmseth, that is also filed (Sealed) in an active U.S. Court case that shows William Kevin Murtaugh appears to look exactly like the infamous mobster and FBI informant James 'Whitey' Bulger as depicted by an FBI sketch artist and published by the U.S. Marshals. Evidence continues to emerge that James 'Whitey' Bulger is in fact alive and working with the Biden Crime Family.
Murtaugh recently stated Holmseth may have signed his own death warrant.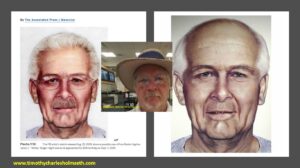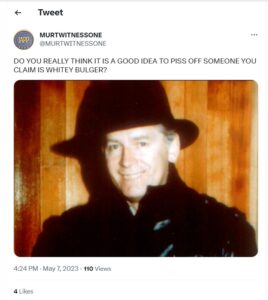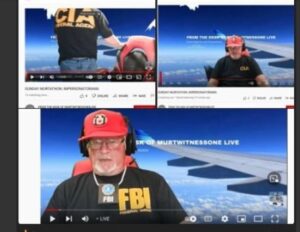 The sheer amount of train derailments that are occurring in the United States is un-precedented, and when compared to locations on the map that correspond to child trafficking, thousands of missing children, and reports of Satanic cults and military Nazi experiment dungeons located under the surface of the earth, that are all before U.S Judges, U.S. Military, and the Texas Governor, the odds of it being a coincidence become statistically impossible.
Train derailments have also occurred in North Dakota where Timothy Holmseth won his first-place awards from the North Dakota Newspaper Association. There was a derailment in Wyndmere, North Dakota, which is located in Richland County. Holmseth was working at the Daily News in Richand County when he won his first-place awards for news reporting and writing.
The onslaught of train derailments in the United States seemingly began in East Palestine, Ohio.
Not only was Christopher Edward Hallett originally from Ohio; and in a fierce legal battle with Ohio; all hell broke loose on the train tracks in Ohio after Timothy Charles Holmseth filed a federal lawsuit in the Eastern District of Tennessee against a judge from Belmont County, Ohio named Frank Fregiato, as well as his wife, Cynthia Fregiato, who is the Clerk of Court in Belmont County where she and her husband are running a cartel disguised as a Domestic Violence Court. Holmseth's federal lawsuit has been delivered to the Ohio Supreme Court.
Frank Fregiato and his wife Cynthia Fregiato committed Mail Fraud using the United States Postal Service when they told the National Crime Information Center (NCIC) that Timothy Holmseth was served a Summons to appear in their court. The Fregiato's were LYING and got caught because the U.S. Postal Service tracking number Frank Fregiato referenced as proof of mail delivery to Holmseth, showed the mail was never even sent. Someone then attempted to cover up for the first tracking number hoax, by creating yet another tracking number – this time with FED EX. When the FED EX number is tracked, it too was never taken anywhere (just like the U.S. Postal hoax).
After Holmseth filed a lawsuit against Ohio Governor Mike Dewine and the Fregiato's, the news reported Frank Fregiato is retiring. The news subsequently reported he was taking medical leave.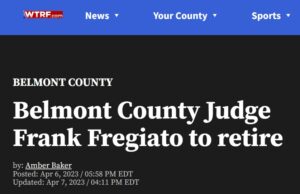 USE THE SEARCH BAR ON TIMOTHY CHARLES HOLMSETH REPORTS FOR RESEARCH
About Author