EXCLUSIVE: WITNESS TO JOE BIDEN'S CRIMES AGAINST HUMANITY INTERVIEWED BY FBI [BIDEN IS OWNED BY SNUFF FILM BLACKMAILERS]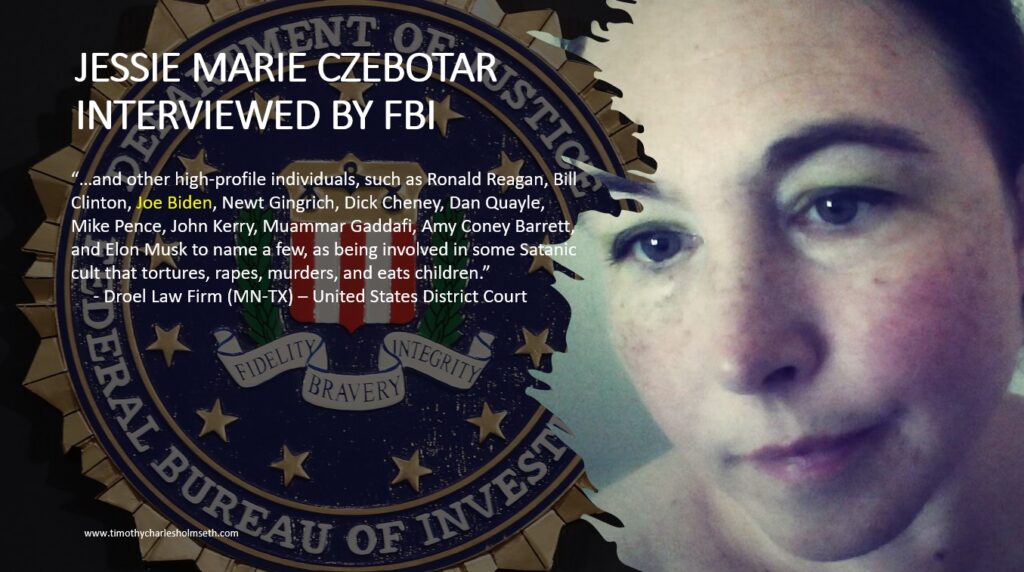 by Pentagon Pedophile Task Force on June 1, 2023 – USA
It's all coming down to the snuff films.
GATEWAY PUNDIT is reporting, "Whistleblowers Claim Evidence Against Hunter Biden Placed in 'Highly Restricted Systems' That Prevent Other FBI Officials From Reviewing Materials".
Today's news about the FBI's secret vaults of secret evidence is not news to TIMOTHY CHARLES HOLMSETH REPORTS.
Evidence shows the FBI is a rudderless sinking ship that has completely lost control of itself because, the Bureau, itself, is infested with pedophiles, murderers, assassins, secret society members, Witches, Warlocks, and psychopaths that have compromised the entire FBI.
But the truth is coming out and the FBI cannot stop it.
FBI Director Christopher Wray is presently trying to keep records from Congress.
On May 10, 2023, Chris Dunham, Acting Assistant Director, Office of Congressional Affairs, responded to a Subpoena request for documents to be turned over to the Committee on Oversight and Accountability involving an FBI investigation into the Biden's for a bribery scheme involving foreign powers.
Dunham wrote that "the FBI regularly receives information from sources with significant potential biases, motivations, and knowledge, including drug traffickers, members of organized crime, or even terrorists."
"…We would be pleased to coordinate with your staff to discuss whether and how we can accommodate your request without violating our law enforcement and national security obligations," Dunham's letter closes.
TIMOTHY CHARLES HOLMSETH REPORTS has learned Jessie Marie Czebotar was visited by the FBI for matters pertaining to her sworn testimony that implicated U.S. Presidents, world leaders, and members of the U.S. Military who engage in kidnapping, rape, torture, mutilation, mad-science experiments on children, child weaponization programs, and cannibalism of humans.
The list was actually leaked to the public by Droel Law Firm (MN-TX) through a filing in the United States District Court (MN) and contained the name "Joe Biden".
Anyone, including a foreign power (e.g., China) who possesses videos of Joe Biden raping, torturing, murdering, and/or cannibalizing a child, such as Droel Law alleged, OWNS JOE BIDEN.
Timothy Charles Holmseth posted the following on Truth Social, today.
~begin~
I can confirm Jessie Marie Czebotar has filed a report to the Federal Bureau of Investigation.
Czebotar was reportedly visited by the FBI.
Joe Biden was named by Czebotar.
Droel [Law] said, "…and other high-profile individuals, such as Ronald Reagan, Bill Clinton, Joe Biden, Newt Gingrich, Dick Cheney, Dan Quayle, Mike Pence, John Kerry, Muammar Gaddafi, Amy Coney Barrett, and Elon Musk to name a few, as being involved in some Satanic cult that tortures, rapes, murders, and eats children."
~end~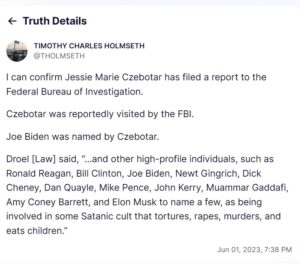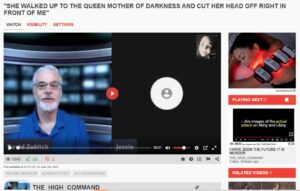 About Author