BOSTON MOB BOSS JAMES 'WHITEY' BULGER MAY HAVE FAKED HIS DEATH WITH THE CIA ACCORDING TO FBI RECORDS SEALED BY U.S. COURT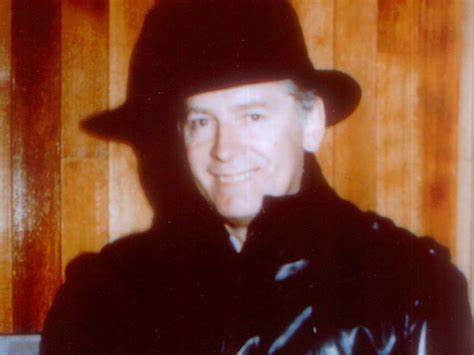 by Pentagon Pedophile Task Force on May 23, 2023 – USA
Did the FBI pull a fast one on the American public, yet again?
Yesterday we reported, "There was recently a report filed (sealed by the U.S. Court) to the FBI that shows Murtaugh appears to look exactly like the man drawn by an FBI sketch artist of mobster James 'Whitey' Bulger that was published by the U.S. Marshals service".
According to sources, the FBI has received a report that a Florida man named William Kevin Murtaugh appears to be the same man/face that was drawn by an FBI forensic sketch artist while the Boston Mobster was on the run. The sketch was published by the U.S. Marshals Service.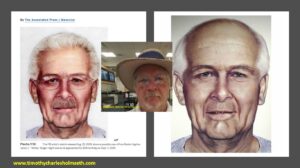 Murtaugh, who says he's a retired truck driver, not only physically appears to be Bulger, but operates an online blog and You Tube channel called From The Desk Of Murtwitnessonelive where he reports on True Crime wearing "FBI" "CIA" and sometimes a U.S. Marshal badge.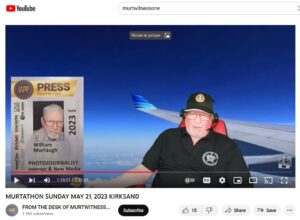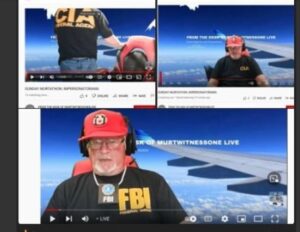 In September 2020, Murtaugh published video of himself at the FBI headquarters in Brooklyn Center, Minnesota where he said he met with FBI agents for "four hours" to discuss "Operation Chaos".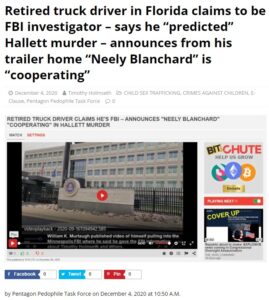 After his meeting with FBI in Minnesota, Murtaugh filmed himself reporting that an outfit in "Ocala" was on borrowed time and their days were numbered. Murtaugh was referring to E~Clause LLC, a corporation in Ocala, Florida operated by Christopher Edward Hallett. Hallett's corporation specialized in investigating Emoluments Violations. Hallett had been given a MANDATE by Florida 5th District Court of Appeal Judge Jay P. Cohen.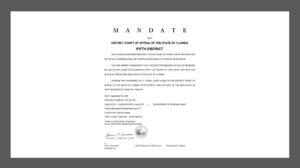 Approximately one month later on October 25, 2020, the police chief in Ocala, Florida, Greg Graham, died in a plane crash.
Two months after the Minnesota FBI meeting, on November 15, 2020, Hallett was assassinated in his Ocala home.
Murtaugh, who features what appears to be press credentials he ordered online says he meets with the FBI quite often.
On December 17, 2022, Murtaugh announced he turned over a photographic image of a small female's vagina to the FBI. Murtaugh had become the focus of attention after he accidently admitted on his program that he possessed a photograph of a vagina of a 'small' female who appeared to be pre-pubescent, on his phone.  Murtaugh then announced the female in the photo had been identified as an adult, interviewed by law enforcement, and thus could not be a minor child or Abigail Williams who, along with her friend Liberty German, was found slain in Delphi, Indiana on February 14, 2017.
On November 19, 2008, the Sun-Sentinel in Florida reported about Murtaugh who had been featured in a television news piece on Channel 6 regarding the Casey Anthony trial. The news coverage showed what appeared to be cringy behavior by Murtaugh who had purchased an old news van and was following detectives in the Casey Anthony murder investigation. Channel 6 reported Murtaugh had made the news earlier after he publicly claimed to know the identity of Trenton Duckett's abductor – and was forced to apologize for what Channel 6 called a "stunt".
Murtaugh published what has been called The Caretaker Letter regarding missing child Trenton Duckett.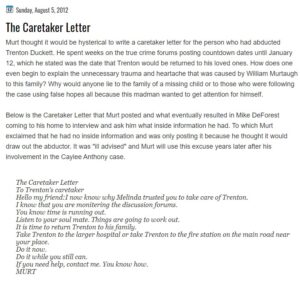 Shortly after Murtaugh made the news for his involvement with Caylee Anthony and Trenton Duckett, he showed up in Satsuma, Florida to cover the story of the latest high-profile child kidnapping – HaLeigh Cummings.
On February 14, 2017, two little girls, Abigail Williams and Liberty German, from Delphi, Indiana, were found slain in the woods near the Monan High Bridge. Murtaugh again drew suspicion to himself regarding the Delphi murders. It soon became strangely noticeable that an early suspect in the Delphi murder, Ron Logan, appeared to closely resemble Murtaugh.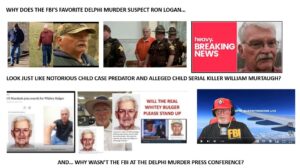 Concerns and suspicions about Murtaugh continued to gather steam after voice comparisons were made using the voice released by law enforcement of who they called "Bridge Guy" that was recorded by Liberty German and compared to the voice of John Taylor (firemanjohn628), Duffield, Virginia, who is a moderator on Murtaugh's You Tube channel. Law enforcement released a clip of Bridge Guy saying "guys, down the hill". The voice sounds like Taylor.
Adding to the suspicion is the fact that Taylor looks almost exactly like Richard Allen, who was ultimately the man charged with the murder of the two little girls.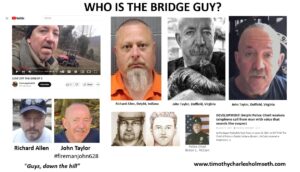 Evidence continues to mount that suggests a very great deal of planning occurred before the Delphi murder and look-a-likes were carefully integrated into the plan that was orchestrated in a fashion that the look-a-like would take the blame.
The true crime community has been very concerned about Murtaugh after a chat log surfaced on a platform called Pal Talk that featured Murtaugh's online name. The person chatting was bragging that he murdered Trenton Duckett and other children. The person was so psychopathic and demonic they talked about the fecal matter and fluids that come out of a small child's anus when the child is raped.

During an interview, famous mobster Sammy (the Bull) Gravano said he knew James 'Whitey' Bulger but, he said, he didn't like being around him because he was a "child molester".
In 2020, when Christopher Hallett was murdered in Ocala, Florida, his colleague and beloved friend Neely Petrie Blanchard was arrested the next day under very suspicious circumstances and charged with first degree murder. After the Hallett murder, Murtaugh immediately began covering the story which included traveling to Hallett's home and filming it. Murtaugh covered the murder story and brought on Taylor. Taylor proceeded to announce that he had been COMMUNICATING with Neely Blanchard in the time leading up to the murder. Taylor said he tried to get Blanchard a lawyer for her child custody issues.
In 2023, Murtaugh began releasing videos from the Blanchard murder case files which he said he obtained from the Clerk of Court in Marion County, Florida. After a call was made to the Clerk, it was learned the Clerk did NOT release the files. Murtaugh then changed his story and said he obtained all the internal files from the Marion County States Attorney. That assertion was actually verified by a phone call to SA Amy Berndt and SA Toby Hunt.
Murtaugh wore his FBI shirt and announced Blanchard was guilty. Murtaugh then released a video called The Spy Pen that contains very suspicious recordings that are presented as the Neely Blanchard Confession. The prevailing thoughts by those who hear the recording believe it sounds like recordings cobbled together and spliced. Most reject the idea that is sounds like a confession.
Murtaugh claims he is performing investigations of the Marion County files. He says he investigates the files and then meets with the States Attorney to present them his findings and recommendations for felony charges against people he says lied (about him).
Murtaugh recently published a photo of James 'Whitey' Bulger on Twitter.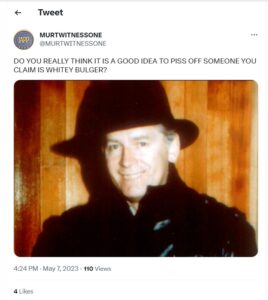 This story continues to develop.
About Author