CNN Satanist contacts three FBI offices with "information" about Nashville Bombing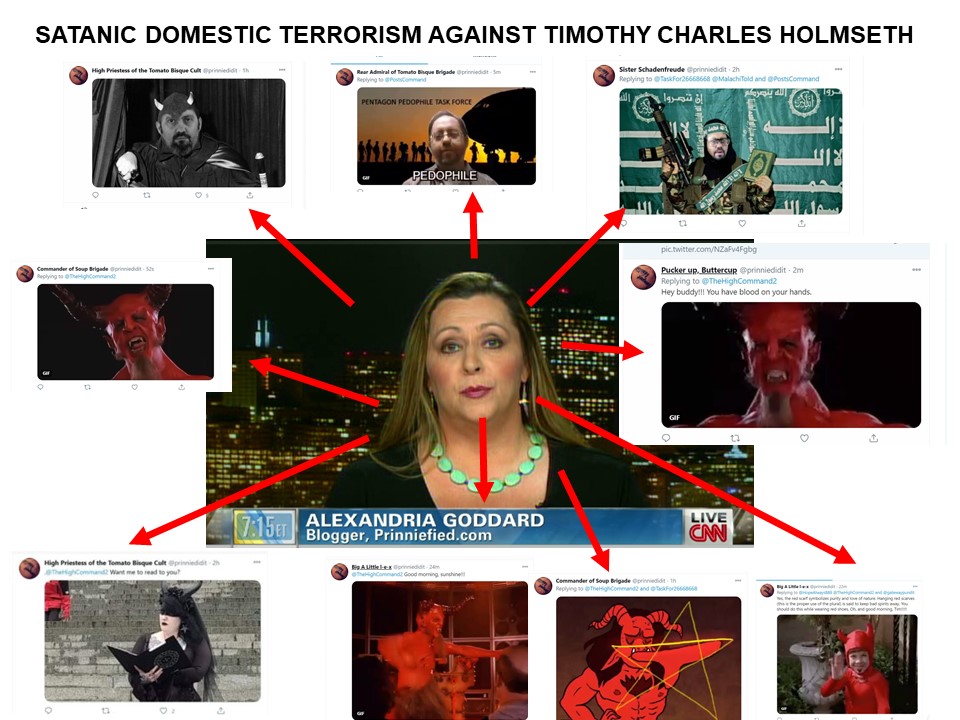 by Pentagon Pedophile Task Force on December 30, 2020 at 12:57 P.M.
CNN's go-to Satanist Alexandria Goddard claims she has leads on the Nashville Bombing.
Since the Christmas Day bombing in Nashville, Goddard, a Satan enthusiast whose Twitter photo says "Get A Warrant" has reached out to FBI offices in Memphis, Milwaukee, and Minneapolis, as well as the ATF.
Goddard wants "Timothy Charles Holmseth" "arrested".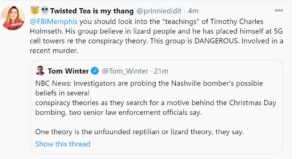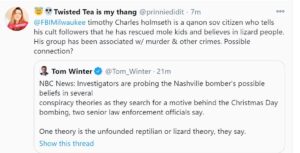 Goddard's communications show she has absolutely no real evidence regarding the Nashville Bombing, but rather, is attempting to weaponize law enforcement to perform a kidnapping of a journalist.
Existing documents and evidence, as well a very well-documented fact pattern over a decade shows Goddard, herself, is deeply involved in an international racketeering operation and domestic terror group that is committing crimes against humanity involving children – and that she is an agent of a foreign power.
"You should look into the teachings of Timothy Charles Holmseth," Goddard said to the Memphis FBI.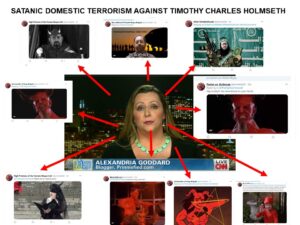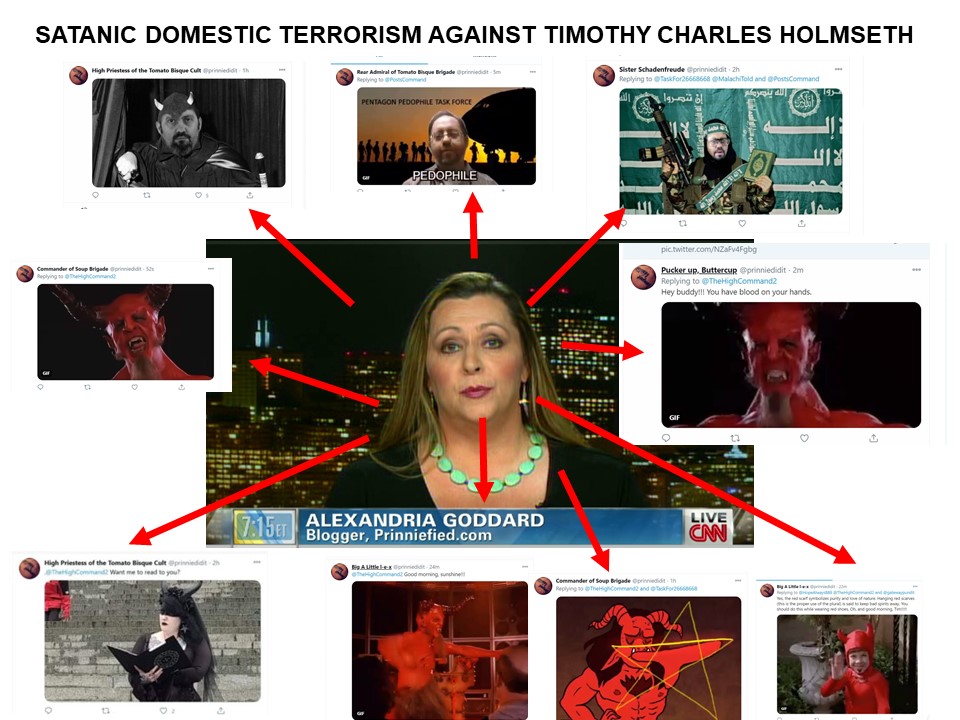 Holmseth has become the target of regular coordinated attacks by a group that recently announced Holmseth is going to be "arrested" via a "special order from president Biden to be effective from jan 21st 2021". Click image below to view video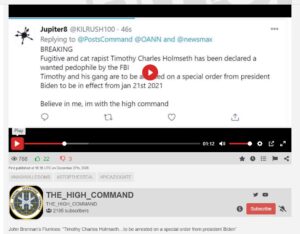 Timothy Charles Holmseth, 52, Minnesota, is an award-winning news reporter who was deemed a "credible" FBI witness by the Minneapolis FBI in 2010 when the Jacksonville, Florida FBI was investigating the kidnapping of HaLeigh Cummings in Florida, which Holmseth covered as a journalist.
Evidence shows Goddard's obsession with Holmseth is rooted in Holmseth's investigations regarding international child sex trafficking.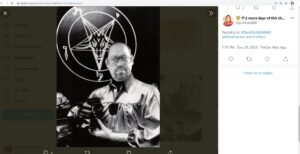 Holmseth's investigative work-product contained evidence regarding Jeffrey Epstein and a black-market baby sales operation through the Ukrainian Embassy in Washington DC that was connected to Hillary Clinton and Joe Biden.
Holmseth's evidence was taken into the custody of the Department of Defense by Joint Special Operations Command under Presidential Executive Order.
Goddard's most recent flurry of 'reports' to federal law enforcement agencies regarding the Nashville Bombing on December 28, 2020 appears to have begun when she published a Tweet directed at a Twitter account called Command Posts that said, "I prepared a huge informational package on you. Want to guess what agencies are receiving it?"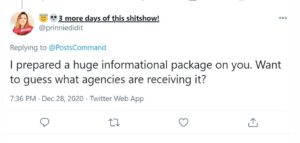 Goddard is a very close associate of William K. Murtaugh, Florida, and Hillary Clinton's former security detail Craig (Sawman) Sawyer, CEO, Veterans For Child Recue. Sawyer and Murtaugh launched what they called "OPERATION CHAOS" in September of 2020 in a failed effort to kidnap Holmseth.
In September of 2020 Murtaugh traveled from Florida to Minnesota where he showed dash-cam video that he met with the FBI.
As part of "OPERATION CHAOS" Sawyer contacted the website www.timothycharlesholmseth.com which was once owned by Holmseth and warned Holmseth his "team", which according to KGUN in Tucson, is comprised of FBI, CIA, SEALS, and Delta Force, was coming to take Holmseth out.
Sawyer's team sent a trove of threatening messages to Holmseth including a message that Holmseth's daughter was going to be kidnapped and raped by a dog on camera at Fort Campbell, Kentucky.



Holmseth received communication from Vice Admiral Charles W. Moore who claims he is a "personal friend" of President Trump, General Mark Miley, and General Michael Flynn, as he expressed his support for Sawyer.
Murtaugh, 70, is destitute and lives in a trailer in Apopka, Florida with no air conditioning. Yet, he publicly boasts he is an FBI operative and claims to work with Florida attorneys, U.S. Marshals, U.S. Secret Service, deputies, and claims he is on a secret internet "task force".
Significant evidence shows the domestic terror group is connected to an FBI program called PATCON.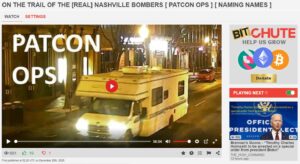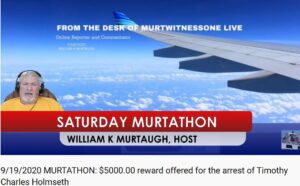 LEARN MORE JSOC INTEL ABOUT…