Constitutional Showdown: State of Minnesota officials fixing cases to protect vast child sex trade network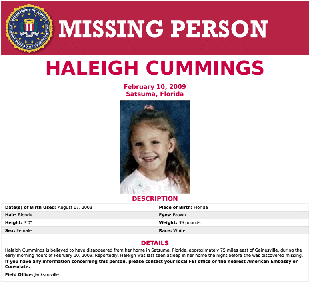 by Timothy Charles Holmseth on December 1, 2018 at  12:10 P.M. CST
Is there a secret cabal of Minnesota state prosecutors and public defenders that are rigging cases to protect organized crime?
Yes, there is.
I caught them.
I am going to show you WHO I caught doing it – WHEN I caught them doing it – HOW they were doing it – WHERE they were doing it – and most disturbingly WHY they were doing it.
Spoiler: They are covering up an international child sex trade operation.
In 2009, I (Timothy Charles Holmseth) conducted many hours of recorded telephonic interviews with key figures in the national profile kidnapping case of HaLeigh Cummings. HaLeigh was five year-old in February, 2009 when she mysteriously vanished from her home in Satsuma, Florida.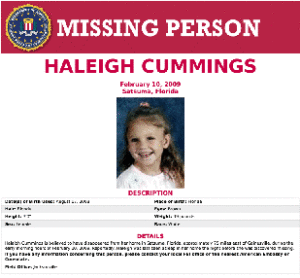 Within a very short period of time I realized the little girl was still alive and being moved around by the very people that were calling me. I would also come to learn that members of this group were identifying themselves as clergy, police, CIA, FBI, Florida DCF and possessed naked photos of HaLeigh that showed she had been sexually assaulted.
In June, 2009 I received a strange phone call from Lt. Detective Rodney Hajicek who is the ranking officer at the police department in East Grand Forks, Minnesota. He told me some people from Florida called the police department to complain about me. He told me they didn't want me to publish things about them anymore.
I knew it was an odd practice for a police detective to telephone a journalist to let him know he should stop writing about certain people. However, I was a seasoned award-winning news reporter and understood the First Amendment and didn't think too much more about it.
I quickly alerted police, FBI, and the Florida Attorney General about the disturbing information I had stumbled upon. Shortly thereafter the FBI in Florida began actively using detailed information I sent them about specific people and photographs of the missing child. The Minneapolis FBI interviewed me several times at the federal courthouse in Grand Forks, North Dakota.
For the years to follow my telephone rang day and night. Many of the calls were from people talking to me with voice changer software and warning me to shut up. Some of the calls came from telephone numbers such as Trump Organization, The White House, CNN, and Clinton Global.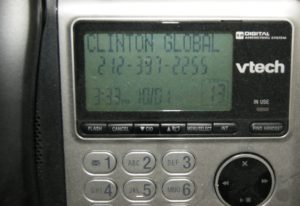 It wasn't until 2012 that I learned Lt. Hajicek had been secretly conspiring against me with CNN journalist Art Harris using his private Gmail account so the emails would not come up in public records requests.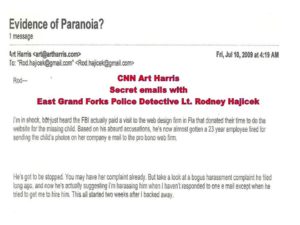 The secret emails, along with a detailed FBI report I filed, was given to me by Polk County Attorney Greg Widseth in 2012 after I filed a public records request to the County Attorney's Office. Widseth was the mechanism used by the East Grand Forks Police to hide the emails which he (Widseth) had quietly possessed since July, 2009.
The year 2012 will become very relevant because you are now going to see what was happening to me while Attorney Widseth hid those records.
In 2011, the Polk County Sheriff's Office served me with an Injunction For Protection Against Repeat Violence that was issued against me in the domestic violence court in Broward County, Florida. I had no relationship with anyone in Broward County and had never been to Florida.
I submitted records requests to the East Grand Forks Police Department as a result of being served papers from Florida. The police did not give me the Hajicek emails because they were created on his personal Gmail.
The emails were being hidden by Widseth.
The Broward County court order stated I must remove from the Web everything I had ever written about the Petitioner and never again in this lifetime make a direct or indirect reference to the Petitioner by use of any electronic communication. The court order also stated I was must turn over my firearms and weapons permits to the Broward County Sheriff's Office.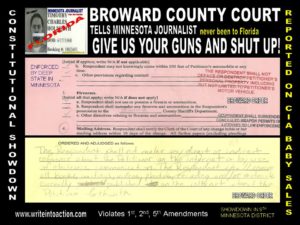 The Broward court order violated my 1st, 2nd, and 5th Amendment rights. Without Due Process a county level court in the State of Florida had stripped me of my Freedom of Speech and Right to Keep and Bear Arms.
With the fraudulent order in place – the conspiracy continued.
In 2011, I was charged by the East Grand Forks Police Department with violating the Florida order for publishing a photo.
During the process of those court proceedings I was assigned two separate public defenders by Attorney Kip Fontaine, the supervisor at the Minnesota Public Defender's Office.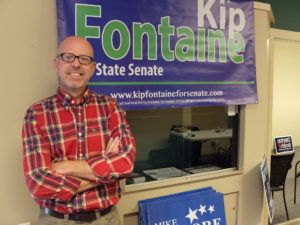 Supervisor Fontaine assigned Attorney Michael LaCoursiere and Attorney Bruce Ringstrom to my case, respectively.
Neither attorney ever filed a Motion to dismiss the charges against me based upon the painfully obvious fact that Florida did not have Personal Jurisdiction over me and the court order violated my 1st, 2nd, and 5th Amendment rights under the U.S. Constitution.
Attorney LaCoursiere told me minutes before a scheduled trial that I needed to accept the prosecution's offer of an Alford plea. I rejected that and told LaCoursiere I wanted to go to trial. I asked LaCoursiere if the witness from Florida showed up and he said "yes". I found out later he was lying – the State had no witness. He then ominously told me he was the godfather to Prosecutor Ronald Galstad's daughter and said they had never gone to trial against each other.  He made it clear I would have compromised counsel if I didn't go along with him.
I terminated LaCoursiere.
Supervisor Fontaine then appointed Attorney Ringstrom.
In one instance with Attorney Ringstrom, I continued to insist the Florida order violated my rights. Ringstrom leaned back in his chair and told me that if I continued to resist the negotiations from the prosecutor, he would file a Motion to the court that he did not believe I was mentally competent to aid in my own defense.
The 'mental health' intimidation tactic by Attorney Ringstrom will become very relevant as you will see.
In February, 2018 I was again charged with violating the Florida court order by the East Grand Forks Police for allegedly publishing already public court records that contained a name that Florida said I could not publish.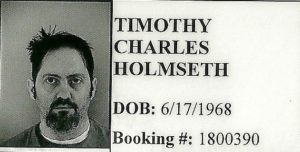 I was assigned Minnesota Public Defender Gretchen Handy by Supervisor Fontaine.
I met with Attorney Handy and told her I knew for a fact the Florida court order violated my constitutional rights because a trial attorney, a Princeton University graduate, representing me in my multi-million dollar defamation lawsuit, told me the order was so unconstitutional it should have never even existed.
Attorney Handy refused to even entertain filing any kind of Motion to Dismiss but did attempt to get me to confess to committing the so-called crime during a meeting at her law office with her investigator present.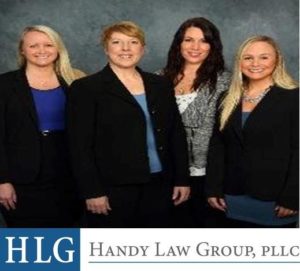 I didn't confess to anything.
Months passed.
I insisted and insisted and insisted the State of Minnesota defend my constitutional rights. I also began talking publicly about the case and Handy Law Group.
On July 18, 2018 Attorney Handy told me she spoke with her supervisor Attorney Fontaine and they came up with a Motion to Dismiss based upon Florida's lack of jurisdiction. She further noted she was not going to file anything else I had asked her to do in a letter I'd sent her.
On August 30, 2018 I advised the Polk County District Judge that I intended to file a federal deprivation of rights lawsuit against all of the State of Minnesota lawyers that were conspiring with the prosecutor, East Grand Forks City Attorney Ronald Galstad, to violate my constitutional rights.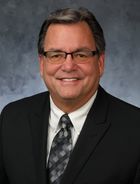 I explained to Judge Tamara Yon that I had been arrested three time based upon a court order from Florida that is grossly unconstitutional. I advised the Court that every attorney that ever opined on the Florida order said it was not enforceable due to constitutional and jurisdiction issues. I advised the Court that it was ONLY 'Minnesota public defenders' assigned by Attorney Fontaine that treated the Florida order as valid.
Okay…
Remember when I told you Attorney Ringstrom threatened to tell the Court he did not believe I was mentally competent to aid in my own defense?
Guess what Prosecutor Galstad did when I told the Judge I was filing a federal lawsuit?
Attorney Galstad made a verbal impromptu Motion requesting the Court order me to undergo a psychological evaluation. Galstad claimed to the Court he did not believe I was competent.
I had a Washington D.C. area trial attorney guiding me and I wasn't being a good little victim for these predators.
They were trying to stop me.
And – the City of East Grand Forks is on the hook for serious defamation because the city's manager, loser David Murphy, told the Grand Forks Herald and Bismarck Tribune that I was sick because I connected government employees to child sex trafficking.
On August 19, 2018 the Bismarck Tribune interviewed me regarding my connection to the QANON movement and asked my political views and opinion of President Trump.
The Tribune then interviewed Murphy.
East Grand Forks City Administrator Dave Murphy said he is the only city official Holmseth is allowed to talk to.
"Mr. Holmseth, in my opinion, wastes a lot of the city's time and energy in sending in Freedom of Information requests and calls," Murphy said, adding Holmseth uses a lot of the city's records to support "baseless accusations" against city officials and police.
"Quite frankly, I find it disgusting because these are hard-working state officers," Murphy said. "To have someone baselessly accusing them of being child sex traffickers is sick."
     – Bismarck Tribune
I'm sick eh?
Let's take a look and see if the expert with a PhD agrees.
On September 1, 2018 I underwent a psychological examination and testing by Dr. Charles Chmielewski Ph.D., L.P. On September 4, Dr. Chmielewski submitted his findings to the Court.
He found I was entirely competent.
The report revealed the police and Attorney Galstad had provided Dr. Chmielewski CD's containing interviews I had done in the media. Dr. Chmielewski noted I reported that law enforcement in Minnesota did not really find the remains of Jacob Wetterling. I reported that a Search Warrant in the case revealed that 'teeth and bones' found at the supposed grave of Jacob Wetterling were later found by lab experts to not be human. Dr. Chmielewski said I showed no signs of mental deficiency or thought disorder.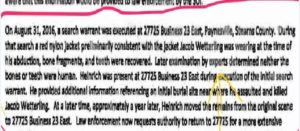 The police had gone so far that they tried to use a court psychological examiner to view media interviews in hopes the examiner would further the cover-up in the Jacob Wetterling case by saying I was crazy.
Too bad.
I passed with flying colors.
Dr. Chmielewski provided Attorney Handy a copy of my results but she did not forward a copy of it to me, her client, until October 22, 2018.
I'd been waiting.
Here's why.
The day after I received the test results I executed my plan.
On October 23, 2018 I filed a 71 page Motion with Exhibits requesting Attorney Galstad be disqualified and a Special Prosecutor be assigned. I also filed a Motion that Attorney Handy be removed as my lawyer.
I provided proof to the Court that Galstad committed perjury against me on January 4, 2013 shortly after the East Grand Forks Police and Minnesota Pine to Prairie Gang and Drug Task Force stormed my home-office and seized my computer etc. They seized my property with a Search Warrant that was crafted and authored to create the appearance I was a drug dealer. They hauled all my property away and placed BCA evidence stickers on it.
Spoiler: The (hopelessly incompetent) police leadership in East Grand Forks had been told that I was been sent copies of the child rape porn of HaLeigh Cummings (which I had not) and they could arrest me if they just would seize my computer and 'stumble upon' the photos.
Galstad told District Judge Yon on January 4, 2013 that he was working with the Minnesota Bureau of Criminal Apprehension (BCA) to have my computer forensically examined by the state crime lab.
He was lying.
Galstad was halfway panicking because they secretly searched my computer on December 28, 2012 (proven by the Activity Log) and I did not have the photos.
Here's the proof Galstad was lying to the Judge.
I contacted the Minnesota BCA about Chain of Evidence records for my computer and Superintendent Drew Evans emailed me back and said the BCA had no idea what I was even talking about. Evans said the BCA played no role in the investigation; knew nothing about it at all; and never gave anyone permission to attach the crime lab stickers to my property.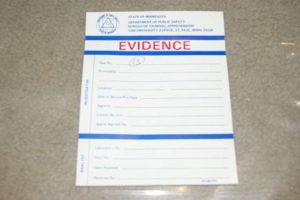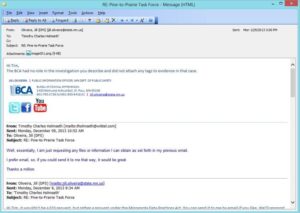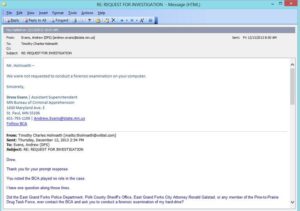 Galstad lied to the Judge about the BCA and the crime lab because he could not tell the Court that the police had already searched my computer on December 28, 2012 and found nothing.
Galstad could not tell the Judge, that what the police were actually searching for, was the naked pictures of the missing child HaLeigh Cummings. He could not tell the Court he had KNOWLEDGE of child rape porn of a missing child which he did NOT report to the FBI.
Here's why the East Grand Forks Police were looking for that child rape pornography.
The police had been told (BY THE CHILD TRAFFICKERS THAT ACTUALLY KIDNAPPED HALEIGH CUMMINGS AND PHOTOGRAPHED HER RAPED VAGINA) that someone had sent me the photos in my capacity as a journalist (which was false). The police were hoping to find the pictures on my computer and then arrest me.
Attorney Galstad is a proven liar and perjurer that lied to protect the identity of child sex traffickers that he and the police are working with in the child sex trade.
Meanwhile loser David Murphy tells the State's largest publication that I'm sick for what I'm saying.
My Motion to remove Galstad as the prosecutor also contains evidence Galstad has been secretly talking to the president of an Indiana corporation called Specialized Investigative Consultants Inc.
According to Tina Church, the president of Specialized Investigative Consultants, she talked to both Galstad and Polk County Attorney Greg Widseth and warned that if they did not involuntarily commit me into a psyche ward her lawyer from Chicago was going to sue the City of East Grand Forks.
Church is an operative that had been performing gang-stalking services to the City of East Grand Forks.
Yes – these people are sick.
Church placed a hoax police report to the East Grand Forks Police in July of 2011 and reported that I had claimed to her that I had the missing child HaLeigh Cummings in my apartment. That was part of the over-all plan with the EGFPD and Galstad to make it look like I was involved in HaLeigh's kidnapping, rape, child porn, and murder.
Click Here to see the Steven Avery (Making a Murderer) style frame up law enforcement in Minnesota tried orchestrate around me
Galstad's attempt to have me found mentally incompetent shows he actually acted upon Church's demands to have me declared mentally disabled.
On November 1, 2018 I was again arrested on a warrant pertaining to the Broward County court order. I was arrested by a Polk County deputy when I arrived for court.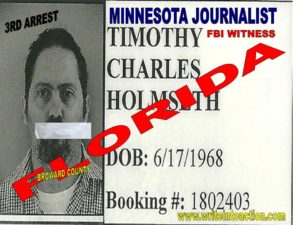 During a court hearing that same day, Attorney Handy advised me for the first time ever that she had filed a Motion to Dismiss based upon the First Amendment.
She filed the Motion to Dismiss on October 24, 2018 – the DAY AFTER I filed the Motion to have her and Galstad removed.
Now – remember when I said Attorney Handy told me that she and her 'supervisor' Kip Fontaine developed a Motion to Dismiss?
Watch what Attorney Handy did AGAIN in court on November 1, 2018. She told the Judge her "supervisor" told her she could file the Motion to Dismiss that included the First Amendment argument.
Here's what's going on.
Attorney Handy keeps mentioning her "supervisor".
Attorney Handy is required to get PERMISSION to files Motions in my case because Supervisor Fontaine is an Illuminati FIXER that has been told the Florida order is never to be challenged because it is stopping me from playing audio recordings to the world that reveal the activities of the CIA child trafficking operation.
Much of the evidence regarding the child porn of HaLeigh and an international baby sales operation is already on file in Polk County, Minnesota and was deemed significant evidence by Honorable Yon in a separate proceeding.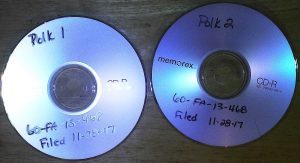 On November 14, 2018 I contacted Attorney Handy and advised her that my would-be appellate attorney told me the Motion to Dismiss needs to include the 2nd and 5th Amendments so it is preserved for appeal.
* * * * *
Gretchen,
I have conferred with my will-be appellate attorney regarding the Florida
domestic violence order being enforced by Minnesota.
The Motion to Dismiss you filed addresses Florida's lack of jurisdiction and
my First Amendment right to speech. I am asking you also challenge the
Florida order in and that it violated my 5th Amendment right to Due Process
and 2nd Amendment right to keep and bear arms.
Thank you,
Timothy Charles Holmseth
* * * * *
On November 14 Attorney Handy responded.
* * * * *
I will only be making the arguments contained in the motion I filed with the
court. If you disagree with that, you will need to fire me and represent
yourself or hire private counsel.
Gretchen
* * * * *
On November 28, 2018 I sent the following email to Attorney Handy, Attorney Fontaine, and Chief Public Defender Kristine Kolar.
* * * * *
Gretchen,
In Re: Flagged Case
I am in receipt of the Brief and Exhibits you sent dated November 26, 2018.
Per my email to you on November 14, 2018 (email thread below) I requested
you also argue that my right to Due Process and Right to Keep and Bear Arms
was violated. I have been advised by my will-be appellate attorney Steven S.
Biss that these arguments must be preserved for appeal.
You stated you were not going to make those arguments and I would need to
fire you and obtain my own counsel if that is what I want.
While it took you (an inexplicable)eight months to change your mind about
making a Motion to Dismiss based upon the First Amendment, I would note you
told the Judge in court on November 1, 2018 that you had been instructed by
your supervisor to make the dismissal motion.
That was the second time you stated you had obtained
instructions/clearance/approval from Attorney Kip Fontaine to make a Motion
to Dismiss, because, in August, before a court hearing, you told me Mr.
Fontaine had told you that you could make a Motion to Dismiss based upon
lack of jurisdiction.
Unless Mr. Fontaine gives you permission for every motion you make as a
public defender for the State of Minnesota, it would seem my case has been
flagged with a special status of which I am not aware.
I am contacting you for the purpose of copying Mr. Fontaine and Attorney
Kristine Kolar so they are aware I have requested you argue my Due Process
and the Second Amendment were violated, as well.
Through this letter they are advised thereof.
If the State of Minnesota still refuses to argue on my behalf that my Due
Process and Right to Keep and Bear Arms was violated, please advise me the
procedure I must follow to terminate you.
Also – I received a response from your secretary and she advised me there is
presently no hearing date scheduled so please keep me appraised to any
changes thereof.
Respectfully,
Timothy Charles Holmseth
Cc: Chief Public Defender Kristine Kolar, Supervising Attorney Kip Fontaine
* * * * *
Attorney's Handy, Fontaine, and Kolar have not responded.
What you are witnessing is historic.