DELPHI MURDER EXCLUSIVE: RICHARD ALLEN FRAMED? [ENTER ELON MUSK]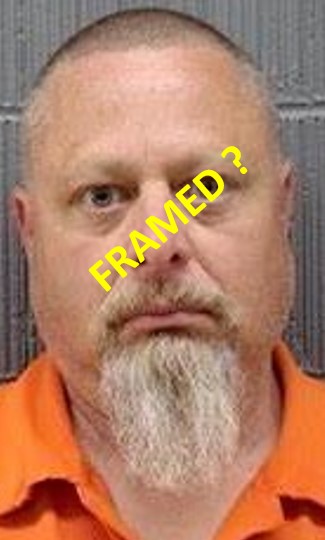 by Pentagon Pedophile Task Force on December 3, 2022 – USA
Richard Allen, Delphi, Indiana, is charged with the murders of Abigail Williams and Liberty German whose bodies were found on February 14, 2017.
Emerging evidence, stemming from facts sworn out in a civil RICO complaint filed in Tennessee (Holmseth v. Page et al) – along with a press release by Allen's attorneys – has created the inescapable question that is rapidly moving into the Delphi murder mystery narrative – was Richard Allen straight-up framed?
Evidence that Allen may be the victim of a satanic child sex-trafficking and child porn network that is seeking to cover its tracks with a patsy, is linked to a mysterious photograph of a small, faceless, naked female, that was texted to a former Minnesota judge, Randi Lynn Erickson.
Erickson has been targeted since she escrowed crimes against humanity and sworn affidavits containing eyewitness accounts of cannibalism by Hillary Clinton and others, from Jessie Marie Czebotar, that is presently under seal in Minnesota's federal court.
The court records in the Minnesota case involving Erickson are so explosive, that according to a statement by Droel Law Firm (MN-TX), former U.S. Presidents, world leaders, a supreme court justice, and even Elon Musk, are accused of torturing, raping, murdering, and cannibalizing children.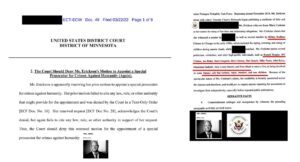 Erickson has publicly stated she wants law enforcement to rule out Abigail Williams as being the nude female in the mysterious photo texted to her by Alexandria Goddard.
Erickson has met with the Tennessee Bureau of Investigation and spoke with Ohio law enforcement about the photo.
The photo of the nude female was texted to Erickson by Alexandria Goddard, Martins Ferry, Ohio on August 13, 2022.
Goddard is an admitted kidnapper who giggles and laughs as she publicly boasts in interviews about how she conspired with cops in Ohio to kidnap a man, handcuff him to a bed, and tortured him sexually with "hot sauce" until he was finally released "naked" and "crying" into the Ohio winter night.
There is reason to believe the photo, which has been turned over to the Ohio Attorney General and Commission on Organized Crime, Ohio FBI, and the Delphi Double Murder Task Force, is in fact connected to the Delphi case.
ALEXANDRIA GODDARD LINKS HERSELF TO THE DELPHI MURDER CASE
After the arrest of Allen in October 2022, Holmseth announced he sent the photo of the naked female to Indiana State Police Superintendent Doug Carter. Goddard quickly logged into her Twitter @prinniedidit and announced she was seeking additional charges against Holmseth from her local police in Ohio based upon his press release regarding the Delphi case.
Somehow – Goddard believes local cops in Martins Ferry, Ohio have jurisdiction to charge a man from Minnesota, with a crime, for the act of sending evidence to law enforcement in Indiana regarding a double murder.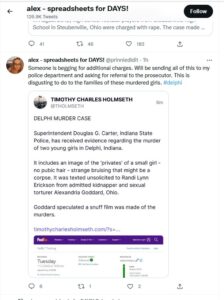 Goddard's behavior makes complete sense when seen for what it is.
Goddard was trying to FRAME Erickson and Holmseth for possession of the photo.
The question is…
Was it Abby?
The dates and events in the timeline leading to the frame-up, which was supposed to result in the arrests of Erickson and Holmseth on false charges of stalking, coincides perfectly with huge developments in the Delphi investigation – particularly the abrupt request by law enforcement in Indiana to transfer suspect and accused child porn pervert Kegan Kline, for a river search being conducted in Indiana.
August 12, 2022 – Goddard begins to taunt Erickson by text and email – Goddard goes on an elongated bizarre rant-like obnoxious tirade accusing Erickson and Holmseth of being pedophiles. (100% false). Goddard taunts and warns Erickson she is going to have Erickson "arrested".
August 13, 2022 – Goddard texts Erickson the photo of the small vagina
August 16, 2022 – based upon false allegation by Goddard to the Martins Ferry Police Department, Ohio – STATE OF OHIO criminally charges out-of-state residents Erickson and Holmseth who were NOT in Ohio, with 'stalking' Goddard. The Belmont County Courts website says the offense date is August 12, 2022 (that's the day BEFORE Goddard texts the vagina photo to Erickson)
August 16, 2022 – the National Center for Missing and Exploited Children acts on an anonymous tip that leads to the September 20, 2022, arrest of schoolteacher Justin Foley in Columbus, Ohio on child pornography charges.
August 19, 2022 – Indiana State Troopers petitioned Miami [Indiana] Circuit Court to permit detectives to temporarily take custody of Kegan Kline, a Peru man facing 30 counts of child pornography whose name has been linked to the investigation of the murders of Libby German and Abby Williams beneath the Monon High Bridge along Deer Creek east of Delphi on February 13, 2017.
THE SUDDEN ARREST OF RICHARD ALLEN 
On October 26, 2022, Richard Allen was charged with the murders of Abby and Libby.
Allen's attorneys have released a press release that is nothing short of startling when the facts contained within it are carefully considered. Although it's impossible to know Allen's involvement in the Delphi murders, if any, the press release has created questions.
One of the questions is – was Richard Allen framed?
IS A CALCULATED HIGH-LEVEL FRAME-UP POSSIBLE?
Evidence from the Goddard text exchange with Erickson reveals a fact-pattern so utterly disturbing it cannot be ignored in the Delphi murder case.
On August 12, 2022, Goddard began text messaging Erickson and began accusing Erickson of being a pedophile, which was ridiculous on its face. Goddard also accused Holmseth of being a pedophile (also false).
Erickson, 62, holds licenses in Minnesota and Florida. Erickson is a former Truth and Taxation judge with an impeccable reputation as a judge who made binding rulings for the government for some 15 years. She is a former elected official and is required to pass regular FBI background checks. She has no criminal history.
On August 12, 2022, Goddard texted the following statements and references to Erickson in what is obviously a plan to set the stage for Erickson to be arrested for possessing the photograph of the small naked female's vagina.
"You are the one who left her family for a kid diddler"
"Did you touch your grandkids and that's why you can't be around them"
"Make sure you look for the posters of your face with PEDOPHILE on them all over town"
"IMO YOU are a pedophile"
"that you may be a pedo? and you fantasize and you publish child porn fantasy"
"does Tim make you dress like a 5 year old"
"You're such a dumb cunt. A dumb fat cunt. that is in love with an alleged pedophile who shits on his floor"
"pedophile".
"kid diddler"
On August 13, 2022, amidst her ongoing rants about "child porn" and pedophilia, Goddard texted a photo of a faceless female that is zoomed-in on a small vagina that has no pubic hair. There are odd color changes on the skin in areas that may be bruising – or it may be a corpse.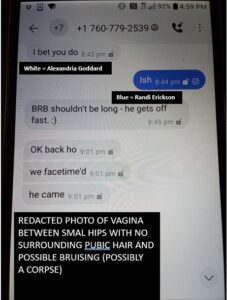 Then…
Goddard continues to accuse Erickson and Holmseth of being pedophiles.
10. "where's your pedophile friend"
11. "you are consumed by Satan. And I think you are a pedophile. That's why you can't see your grand kids. You tried to diddle them."
12. "who fucks a pedo"
13. "who wants to fuck kids" "don't you Randall? you fantasize about it"
"SNUFF"
After Allen was arrested, Goddard appeared on a You Tube program called Websleuths and proactively suggested she thinks it might be possible Abby and Libby's murder was filmed for "snuff" which Goddard said is very lucrative on the dark web.
So…
Why would Goddard want to frame somebody for possession of a photo of Abigail Williams?
Maybe Goddard is involved in the murder of Abby and Libby.
Maybe Goddard has snuff film pictures of the murder.
IS 'BRIDGE MAN' WHO SAID "GIRLS DOWNN THE HILL" GODDARD'S COLLEAGUE JOHN TAYLOR FROM DUFFIELD, VIRGINIA?
"GUY'S, DOWN THE HILL" – TWO MEN WORKING TOGETHER IN DELPHI MURDERS – 'WALKING MAN' 'TALKING MAN'
About Author