DEVELOPING: Victim of Florida shooting dubbed the 'QANON Murder' by media was a "Congressional Oversight Defense Contractor" working on matters of NATIONAL SECURITY!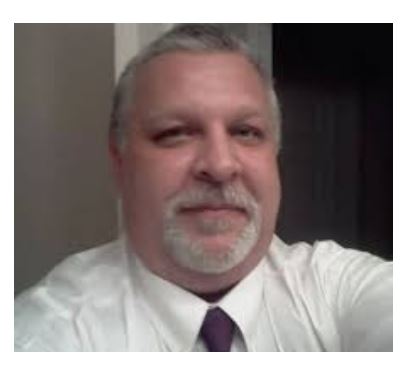 by Pentagon Pedophile Task Force on November 26, 2020 at 7:33 P.M.
And now for the rest of the story.
The cold blooded murder of Christopher Hallett in Marion County, Florida on November 15, 2020 quickly rocketed to national news status after the Marion County Sheriff's Office (MCSO) responded to a 'shots fired' call and found Hallett, 50, lying dead on the floor in his home.
According to a probable cause affidavit filed by MCSO, an eyewitness told investigators she saw Hallett's colleague, Neely Petrie-Blanchard, 33, standing over Hallett with a handgun.
The MCSO affidavit fed and fueled headlines that described Blanchard as being angry at Hallett regarding a matter concerning the custody of her (Blanchard's) children, and Hallett's [alleged] inability to help her get her kids back.
While initial news reports stated the relationship between Hallett and Blanchard was not known – it was quickly and easily known because the Facebook pages of both Hallett and Blanchard clearly said 'E~CLAUSE'.
Our investigation further determined Blanchard is a "corporate officer" of E~Clause LLC.
Since the murder of Hallett on November 15, 2020… any given Web search using the words "Christopher Hallett murder" or "Neely Blanchard" will invariably render cynical results from mainstream news stories that use headline words such as "conspiracy"  "sovereign citizen" "QANON" "QANON Mom" "fringe legal theorist" and other demeaning characterizations such as 'mentally unstable'.
But there is something the mainstream news did not report.
Hallett's Facebook page (as well as official E~Clause LLC documents) describes Hallett as, "Chris Hallett, CEO of E~Clause LLC Congressional Oversight Defense Contractor Based in Florida".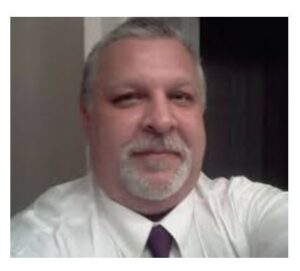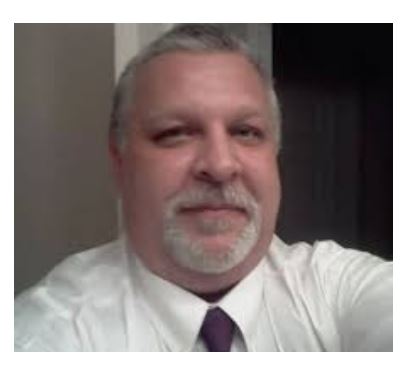 Our independent investigation into Hallett and his corporation using court records and multiple other sources reveals Hallett was a loss prevention specialist for the U.S. Government and a Constitutional law expert, operating under the consent of Congress, licensed with the State, and had been working with very high-level officials within the United States government on matters of National Security.
Official documents/complaints filed with the Florida BAR Association, and at least one Florida States Attorney's office, show that prior to Hallett's murder, there had been a concerted well-organized effort to stop what Hallett is doing.
Official documents and facts uncovered by our investigation show Blanchard was also a target – and had been a target long before the Hallett murder.
Documents show prosecutors in Florida properly/appropriately declined to investigate and/or in any other way impede Hallett's work because he was not breaking any law.
Records show some of the complaints against Hallett were being filed by a self-espoused Satanist, Alexandria Goddard, who goes by @prinniedidit on Twitter and is part of a larger collective of gang-stalkers and organized criminals that has been publicly predicting somebody was/is going to die if the Group's demands are not met.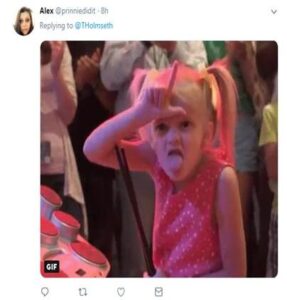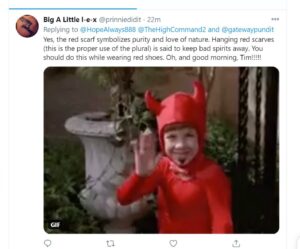 One member of the group, William K. Murtaugh, 70, Apopka, Florida, is an alleged child rapist and serial killer (based upon chat logs bearing his user name where he boasted to raping kids to death) who claims to be an operative of the FBI.
Murtaugh, a retired truck driver who lives in a mobile home with no air conditioning, recently published a video of himself where he traveled by air from Florida to Minnesota to visit the Minneapolis FBI.
Murtaugh said he was interviewed for "four hours" by FBI agents. Murtaugh reports online that he is assisting the FBI in an investigation of an international child trafficking operation connected to QANON involving Hallett/ E~Clause LLC, Holmseth, and others.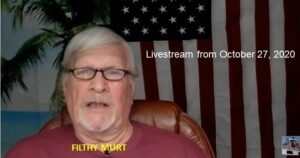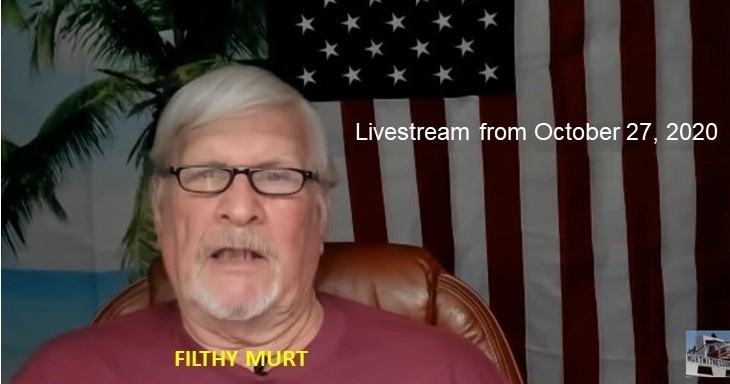 Click here to learn more about William Murtaugh
But facts and evidence tell a much different story.
Murtaugh has made the news in Florida several times for his inappropriate behavior regarding missing child cases such as with slain toddler Caylee Anthony, and on one occasion, as reported on the news, he claimed to know the whereabouts of missing child Trenton Duckett (who he allegedly later admitted to murdering in a secret chat log).
Click image to view Bitchute video

Murtaugh has been working with Hillary Clinton's former bodyguard Craig Sawyer, CEO, Veterans For Child Rescue, on what he calls "OPERATION CHAOS".
Murtagh, Sawyer, and others in the group published "WANTED" "REWARD" posters for Timothy Charles Holmseth, an award-winning news reporter and "credible" FBI witness from Minnesota.
Holmseth was interviewed by the FBI in 2010 after he uncovered an international child trafficking operation connected to Jeffrey Epstein and the Ukraine Embassy. Holmseth was assisted by Hallett and E~Clause LLC.
Hallett filed Lawful Notification of Process documents to the Office of the President (Donald J. Trump) and Senator Lindsey Graham on behalf of Holmseth.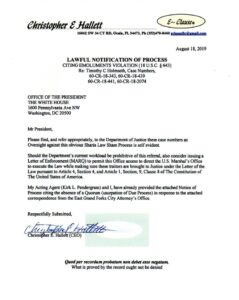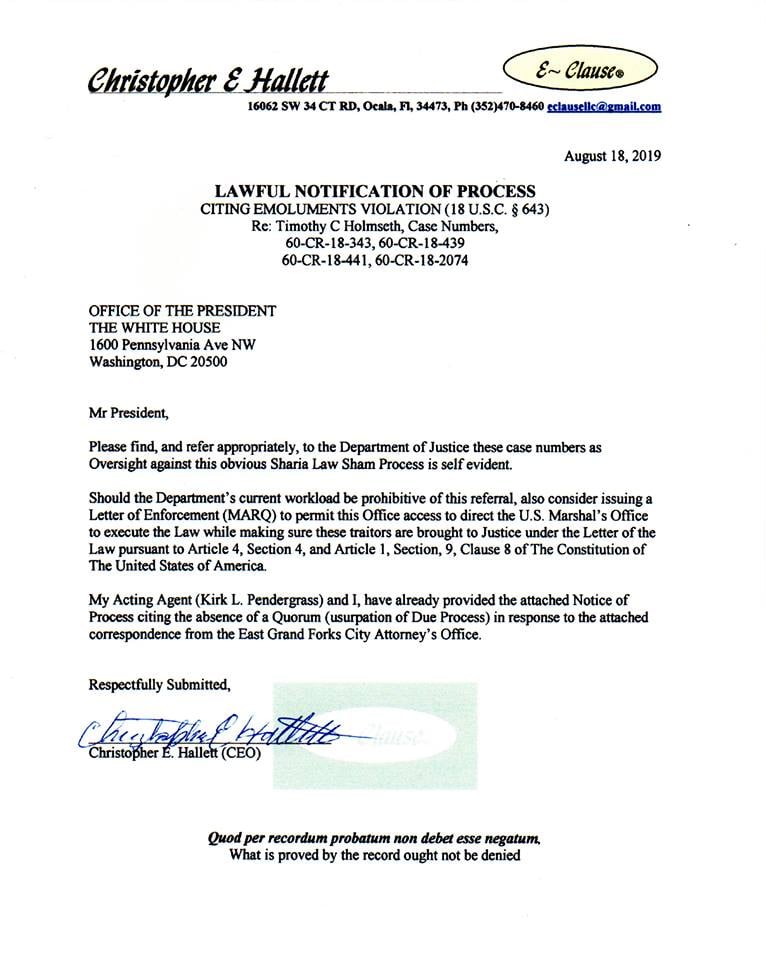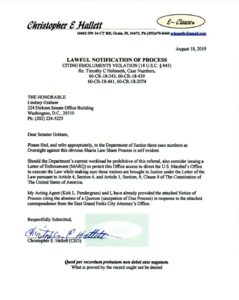 In a recent online statement, Murtaugh admitted that the FBI might actually be investigating him (Murtaugh) because of things he told them.
Sawyer threatened Holmseth in writing to use his Delta Force/Navy Seal/CIA/FBI team to take Holmseth out.

Another member of the group working with Goddard, Sawyer, and Murtaugh in the online campaign against Hallett and E~Clause LLC is FOX NEWS' Nancy Grace associate Levi Page.
Upon the news of Hallett's murder, Page instantly issued a press release on Twitter about Holmseth's connection to Hallett which was then spread by other members of the group.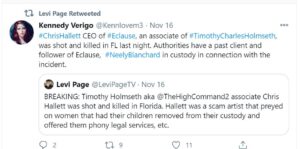 This is a developing story.
BACKGROUND – THE CHRIS HALLETT MURDER
The Marion County Sheriff's Office (MCSO) in Florida reported that on Sunday, November 15, 2020, Christopher Hallett, 50, of Marion County, Florida was shot and killed in his home.
According to the probable cause affidavit by MCSO, Hallett was shot multiple times in the back and was found by law enforcement lying deceased on the floor.
According to the probable cause affidavit, an eyewitness, and her minor child daughter, who were in a bedroom, heard gunshots, came out to investigate, and observed Neely Petry-Blanchard, 33, standing over Hallett holding a handgun. The eyewitness said she and her daughter fled the room and then heard more shots.
Our independent investigations confirm the adult eyewitness is Shannon Mutter-Tannis, an associate of Hallett through his corporation E-Clause LLC.
Our independent investigations confirm Blanchard was a corporate officer of E~Clause LLC.
On November 17, 2020, WCJB, reported "According to the Marion County Sheriff's office, the 33-year-old woman killed Hallett after Petrie-Blanchard believed he could no longer help her regain custody of her children".
WCJB reported, "She drove to Georgia where a Lowndes County deputy heard the nationwide alert for Petrie-Blanchard and called his brother, who is a deputy in Marion County. A short time later, the deputy in Lowndes County saw the suspect at a gas station and he was arrested".
Blanchard was subsequently extradited to Florida where she is being held with no bail.
About Author