Devereux Advanced Behavioral Health implicated in crimes against humanity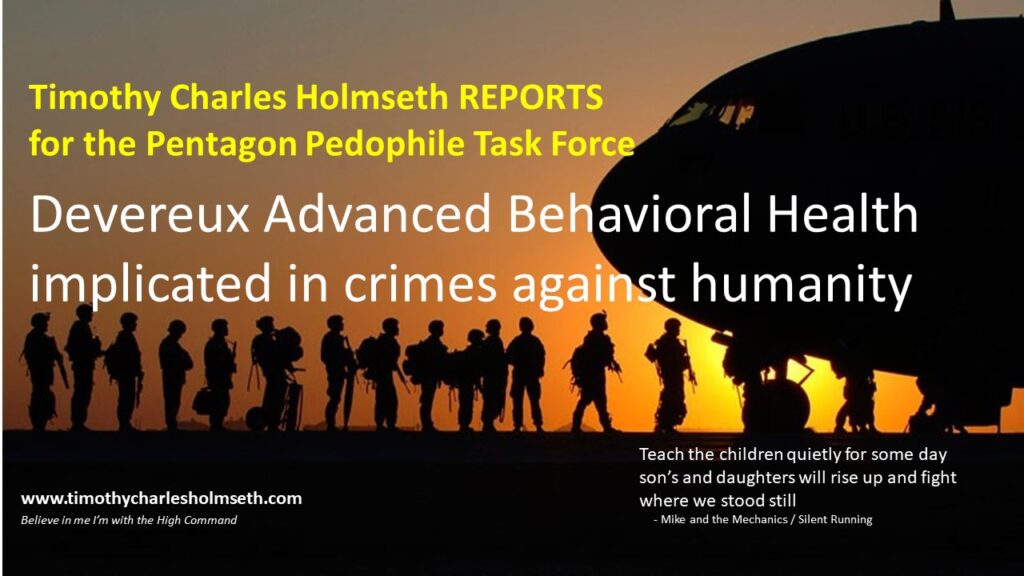 by Timothy Charles Holmseth on April 6, 2020 at 10:46 A.M.
The Pentagon Pedophile Task Force is locating, and tracking 'front' organizations used by Deep State for human trafficking and crimes against humanity.
Devereux Advanced Behavioral Health has been implicated.
Devereux describes their services: Services: Evidence-based approaches in: early intervention for ages birth to five-years-old, parent training, ABA strategies for the autism spectrum disorder population, day school, facility-based respite, group homes, foster care, outpatient counseling and psychiatric support, crisis stabilization, and residential treatment with a wellness focus incorporating cognitive behavioral therapy approaches, Positive Behavioral Interventions and Supports, recreation therapy, substance abuse treatment, and a culinary arts program.
PPTF has evidence Devereux is a front for Satanic Ritual Abuse (i.e. methodical an insane torture) and human trafficking.
PPTF has evidence showing normal children entered the facility and were tortured – sometimes farmed out for CIA experiments – and forced to be involved with blood sacrifice.