EXCLUSIVE: EVIDENCE EMERGING THAT DONALD TRUMP IS BEING STALKED BY FBI SERIAL KILLERS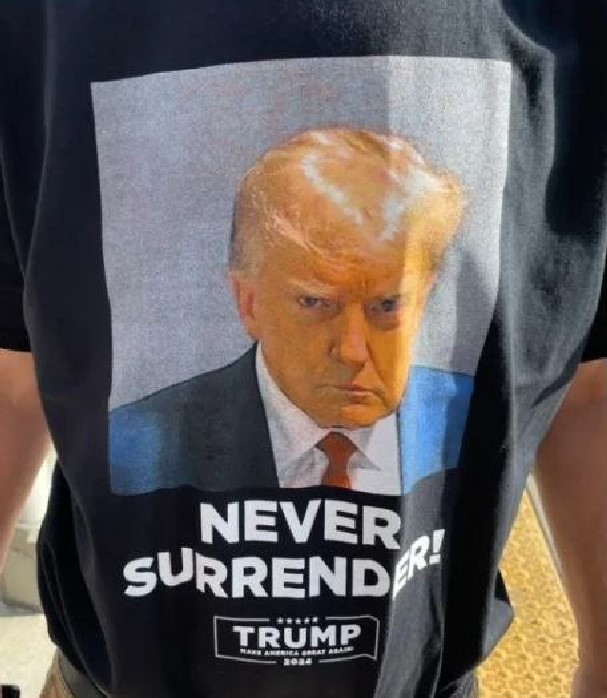 by Pentagon Pedophile Task Force on September 13, 2023 – USA
Today we reported Alexandra Koukounakis, investigative researcher, Canada, made contact with City of Rapid City, South Dakota, and confirmed that a provocateur at the Trump event on September 8, 2023, who boldly ordered an entire crowd of Trump supporters to disperse, while claiming she had a "permit" from the "city" – was lying and misrepresenting the City of Rapid City and the city police.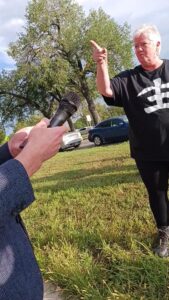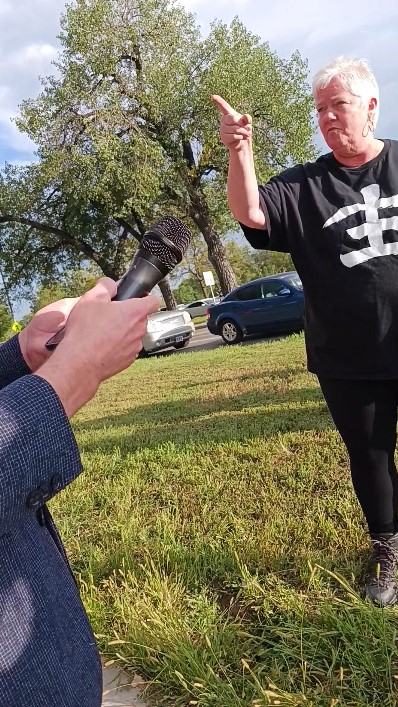 The unknown woman appeared to panic after Timothy Charles Holmseth, who had just been photographed by CBS and then chatted with the reporter, began providing details of an international child sex trafficking operation to yet another media outlet – the Luke Beasley Show. Holmseth told Beasley he (Holmseth) was interviewed by the FBI and that President Trump knows everything, which is why there is no limits to the efforts to interfere with Trump's campaign and impending Presidency.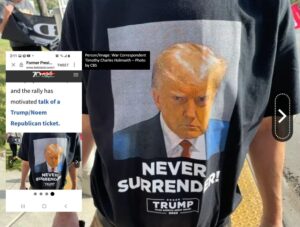 We have updated information on this story that reveals Koukounakis may in fact be on the trail of a group of organized serial killers working with the FBI that are hunting Donald J. Trump.
During her conversation with Rapid City official Curt Bechtel, Koukounakis said she was focusing her efforts on a group of "foreign agents" that are part of an organized crime enterprise.
"I'm researching – I have been for quite some time – a group of people who target Donald John Trump and some of his affiliates and people that are around him – so I kind of follow this group within the United States and I write reports to organized crimes task forces and military task forces," Koukounakis said.
"I'm trying to narrow down if this woman is connected to the foreign agents or connected to the organized crime group and that's why she was there trying to move the journalists and stop the journalists from reporting and also to intimidate the Trump supporters and have them removed from the property," Koukounakis said.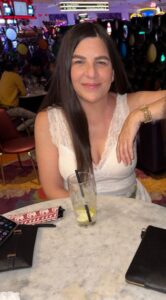 ALEXANDRA KOUKOUNAKIS EVIDENCE OF "NEFARIOUS NETWORK" ENTERED INTO THE FILES OF A FIRST-DEGREE MURDER CASE IN FLORIDA
Records with the Fifth Judicial Circuit Court in the STATE OF FLORIDA filed August 15, 2023, reveals evidence entitled "Nefarious Network Report" has been entered into the files of STATE OF FLORIDA v. NEELY PETRIE-BLANCHARD by "Alexandra Koukounakis".
Blanchard is charged with First Degree Murder of Christopher Edward Hallett.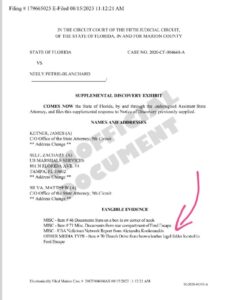 TIMOTHY CHARLES HOLMSETH REPORTS produced a 25-part series called ARRESTED SUDDENLY which features the cases of Neely Petrie Blanchard (Hallett murder, Florida) and Richard Allen (Delphi double child murder, Indiana). The series presents evidence that a network of satanist and serial killers are operating inside the United States, murdering people, and framing innocent people in operations being run by the FBI.
TIMOTHY CHARLES HOLMSETH REPORTS has not yet reviewed the "Nefarious Network Report" authored by Koukounakis. However, we believe the "network" being tracked by Koukounakis that is referenced in the STATE OF FLORIDA court files is likely one and the same as the group that murdered Christopher Hallett, as well as Abigail Williams and Liberty German in Delphi, Indiana.
JAMES 'WHITEY' BULGER 
The FBI received a report from Timothy Charles Holmseth regarding a man from Apopka, Florida named William Kevin Murtaugh.
The FBI report, which was also filed into the United States District Court – Eastern District of Tennessee – Case Number 2:23-cv-00011, pertains to evidence that William Kevin Murtaugh, Apopka, Florida, is not Murtaugh's original name, and that Murtaugh is actually the infamous mobster James 'Whitey' Bulger who was given a new identify and placed into the "Witness Protection" program.
Mainstream news reported Bulger is dead – evidence says he is not.
Murtaugh has published photos of Timothy Charles Holmseth with a gun shooting a bullet that is heading for Holmseth's head.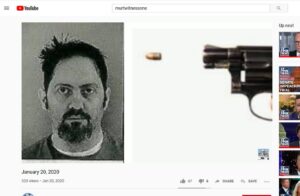 During a Live show on his You Tube channel, Murtaugh used a carefully crafted hypothetical scenario to allude to the possibility that he is Bulger and in the Witness Protection Program.
TIMOTHY CHARLES HOLMSETH REPORTS is the skeleton key to understanding the international plot against President Donald J. Trump. You are encouraged to use the Search Bar on the homepage to research.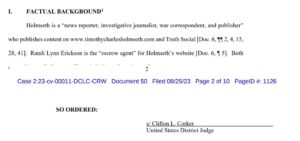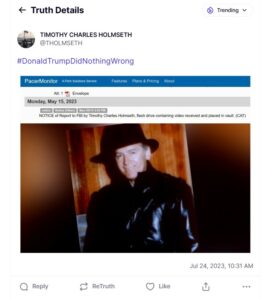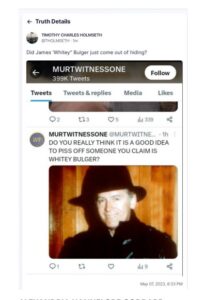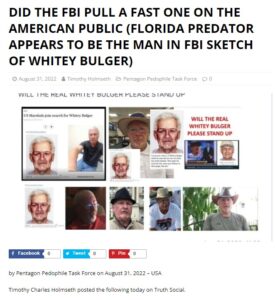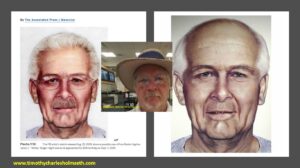 About Author