FEDERAL RICO CASE INVOLVES DELPHI DOUBLE MURDER ("THROATS CUT")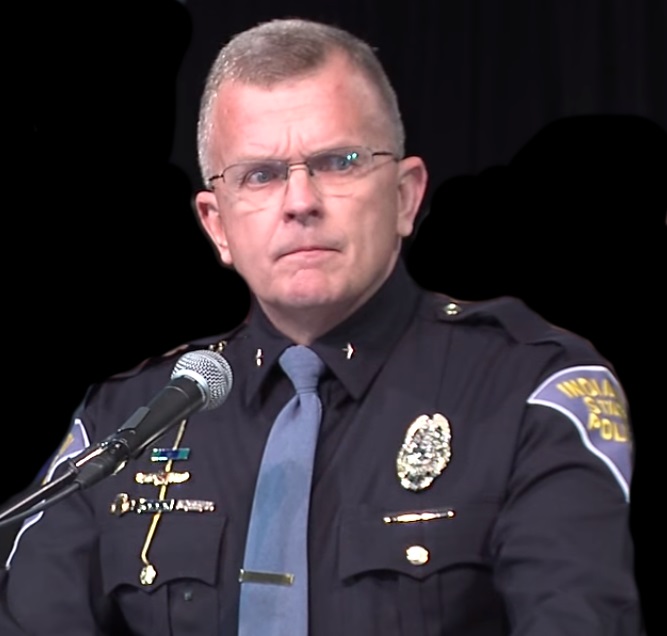 by Pentagon Pedophile Task Force on November 20, 2022 – USA
Facts regarding the Delphi double-murder case in Indiana are contained in a RICO action filed in Tennessee.
"Evidence available online indicates the two young girls were found with their throats cut," the Complaint said.
The section of the Complaint regarding the Delphi murders is regarding the decades long pattern of conduct and behavior of a woman from Ohio named Alexandria Goddard.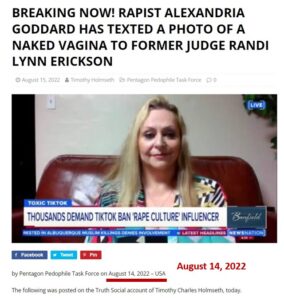 On August 13, 2022, Alexandria Goddard, Martins Ferry, Ohio, texted, unsolicited, a faceless photograph of a small naked female, zoomed-in close on the private-part area of the mid-section with no pubic hair, to a former Truth in Taxation judge from Minnesota named Randi Lynn Erickson.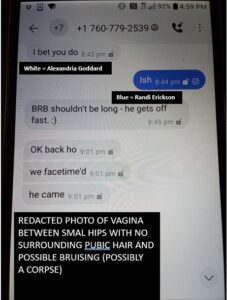 Erickson is an escrow agent who escrowed crimes against humanity affidavits, which are part of a U.S. Court case in Minnesota. The affidavits, according to Droel Law, TX-MN, contain eyewitness accounts of a woman named Jessie Marie Czebotar, who says as a child she was forced to witness U.S. Presidents and world leaders torturing, murdering, and cannibalizing children in satanic rituals.
Goddard is an admitted rapist who has bragged during published interviews that she once formed a plan with cops in Ohio to kidnap a man. Goddard smiles and giggles as she describes how they handcuffed the man to a bed and sexually tortured him with "hot sauce" before releasing him "naked" and "crying" into the cold Ohio winter night.
Goddard has also joined her co-host Levi Page, Dover, Tennessee, on their show called "Crime and Scandal' where they laughed and giggled about torturing children in the basement.
The true facts and circumstances surrounding the interstate transmission of the vagina photo by Goddard to Erickson reveal a failed plot to frame Erickson for felony charges for possessing the photo on her telephone.
But…
The plot to frame Erickson was far more complex, diabolical, and disturbing than anyone would ever naturally imagine, because it was a plot developed not only by Goddard, but cops and lawyers working in tandem in multiple States to plant the photo on Erickson with special codes encrypted into the image.
But as you will see… it all leads to Delphi.
Here's how they did it.
Goddard and corrupt cops in Ohio filed false 'stalking' charges against Erickson and Timothy Holmseth, criminal offenses, which according to the Belmont County Courts website, occurred in Martins Ferry, Ohio on August 12, 2022. Neither Erickson nor Holmseth were in Ohio on August 12, 2022 (nor were they together). Holmseth has NEVER had any communication with Goddard in his entire life. The absurdity of the charges was revealed by the text exchange between Goddard and Erickson that showed Goddard transmitted the photo of the vagina to Erickson on August 13, 2022 (the day AFTER she claims she was a stalking victim) and repeatedly invited Erickson to come to Goddard's home.
Another dead giveaway to the plot would be the filing date of the charges against Erickson and Holmseth which was August 16, 2022.
Here's why.
The larger plot involving pornographic photos was identified and disrupted when Holmseth read in the news about a child pornography arrest of schoolteacher named Justin Foley in Columbus, Ohio. Holmseth noticed the tip that came into the police in Ohio implicating Foley, from the National Center of Missing and Exploited Children, came in on August 16, 2022.
It was all a set up.
And it involved Delphi.
Here's why.
Three days later, on August 19, 2022, a huge burst of activity occurred in the Delphi, Indiana double-murder case of Abigail Williams and Liberty German. The activity centered on Kegan Kline who had reportedly communicated with one of the murdered girls online before the murder. Kline was in jail facing child pornography charges.
On August 25, 2022, FOX NEWS reported "Court filings, river search indicate potential movement in Delphi probe"
~begin snippet~
Court documents first revealed by the podcast The Murder Sheet indicated that Indiana State Troopers petitioned Miami Circuit Court August 19th to permit detectives to temporarily take custody of Kegan Kline, a Peru man facing 30 counts of child pornography whose name has been linked to the investigation of the murders of Libby German and Abby Williams beneath the Monon High Bridge along Deer Creek east of Delphi on February 13, 2017.
~end snippet~
Law enforcement then began searching a river in Indiana.
On November 1, 2022, after the press conference announcing the arrest of Richard Allen for the Delphi murders, Holmseth submitted the vagina photo via FED EX to Superintendent Carter at the Indiana State Police and explained the connection to the Delphi case. Holmseth noted to Carter that Goddard had appeared on a program called Websleuths and proactively suggested that the murders were connected to Kegan Kline and might have been filmed for "snuff".
Goddard then did something that was so utterly AMAZING and DISTURBING that the Delphi murder investigation will never come back from it.
Goddard logged into her Twitter account @prinniedidit, posted a screenshot of Holmseth's press release on TRUTH SOCIAL, and threated Holmseth with "additional charges".
"Someone is begging for additional charges. Will be sending all of this to my police department and asking for referral to my prosecutor. This is disgusting to do to the families of these murdered girls. #delphi," Goddard said.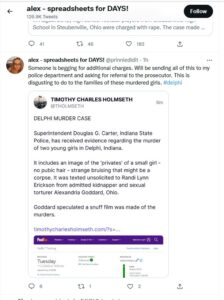 Goddard had declared Holmseth, Minnesota, was subject to arrest by some local Ohio cops, because, she said, he submitted a tip to the Indiana State Police about a double murder and published a press release.
The Delphi double-murder case in Indiana and is now part of a Racketeering Influenced and Corrupt Organizations Act (RICO) lawsuit filed by Timothy Charles Holmseth in the Middle District of Tennessee.
The RICO action was stamped by the Clerk on November 9, 2022.
In a recent interview, Carter said this is the most complex case of his career and described it as having "tentacles" going out in many directions.
Evidence shows the mysterious facts that comprise the "complex" nature of the Delphi murders is the still un-released fact that a satanic cult is operating a vast organized international child exploitation, child porn, extortion and blackmail enterprise that includes the ritual sacrifice of children for film (i.e., snuff) for sale on the Dark Web.
The tenacles referenced by Carter lead to Goddard's media colleague William Kevin Murtaugh, Apopka, Florida.
On November 6, 2022, TIMOTHY CHARLES HOLMSETH REPORTS reported:
~begin snippet~
"The Florida man who has been dressing up as an FBI agent and reporting on missing and murdered children's cases, has announced he has made contact with the "Sheriff" investigating the Delphi murders in Indiana.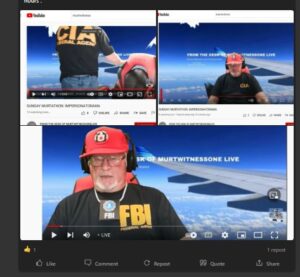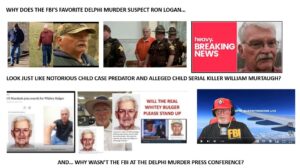 William Murtaugh made the announcement on Bitchute.
William K. Murtaugh, Apopka, Florida, is believed by many to resemble "Bridge Man" from the video footage captured by slain teenager Liberty German shortly before her death.
"I have also contacted the Sheriff directly and I have told him the story of exactly what's going on and I have told the Sheriff that if necessary, I can either talk to my local officials here on their behalf or I can go up to Delphi, Indiana and sit down with law enforcement officials. I will not impose my Miranda rights – I will allow them to question me with no restrictions at all. I will provide any documentation they need including the fact that I have not been in Delphi, Indiana ever," Murtaugh said.
Murtaugh added he will "provide them with information exactly who the people are that are making these false accusations".
~end snippet~
On November 19, 2022, Murtaugh produced a Livestream program on his You Tube channel called From The Desk of Murtwitnessonelive.
The program revealed admissions by Murtaugh that are nothing short of ASTOUNDING.
Murtaugh admitted Goddard had also transmitted the vagina image to him.
"Since Alex sent me the image, I might be called as witness in whatever court case takes place having to do with it," Murtaugh said.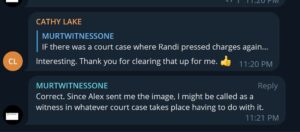 "As had been reported, I stated that Alex should not have sent that image. I do not condone her actions in that regard," Murtaugh said.
Murtaugh stated he personally contacted the Tennessee Bureau of Investigation (TBI) and inquired about the photo, which had been taken to the TBI on September 1, 2022, by Erickson and Holmseth and presented to two TBI agents.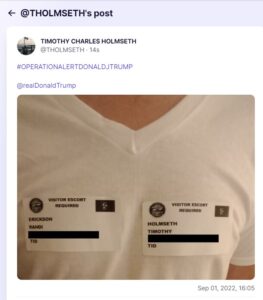 Murtaugh lied to his viewers and claimed the TBI had traced the vagina image to an adult website. Murtaugh attempted to float a narrative that the vagina in the photo had been determined by law enforcement to be an adult female who had shaved her pubic hair.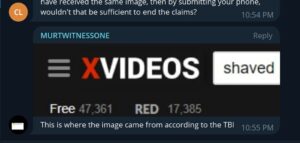 Evidence shows Murtaugh and Goddard are on a mission to convince the public that the vagina image is an adult.
When the news originally broke that Goddard had sent the vagina image to Erickson, Murtaugh and Goddard immediately went on social media and began pushing a narrative that Erickson, who had repeatedly tried to report the image to law enforcement in Belmont County, Ohio, was required to report the image to her local law enforcement in Minnesota.
Murtaugh hammered away that Erickson must go to her local police. 
The Holmseth RICO action details a network of corrupt cops and attorneys in Minnesota and exposes why Murtaugh and Goddard were so insistent Erickson walk into a police department in Anoka County, Minnesota and try to report the image.
Suffice – it would not have ended well for Erickson.
During the November 19, 2022, Livestream, Murtaugh was taking questions from people in his own chat log, as well as people who were commenting on a Telegram channel called Pentagon Pedophile Task Force.
Murtaugh revealed that during the Caylee Anthony case in Florida, he was associating with Goddard, and their group was all tangled up in a matter that involved one of Murtaugh's colleagues having sex on a table in front of children – and a child being instructed to take photographs of an adult's genitals.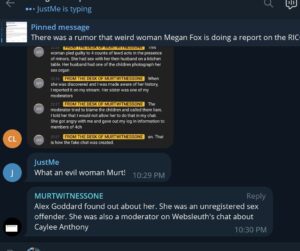 In a screenshot of a statement by Murtaugh that appeared during the Livestream, he (Murtaugh) attempts to explain away a Pal Talk chat log that became public years ago wherein someone using the name "murtwitnessonelive" boasted and laughed about raping and murdering six children including Trenton Duckett.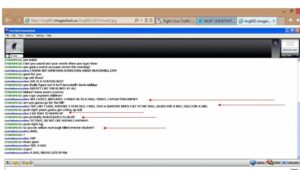 Murtaugh's behavior involving missing children made the news in Florida.
This is a developing story.
About Author