IMAGES SHOWS ATTACK ON ABIGAIL WILLIAMS AND LIBERTY GERMAN BY BRIDGE GUY (SAYS FORMER U.S. BORDER PATROL CLAIMING TO POSSESS THE IMAGES)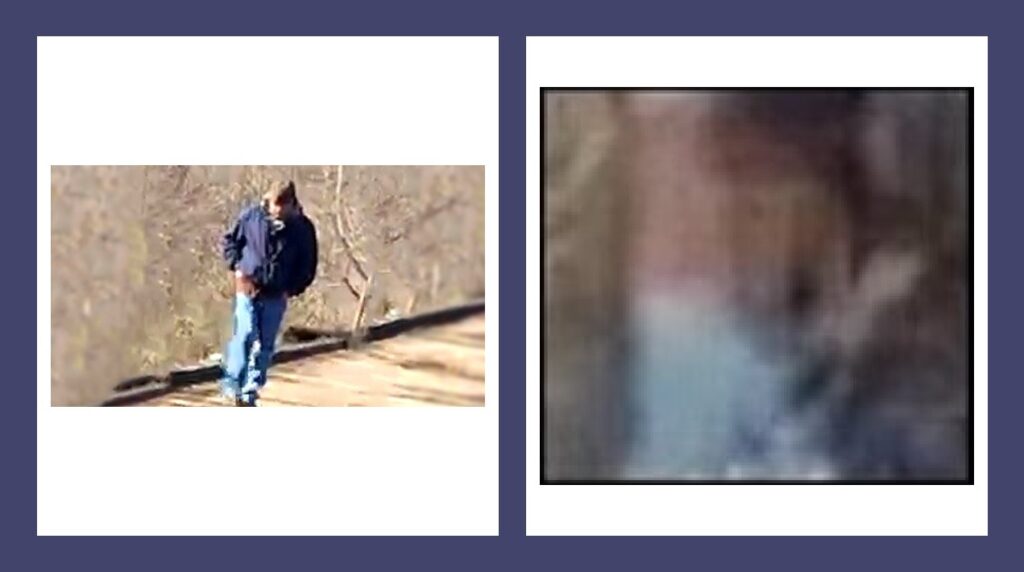 by Pentagon Pedophile Task Force by May 25, 2023 – USA
There is an anonymous independent journalist with a channel on You Tube, claiming to be a former U.S. Border Patrol Agent and member of the Special Forces, who has publicly stated he possesses images of Abigail Williams and Liberty German being attacked by the man law enforcement has referred to as Bridge Guy.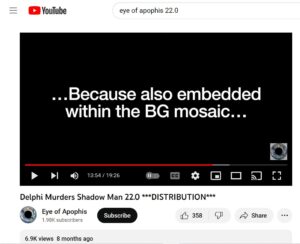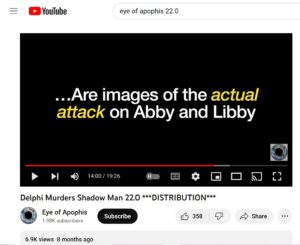 The person actually showed an image to support his claim. SEE IMAGE BELOW
"I'm not going to reveal the method used to retrieve this image," the person said. The person added, "This is the only one I will show, just to prove they are there".
"…embedded within the BG [Bridge Guy] mosaic are IMAGES of the actual attack on Abby and Libby. Therefore, BG is an amalgamation that was created AFTER the murders," the person said.
"Hand in blue glove with Weapon holding Abby?" the person said, suggesting that what you are seeing in the image is Bridge Guy holding Abigail Williams. "That sure looked like Abby to me," the person said. "There are images I will not reveal," the person said.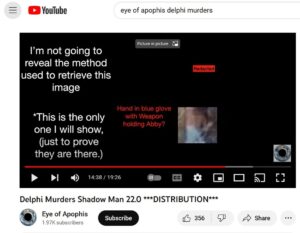 BACKGROUND OF YOU TUBE CHANNEL
On February 4, 2022, someone created a You Tube account called Eye of Apophis which is a series of video investigative reports and independent photo-analysis of events surrounding the double murder of Abigail Williams and Liberty German (commonly referred to as Abby and Libby) who were found murdered on February 14, 2017, in Delphi, Indiana. The video producer states he joined the military when he was "19 years old" and "graduated from the US Army Intelligence Center and School" "In Fort Huachuca, Arizona".
The person said they have conducted "…photo-analysis for real-world operations around the world,". "I helped plan the invasion of Panama known as "Operation Just Cause". "After my time in Central America I was reassigned to a Special Forces Unit. I created my unit's target folders and used my own imagery mock-ups to brief our A-Teams. In Desert Storm, I made a critical discovery that delayed the Coalition ground invasion by a day. Thereby sparing the lives and limbs of countless US Soldiers. What if General Schwarzkopf hadn't trusted me?" the person said. "I served for three years as US Border Patrol Agent. Where I recovered way too many bodies from the Rio Grande," the person said.
"After that, I became a Special Agent with an obscure Federal Law Enforcement Agency. Where I served for over 22 years," the person said. "When the Agency Needs an expert opinion on a photo They call me," the person said.
"This is just a scenario. It's up to Law Enforcement to follow-up," the person said.
The person presented a military logo.
The logo has been identified as being included in an Exhibit of a U.S. Court case filed under the Civil RICO Act, Holmseth v. Page et al, file number 3:22-cv-00912-Tennesee Middle District.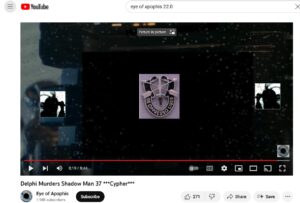 According to World History Encyclopedia, "Apophis (also known as Apep) is the Great Serpent, enemy of the sun god Ra, in ancient Egyptian religion".
All information for this report was extracted from the video located at the You Tube Channel Eye of Apophis – @eyeofapophis888
The video is below.
PUBLISHER'S NOTICE: We have not independently verified this claim, nor do we endorse the information published in the video, rather, we publish this information because it is a matter of great public importance. The public is encouraged to do their own research on these matters and decide on their own what they think is true.
About Author