JACOB WETTERLING: Psyche eval of FBI witness creates questions about Jacob Wetterling case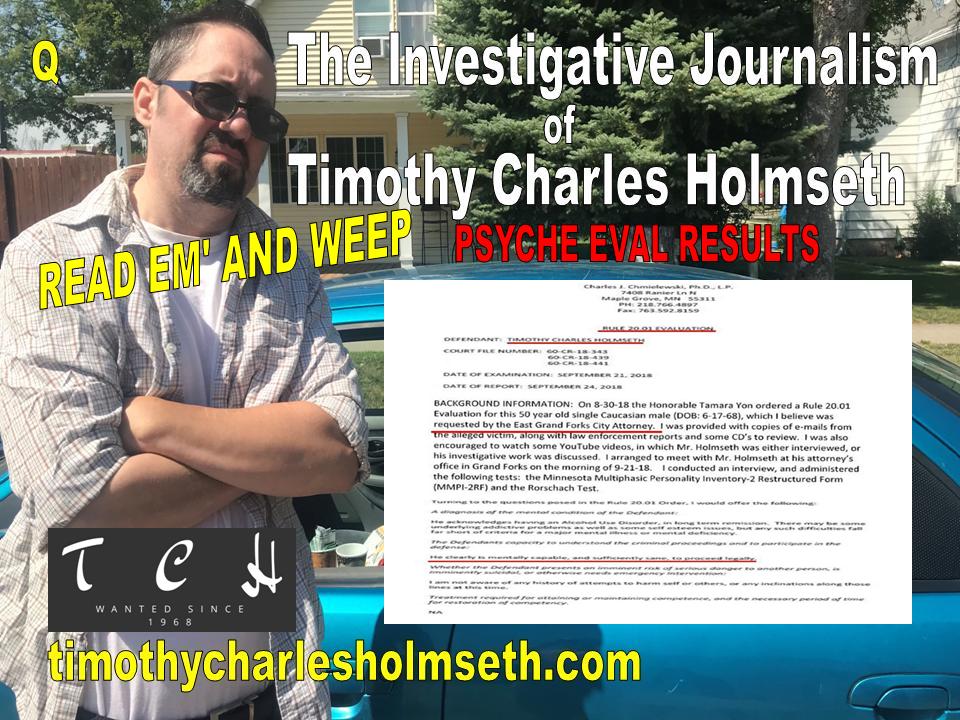 by Timothy Charles Holmseth on January 1, 2019 at 5:53 P.M.
The psyche eval results of an FBI kidnapping witness has cast new light on the Jacob Wetterling case
The Jacob Wetterling kidnapping in Minnesota has become a hot-bed of controversy after an independent journalist published that a search warrant shows the bones found at Jacob's 'gravesite' were not human.
And – the case has made its way into a Polk County, Minnesota courtroom.
On August 30, 2018 during a court hearing in Polk County, Minnesota, a prosecuting attorney abruptly made a verbal motion requesting a defendant be psychologically evaluated – a knee jerk reaction that appeared to be panicked.
Here's why.
The nation's president, Donald J. Trump, has issued several Executive Orders regarding transnational trafficking and human rights, and everything was on the line for the local government in the small northern Minnesota town of East Grand Forks.
The motion was made by East Grand Forks City Attorney Ronald Galstad, just as the defendant, Timothy Charles Holmseth, advised the court that his trial attorney, Steven S. Biss, would be filing a federal Deprivation of Rights lawsuit against the State of Minnesota.
Upon hearing Holmseth assert his constitutional rights had been violated for ten years, Galstad abruptly requested Holmseth be ordered to take a psychological evaluation, telling Honorable Tamara Yon he didn't believe Holmseth was "competent".
He bet everything.
The outcome of the Rule 20.01 evaluation would be critical, because if Holmseth was found incompetent he would not be able to contribute and aid in his own defense – thus being subject to the will and decisions of his public defender, Gretchen Handy, who he had accused of conspiracy along with past public defenders Michael LaCoursiere, Brue Ringstrom, and their supervisors Kip Fontaine and Kristine Kolar.
Indeed – Holmseth better be found to be psycho or a cabal of local lawyers and police were going to find themselves in the proverbial 'Lucy, you got some splainin to do' position.
Holmseth alleged private Gmail show Lt. Rodney Hajicek, the ranking officer at the East Grand Forks Police Department, secretly conspired with CNN Art Harris to plot his (Holmseth's) demise after Holmseth, an investigative journalist uncovered an international child sex trade operation and baby sales scheme being run by rogue CIA and FBI operatives in Florida and Indiana.
Holmseth, an award winning news reporter, stumbled upon the operation during recorded interviews he conducted with key figures in the national profile kidnapping case of HaLeigh Cummings in 2009.
One might think Holmseth would have been popular with the local cops after recording traffickers discussing child porn, baby sales, and assisting the Minneapolis FBI.
Nope.
The local police came at Holmseth hard.
And then Holmseth pushed back.
Holmseth published proof Galstad lied to Honorable Yon about a non-existent relationship he (Galstad) claimed to have with the Minnesota state crime lab regarding Holmseth's computer, which had been violently seized during a Pine to Prairie Gang and Drug Task Force raid by EGFPD Sgt. Aeisso Schrage in a (failed) plot to frame Holmseth for kidnapping, rape, kiddy porn, and murder of a missing child (HaLeigh Cummings).
Galstad told the judge in open court he was working with the Minnesota Bureau of Criminal Apprehension (BCA) to have Holmseth's computer forensically examined (but didn't say what they were looking for on the computer).
However, Andrew Evans, superintendent, BCA, stated in writing the BCA had no idea what Galstad was even talking about.
This was not a good development for Galstad.
Evans said the BCA had never been asked to search Holmseth's computer – noting the BCA knew absolutely nothing about it and had not given the police permission to use BCA evidence stickers on Holmseth's seized property.
Nope – this isn't looking good for the City of East Grand Forks and State of Minnesota.
Holmseth alleges Galstad, Schrage, Hajicek, Polk County Attorney Greg Widseth, and Police Chief Michael Hedlund are covering up the fact they were told (by CIA child sex traffickers) to search for child rape porn of five year-old HaLeigh Cummings on Holmseth's computer which they (erroneously) believed had been mailed to Holmseth in his capacity as a journalist.
Holmseth did not have the photos but was able to describe them in articles after interviewing Donald Knop, a legal assistant at a Florida law office that held the photos.
Holmseth also alleges the same rogue cops and lawyers conspired with judicial community members in Florida to obtain a 'domestic violence protection order' against him (Holmseth) from a Florida court regarding a person he never met; and order that required Holmseth shut up and stop publishing about the child trafficking ring.
Holmseth alleges the same rogue cops and lawyers then arrested him (Holmseth) and conspired with the Minnesota Public Defender's Office (MPDO) to rig three cases against him (Holmseth), by refusing to file dismissal motions based upon Holmseth's right to speech, keep and bear arms, and due process.
Holmseth became aware the MPDO had been systemically lying to him about his rights after he retained the services of a trial attorney, Steven S. Biss –a Princeton University graduate who told him they were violating his constitutional rights.
In 2018, Holmseth was interviewed by the Grand Forks Herald regarding his association with QANON and was asked if he supported President Trump (a.k.a. Q+). East Grand Forks City Manager David Murphy told the Herald (and Bismarck Tribune) Holmseth is "sick" for saying government employee's traffic children.
Indeed – the psychological evaluation of Timothy Charles Holmseth was going to be of great consequence.
The results were going to separate fact from fiction in a decade long battle that had raged between a journalist-FBI-witness that said he has evidence the local police covered up sex crimes against children; and the local police and city attorney that said he was 'mentally incompetent' and "sick".
Holmseth alerted the East Grand Forks City Council and Polk County Board through countless press releases and articles regarding the situation, which after a decade, has involved three arrests and prosecutions (pending) that have been funded by the taxpayers of Minnesota on behalf of Broward County, Florida.
On September 24, 2018 Dr. Charles J. Chmielewski Ph.D., L.P. reported to the Polk County Court Holmseth was entirely competent showing no signs of mental illness or thought disorder.
Then…
In a strange twist…
Dr. Chmielewski's written report revealed something unexpected – the Minnesota legal community had solicited an opinion from Chmielewski regarding Holmseth's reporting on the Jacob Wetterling case.
Holmseth reported the Jacob Wetterling kidnapping is a colossal state-sponsored cover up because according to lab finding cited in an official Search Warrant, the bones found at the alleged gravesite where Jacob's supposed murderer, Danny Heinrich, had led investigators, turned out to not be human.
The animal bones were planted – mingled with some child's clothes.
Holmseth also published audio of a confession regarding Jacob's actual abduction, which was secretly recorded by bail bondsman Diane Muehlbauer, St. Cloud Private Investigator Leary Peart, and a police officer.
Chmielewski said he found no thought disorder or mental illness with Holmseth.
It may be QANON who ultimately got it right.
"These people are sick"
   Q