JESUS STRAND (MARY MAGDALENE) HOAX ORCHESTRATED BY WILLIAM MOFFITT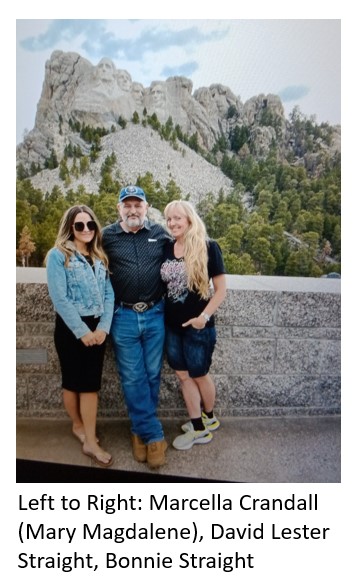 by Pentagon Pedophile Task Force on July 2, 2022 – USA
The following was posted on the GAB account of Timothy Charles Holmseth, today.
~begin~
DAVID LESTER STRAIGHT SAID HE WAS GUIDED TO 'MARY MAGDALENE" (JESUS STRAND) BY PHONE CALLS FROM WILLIAM MOFFITT, JEWISH RABBI'S, AND INDIAN SHAMAN
by Timothy Charles Holmseth – War Correspondent – on July 2, 2022, at 9:40 A.M. EST – USA
I previously reported, "INVESTIGATIVE JOURNALIST INFILTRATES U.S. MILITARY PSYOP TO CLAIM "JESUS STRAND" DNA EXISTS THROUGH JESUS HAVING A BABY WITH "MARY MAGDALENE"".
In 2019 David Lester Straight told me (Timothy Holmseth) he possessed "Secret Service" clearance to view videos of VP Mike Pence raping a little boy. Straight told me (and the Public) he'd been appointed to three Presidential Commissions by Donald Trump (Judicial Corruption, Human Trafficking, Space Force). Straight told me he assisted the U.S. Marines rescue 2,100 children from cages underground in California.
In January 2020 I traveled to Oregon after Straight said he needed my expertise in identifying and unraveling human trafficking operations (such as I did with the CIA FINDERS).
When I arrived, Straight said he believed the girl he was with, Marcella Crandall, was actually "Mary Magdalene" and carried the Jesus Strand. [I KNEW THIS WAS NOT TRUE]. He showed me a photo of "Mary Magdalene" from the Web and insisted Crandall looked just like her.
During my interviews with Crandall, she said she possessed SD cards full of child porn. She described one of a little girl flopping back and forth on the bed crying, "I don't want to be daddy's little princess". I told Straight and he justified it. He said Crandall is a very "special person" put in place to take down pedophile rings.
Straight and Crandall discussed millions of dollars they were going to get via a government fund that rewards 'whistleblowers' who turn over evidence. Crandall asked me if that program existed, and I opined that 'yes', I think it does. Crandall got a huge grin on her face and said, "Oooooohhhhhh".
In January 2020, former Minnesota judge Randi Lynn Erickson was financially sponsoring the law seminars of Straight.
Erickson supported my investigations, as I was reporting for "Melania's Task Force" (Pentagon Pedophile Task Force). The task force was called "Melania's Task Force" by Sgt. Robert Horton (War Castles) who confirmed the task force through a JAG at the DOD.
In January 2020, Erickson confronted Straight about Crandall. "Don't involve yourself with this girl," Erickson said.
Straight told Erickson, "This girl is placed in those positions for this very purpose. It takes someone very strong-willed. Very dominant. To be able to stand up to what she's about to face – all of these pedophiles. And I'm telling you I had many visions before even going to California – even knowing who she was – what she looked like – anything – and that's what I'm going by. Just the spirituality of the whole thing I mean William Moffitt called me about it, I've had Rabbi's call me about it, from clear halfway around the world. I had Indian Shaman call me about this thing".
~end
UPDATE – THE FOLLOWING VIDEO APPEARED ON BITCHUTE TODAY – CLICK IMAGE TO VIEW