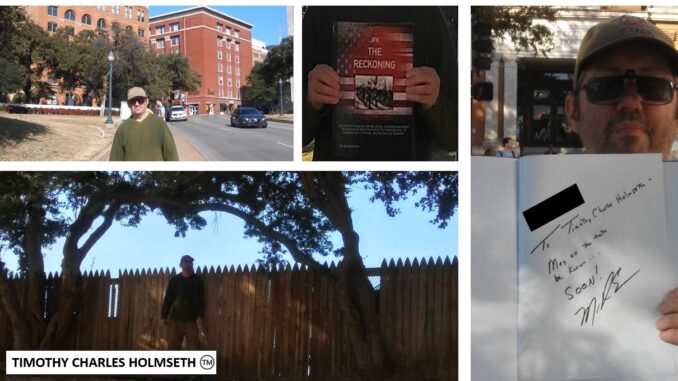 by Pentagon Pedophile Task Force on December 31, 2021 at 5:25 P.M.
Timothy Charles Holmseth recently visited Texas.
Holmseth had opportunity to meet Marshal Evans, the author of JFK THE RECKONING.
Evans chatted with Holmseth and shared rare photographs, news clippings, and fascinating and unique information he's obtained over the years about the Kennedy assassination.
Holmseth purchased Evans' book on the condition Evans would autograph it. "What would you like me to write," Evans asked. "Write my whole name," Holmseth said.
"I've got my own personal reasons," Holmseth added, noting he liked the title of the book.
Holmseth explained to Evans that he is an investigative journalist and FBI witness who is now reporting for a task force formed within the Trump White House. Holmseth explained he was kidnapped four times by the Deep State and imprisoned after uncovering the identity of CIA and FBI agents who were operating the largest human harvesting operation in the history of mankind.
"Melania Trump saved my life from a Mike Pence hit," Holmseth told Evans.
"The CIA went into my home and stole family photos and flash drives. They even stole my entire Kennedy Assassination book collection – about 35 books," Holmseth told Evans.
"Do you know Attorney Lin Wood," Holmseth asked Evans. "Oh yeah. I know Lin Wood," Evans replied.
Holmseth held out a cell phone and showed Evans a video published on a Bitchute account called The_High_Command.
LISTEN! ATTORNEY LIN WOOD TALKS ABOUT TIMOTHY CHARLES HOLMSETH