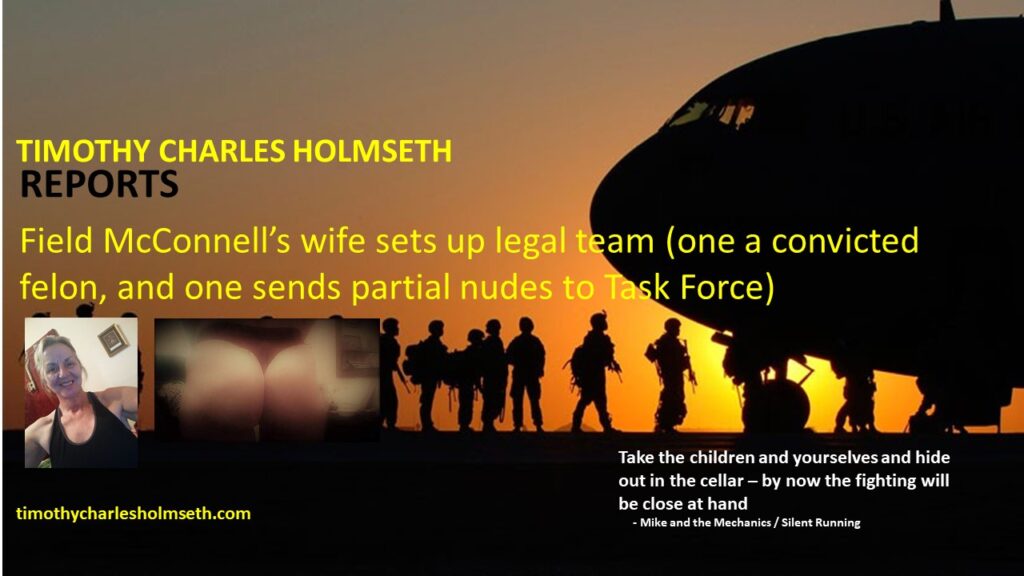 by Timothy Charles Holmseth on February 17, 2020 at 8:58 A.M.
Update/Publisher's Note: February 18, 2020 at 9:03 PM: Per below: Yesterday I reported I have been in direct communications with a heavy hitter Ivy League lawyer regarding Field McConnell. Today, Field McConnell reported on The Field Report he is interested in having a lawyer's assistance regarding certain matters pertaining to his knowledge as a whistleblower.  
* * * * *
Yesterday, I (Timothy Charles Holmseth) advised Field McConnell's wife, Denise Clarke-McConnell, that I am paying a high profile Ivy League attorney from the Washington DC area to assess Field's case and advise on a path forward.
The attorney I am paying for advice is a heavy hitter that represents U.S. Congressmen.
But…
Acting dismissive and uninterested…here is what Denise Clarke-McConnell is doing.
Denise Clarke-McConnell has begun working with a man named Terry Dean Nemmers of Minnesota to file legal documents regarding Field McConnell.
I can confirm this because Denise Clarke-McConnell began contacting me over the past few days and demanding I fill out an Affidavit, which I refused to do because I have always found her behavior and conduct very suspect.
It appears I was right.
According to a source, Denise Clarke-McConnell is also working with a woman named Carol Keihn, who, according to the source, will be handling civil court matters regarding Field McConnell.
"Denise has a guy name Terry Dean Nemmers claiming he's taking everything over all legal criminal authority re: Field and some woman named Carol for Civil Action," the source said.
Denise Clark-McConnell has no legal authority (Power of Attorney) to execute legal actions on behalf of Field McConnell. Field McConnell gave Power of Attorney to Phil Roberts, Plum City, Wisconsin.
TERRY NEMMERS
Terry Nemmers is a convicted felon and you can learn about Nemmers using Google and You Tube.
Nemmers has no legal authority to file anything on behalf of Field McConnell. Nemmers is known to many in Minnesota as 'the man you talk to once – and never talk to again'.
Nemmers has a long history of extremely bizarre behavior.
The source said she/he has been attacked by Nemmers because she/he put together a letter and sent a Request for Audit [regarding] the Pierce County Jail's actions against Field. "It was sent to POTUS (who I love and Trust), AG Barr, OIG Ombudsmen's office, Wisconsin Judicial Committee, etc etc," the source said.
"Denise told this Nemmers character and he attacked me today multiple times," the source said. The source said Nemmers warned "to stop doing anything without his permission!!!!"
"He also told me I no longer could pursue my unauthorized actions for an Audit but had to from now on answer to him!," the source said.
CAROL KEIHN
Keihn possesses Power of Attorney that Field McConnell reportedly gave her to handle legal matters regarding fraud pertaining to his Real Estate.
Keihn told the Pentagon Pedophile Task Force that she has been through a paralegal course, and she (Kiehn) claims to be a few credits away from being able to practice law. However, a background check of Keihn does not appear to show she has any qualifications.
According to a Real Estate expert that briefly examined Field McConnell's Real Estate case there does not appear to be any fraud.
Keihn sent a photo to a Task Force member of herself; along with a partial nude of a woman's butt.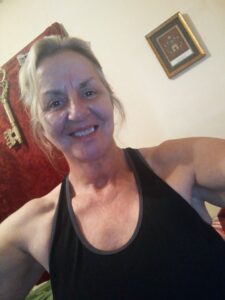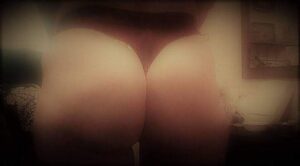 This is a developing story.
About Author