Minnesota feds prosecuting international sex trade operators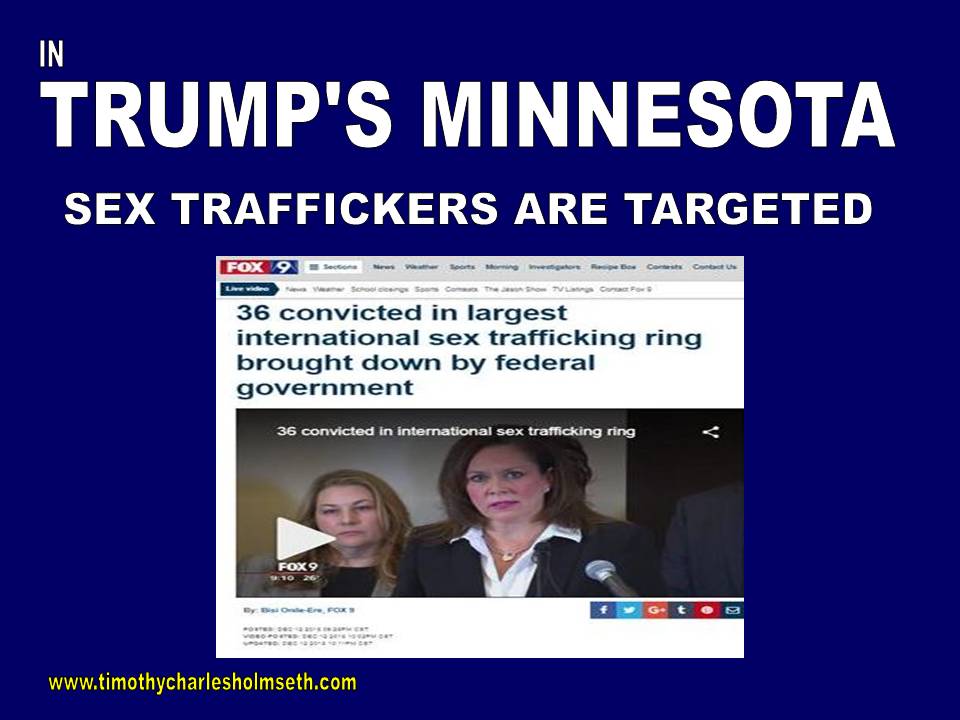 by Timothy Charles Holmseth on December 16, 2018 at 8:06 P.M. CST
There's a new U.S. Attorney in Minnesota – and it doesn't look good for the sex trade underworld.
Fox News 9 in St. Paul has reported 36 in Minnesota were recently convicted in the largest sex trafficking ring ever dismantled by the federal government.
On December 12, 2018 Fox News reported, "Sex trafficking is an industry that is built on supply and demand and this organization fed that industry," said U.S. Attorney for the District of Minnesota Erica MacDonald. "It exploited, it abused, enslaved, and sold women in response to the high demand of commercial sex that exists not only in the United States, but here in Minnesota."
Ironically…that same day…
On December 12, 2018 Timothy Charles Holmseth published 'Seven is Tragic – How a cabal of attorneys in Minnesota protected an international child sex trafficking operation from exposure'.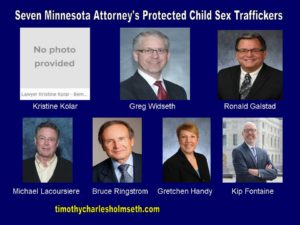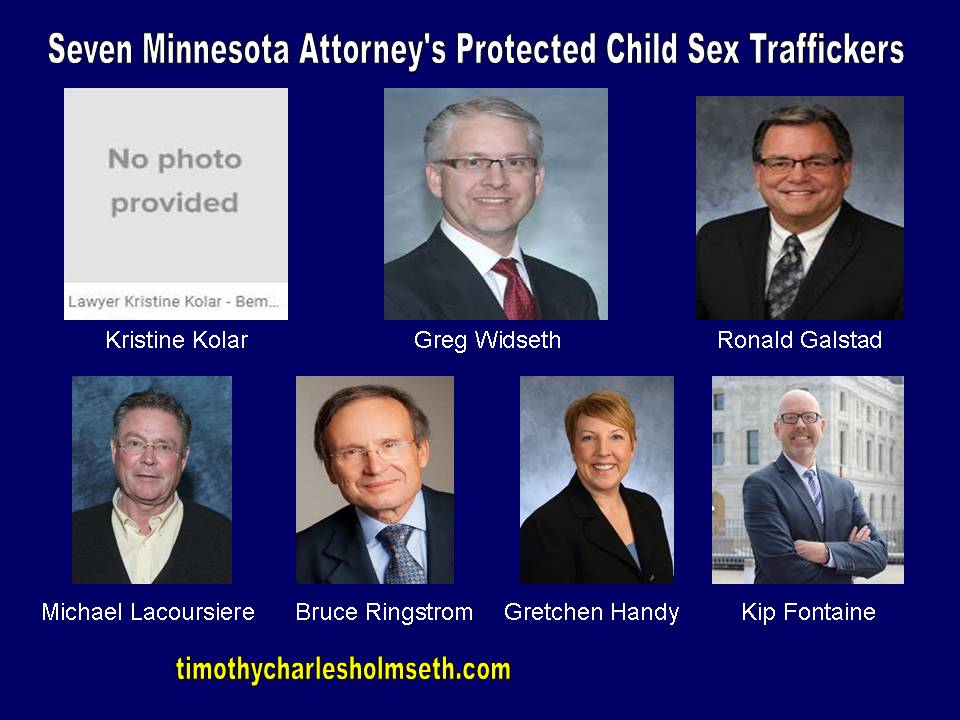 The matter involves international child sex trafficking and baby sales.
Irrefutable proof exists, and shows, how over the course of seven years, seven attorneys in the 9th Minnesota Judicial District worked in tandem to deliberately violate the constitutional rights of an investigative journalist that obtained evidence that child porn of a missing child from Florida had been created and distributed.
The bizarre plot was to prevent Timothy Charles Holmseth, a former award winning news reporter, from reporting what he learned.
Evidence shows a Minnesota (Polk) county attorney, the City Attorney of East Grand Forks, three assistant public defenders, and two supervising attorneys for the Minnesota Public Defenders Office engaged in a child sex trade cover-up.
The conspiracy involved out of state operatives that used a person Holmseth never met in his life, to obtain a domestic violence protection order against Holmseth, a Minnesota resident, from a Broward County, Florida court. The Order required Holmseth stop publishing his evidence and turn over his guns to the State of Florida (a State where he had never been).
The police in East Grand Forks quickly enforced the wholly unconstitutional order and arrested Holmseth three time between 2011 and 2018.
But there's more.
In 2009, police in East Grand Forks, Minnesota were told by child sex traffickers staging out of Florida and Indiana that child porn had been created of a missing child from Florida named HaLeigh Cummings (they knew because they were the ones that created it).
But…
The police didn't go to the FBI or open an official investigation regarding the information. Instead – they carefully protected the identity of the child traffickers that tipped them off. They then tried to take down Holmseth; believing the photos had been mailed to Holmseth.
So…it went like this.
Based on a tip from HaLeigh's traffickers, police in East Grand Forks, Minnesota obtained a Warrant in hopes they would find the child porn on Holmseth's computer. Holmseth was giving the child traffickers fits because he had been reporting about the photos which had been described to him by a legal assistant in Florida.
However – the police did not mention the child porn of HaLeigh Cummings in their Warrant application, as to keep the identity of the child traffickers hidden. Instead – the police concocted a bogus warrant that Holmseth was a drug dealer.
The scheme spun out of control quickly.
East Grand Forks City Attorney Ronald Galstad tried to involve the Minnesota Bureau of Criminal Apprehension (BCA) in the scheme by telling District Judge Tamara Yon he was working with the State Crime Lab to search Holmseth's computer.
Galstad was lying and got caught.
BCA Superintendent Drew Evans said the BCA had absolutely nothing to do with the case and had never even been contacted about it. Evans said Galstad and the police had not been given permission to attach BCA stickers to Holmseth's property.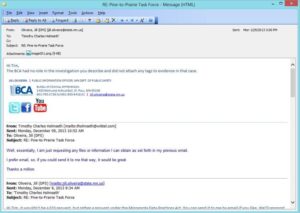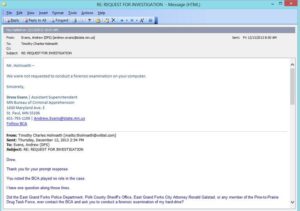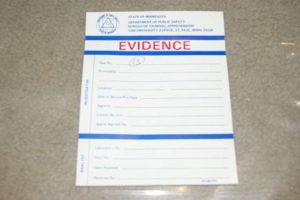 The whole event was a pre-planned elaborate hoax by police and attorneys that went sideways.
The Polk County Sheriff's Office ultimately searched Holmseth's computer and their investigator sheepishly admitted the computer contained "no sign of criminal activity".
Holmseth obtained sensitive audio of operatives in an international child sex trafficking operation who were self identifying as clergy, CIA, and FBI. The operatives involved Florida social workers who were selling babies that were being kidnapped from impoverished mothers and illegal aliens under threat of deportation.
Holmseth caught the operatives on tape discussing their operations.
Holmseth was interviewed by the FBI in 2010 and provided the feds some of his audio recordings. He was deemed a credible witness by the Minneapolis FBI.
In August, 2018 Holmseth was contacted by a slew of media organizations after someone posing as the hacktivist group Anonymous doxxed Holmseth for reporting about pedophile operations – and his association with 'Q Anon'.
On August 19, 2018 the Grand Forks Herald and Bismarck Tribune published 'Q conspiracy a new version of old phenomenon'
In the article, David Murphy, the city manager for East Grand Forks, said Holmseth is "sick".
Holmseth said he's not an activist, and he likely won't attend a Trump rally wearing a Q shirt in the near future. A self-described investigative reporter, Holmseth ran his own website long before learning about Q, yet most his content has been reminiscent of the theory's most central trends—deep states and sex trafficking. Holmseth has accused many local government officials and law enforcement of crimes against children.
East Grand Forks City Administrator Dave Murphy said he is the only city official Holmseth is allowed to talk to.
"Mr. Holmseth, in my opinion, wastes a lot of the city's time and energy in sending in Freedom of Information requests and calls," Murphy said, adding Holmseth uses a lot of the city's records to support "baseless accusations" against city officials and police.
"Quite frankly, I find it disgusting because these are hard-working state officers," Murphy said. "To have someone baselessly accusing them of being child sex traffickers is sick."
Labeling Holmseth as crazy was another plan that didn't work out.
During a court hearing on August 30, 2018 in Polk County, Holmseth advised the Court he plans to file a federal Deprivation of Rights lawsuit against all the attorneys conspiring against him. Attorney Galstad interjected and asked Holmseth be required to submit to a psychological evaluation.  Galstad said he didn't think Holmseth was mentally competent.
On September 24, 2018 Dr. Charles Chmielewski Ph.D., L.P. reported to the Polk County Court, "[Timothy Holmseth] clearly is mentally capable, and sufficiently sane, to proceed legally".
Interestingly – the police provided Dr. Chmielewski with media interviews Holmseth had done with Professor Sarah Westall regarding the Jacob Wetterling case. Holmseth reported the Wetterling case is a cover up because search warrants in the case show the teeth and bones that were found when Danny Heinrich led law enforcement to Jacob's supposed grave, were later determined to not be human.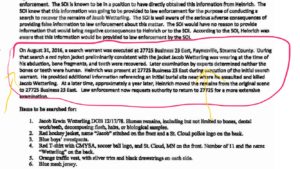 Holmseth plan's to reach out to U.S. Attorney MacDonald.
About Author