FBI MAN WHO SAW THE MYSTERIOUS SMALL VAGINA PHOTO AND LOOKS LIKE 'BRIDGE MAN' IN DELPHI MURDER CASE ANNOUNCES HE CALLED THE SHERIFF AND WANTS TO BE QUESTIONED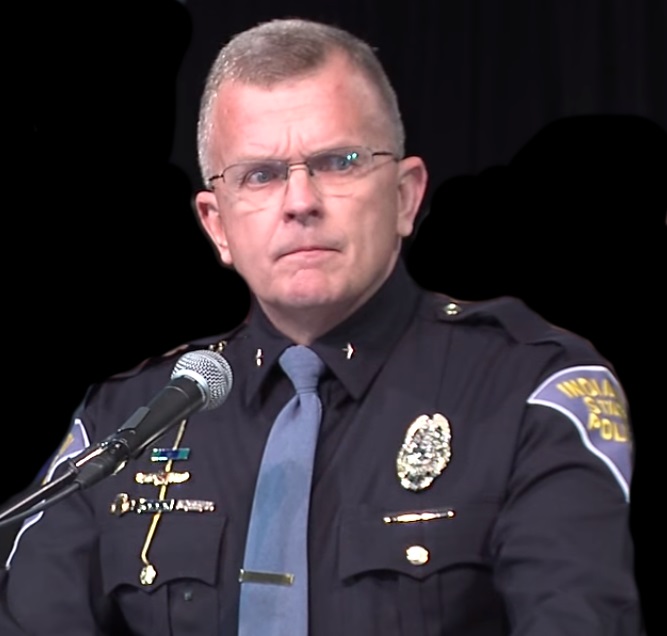 by Pentagon Pedophile Task Force on November 6, 2022 – USA
The Florida man who has been dressing up as an FBI agent and reporting on missing and murdered children's cases, has announced he has made contact with the "Sheriff" investigating the Delphi murders in Indiana.
Murtaugh made the announcement on Bitchute.
William K. Murtaugh, Apopka, Florida, is believed by many to resemble "Bridge Man" from the video footage captured by slain teenager Liberty German shortly before her death.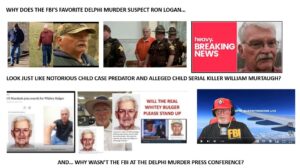 "I have also contacted the Sheriff directly and I have told him the story of exactly what's going on and I have told the Sheriff that if necessary, I can either talk to my local officials here on their behalf or I can go up to Delphi, Indiana and sit down with law enforcement officials. I will not impose my Miranda rights – I will allow them to question me with no restrictions at all. I will provide any documentation they need including the fact that I have not been in Delphi, Indiana ever," Murtaugh said.
Murtaugh added he will "provide them with information exactly who the people are that are making these false accusations".
STRANGE ONGOINGS INVOLVING THE EMBATTLED FBI
Murtaugh often hosts his news program on You Tube wearing FBI logos and badges.
Murtaugh has published videos of himself meeting with the Minneapolis FBI to provide the FBI information and evidence. Murtaugh stated the FBI told him they did not want him to identify the names of the FBI agents he met with.
Many are finding it interesting the FBI did not attend the press conference on October 31, 2022, announcing Richard Allen had been charged with murder.
Murtaugh appears to be a dead ringer for Ronald Logan. It was Logan's property where the bodies of Liberty German and Abigail William were found murdered on February 14, 2017.
News Nation recently aired a panel of guests, including an FBI associate, who all pushed the narrative that Logan was likely the killer. The Search Warrant that resulted in Logan's property being searched was prepared and filed by an FBI agent.
It is considered odd the FBI was not at the press conference.
Independant investigators are considering the possibility that the Delphi murders involved the embattled FBI.
Murtaugh also appears to be a dead ringer for the man in the sketch disseminated by U.S. Marshals of FBI informant and serial killer James (Whitey) Bulger.
PHOTO OF A SMALL NAKED FEMALE
The timeline of events that led up to the arrest of Richard Allen, include a mysterious photo of a small naked unidentified female that was texted to a former Minnesota judge named Randi Lynn Erickson by an admitted kidnapper and sexual torturer from Ohio named Alexandria Goddard.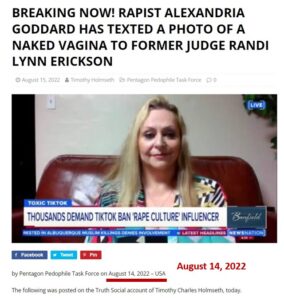 Goddard regularly reported on the Delphi case with her co-host of 'Crime and Scandal' Levi Page.
After the arrest of Allen, Goddard abruptly announced she believed the double murder in Delphi may have been filmed for "snuff". Goddard and Page literally laughed about torturing children in the basement. They actually think the subject is hilarious.
Goddard appeared recently on Ashley Banfield on News Nation and was presented as a good person.
The photo was turned over to the Cleveland FBI, Jacksonville FBI, Donald Trump's legal team, and the Ohio Attorney Generals commission that investigates organized crime. The mysterious photo was shot very close up to the vagina. The small female had no pubic hair and there appeared to be bruising – possibly a corpse.
During an interview on From The Desk Of Murtwitnessonelive, Goddard stated Murtaugh (the host of the show) saw the vagina photo. Murtaugh appeared very flustered when Goddard blurted that fact out.
Murtaugh recently posted online that a woman from Canada called the Abby and Libby tipline to report him as a suspect. However, the caller never said a single word about Murtaugh.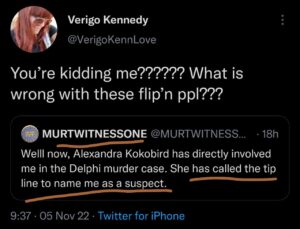 Murtaugh has now removed that, and other videos, from his You Tube channel.
Page deleted almost all of his videos and Twitter posts.
Goddard's Twitter is locked.
About Author