MYSTERY SURROUNDS TWO FBI AGENTS IN NEWLY RELEASED VIDEO INTERVIEW OF "QANON" MOM MURDER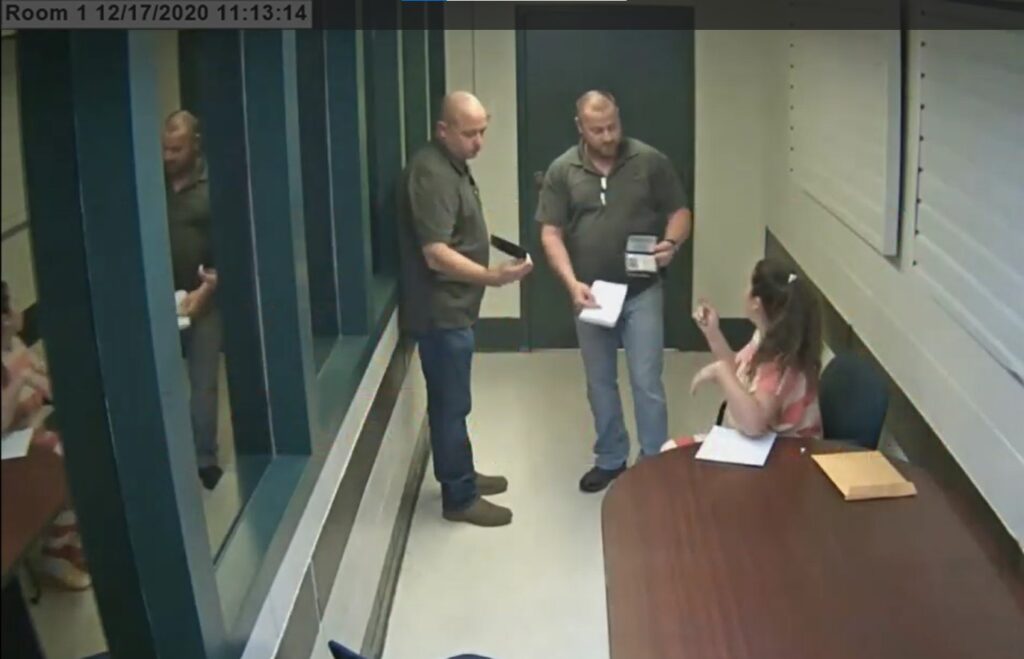 by Pentagon Pedophile Task Force on April 23, 2023 – USA
Newly released video of two FBI agents is creating quite a stir in the first-degree murder case in Florida that was dubbed the "QAnon mom murder".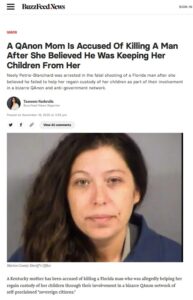 Mystery surrounds the identity of two FBI agents who appear in a video where they are interviewing the accused murderer of Christopher Edward Hallett, Neely Petrie Blanchard.  The mystery may not so much be the identity of the agents, per say – but the attempt to HIDE their identities by the FBI media agent who has been publishing about the case – manipulating documents – and reporting that Blanchard is guilty.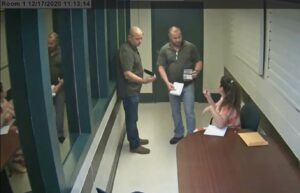 FBI DESPERATELY TRIES TO CONVINCE MURDER SUSPECT NEELY BLANCHARD THAT HER VICTIM CHRISTOPHER HALLETT IS A BAD PERSON (WHICH MAKES NO SENSE)
Significant suspicions began to arise when the two FBI agents were seen desperately trying to convince Neely Blanchard that Christopher Hallett is a bad guy. The reason it is perceived as HIGHLY SUSPICIOUS is because Blanchard was/is charged with murdering Hallett. The police report says Blanchard was seen standing over Hallett with a gun and saying "you're hurting my kids you bastard". The FBI agents' assertions to Blanchard that Hallett is a fraud and never filed anything for her in their court caused Blanchard to appear confused and sad and she actually began to debate them. It seems utterly bizarre that the FBI would be trying to convince Blanchard that Hallett was bad – if Blanchard in fact murdered him because she was angry at him. It literally makes NO SENSE.
The exchange between Blanchard and the FBI can be seen in the video below.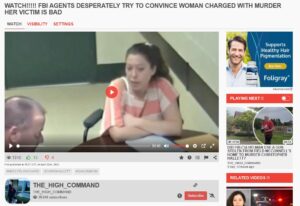 BACKGROUND
On November 15, 2020, Christopher Edward Hallett, the CEO of a corporation called E~Clause LLC was shot dead in his Ocala, Florida home. Neely Petrie Blanchard, an agent of E~Clause, was arrested the next day in Georgia. She was subsequently charged with 1st Degree Murder by the STATE OF FLORIDA in Marion County.
Blanchard was named as the shooter by another E~Clause agent, Shannon Mutter Tanis, as well as her minor daughter, who was also at the scene of the shooting.
The murder of Hallett received a tremendous amount of national attention in 2020 in the days after the murder – but quickly faded from the headlines after the Web was peppered with Blanchard's mugshot.
The Hallett murder case has, however, been consistently covered by one news outlet called TIMOTHY CHARLES HOLMSETH REPORTS, which has reported a disturbingly large amount of evidence that indicates Blanchard may have been framed.
There are now significant developments emerging as Blanchard's trial inches closer.
We are now learning for the first time that on December 17, 2020, Blanchard met with two FBI agents at the correctional facility where she was being held.
FBI INTERVIEW VIDEO PUBLISHED
On April 14, 2023, video of the FBI interviewing Blanchard was published on a You Tube channel called From The Desk of Murtwitnessonelive.
MURTAUGH IS A MEDIA AGENT AND OPERATIVE OF THE FBI
The video was published by William Kevin Murtaugh, Apopka, Florida. Murtaugh is a media agent and field operative for the FBI. Murtaugh reports news on his You Tube channel and often wears his FBI logos, clothes that say "Federal Agent" "CIA" and an "FBI" laminated badge.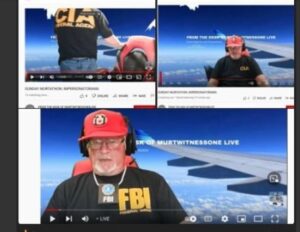 MURTAUGH CLOSLEY RESEMBLES THE FBI SKETCH OF MOBSTER JAMES 'WHITEY' BULGER
Murtaugh's true identity is questioned by many who believe he appears to look exactly like the man depicted in an FBI sketch artists' drawing of James 'Whitey' Bulger that was published by the U.S. Marshals Service.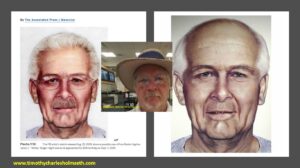 Murtaugh enjoys a very close relationship with the FBI and meets with the FBI. In 2020 Murtaugh traveled to meet with agents at the Minnesota field office, shortly before Hallett's murder. Murtaugh reported he discussed Hallett's corporation and the FBI's "OPERATION CHAOS" with agents for "four hours". Murtaugh has also reported he met with FBI in Florida regarding a photograph sent to his phone of a very small, hairless, vagina. Murtaugh said the case involving the 'small vagina' was closed.
Murtaugh said the FBI agents he meets with have asked him to not reveal their names.
NEWLY RELEASED VIDEO
When the video released by FBI Murtaugh begins, there is a timestamp in the upper left corner of the video. The timestamp said – Room 1 – 12/17/2020 – 11:11:55.
The video begins with Blanchard being brought into a conference room with two men. Blanchard asks for the names and identifications of both agents, who Blanchard appeared to believe were with the U.S. Marshal's.
"I'm Zac," said one agent, holding out his ID for Blanchard to read.
The man called Zac gave an introduction to Blanchard that appeared to divert from standard FBI procedure wherein 'Zac' did not refer to himself as an "Agent" but rather simply told Blanchard his first name.
"Okay, you're a Marshal, let me write this down," Blanchard said, looking at Zac's ID card. Upon hearing Blanchard say "Marshal" the other agent intervened.
"No, my name's [Thiever ???] – [pronunciation difficult to understand] as well. We're with the FBI," the other agent then said.
"Okay, so FBI. Can I write down your names," Blanchard said.
"I don't have a card or anything but yeah you can write down my name, it's [the man possibly said his name was "Dave"]…". At this point, FBI media agent Murtaugh applies a fade out to the video. The identifying information of the agents was removed.
THE TIME STAMP IS GONE
When the video fades back in, the timestamp is gone and does not return. It was removed by FBI Murtaugh.
MURTAUGH'S NAME APPEARS ON A CHAT LOG OF A MAN BRAGGING ABOUT BEING A SERIAL KILLER AND VIOLENT CHILD RAPIST

MURTAUGH MADE THE NEWS IN FLORDA AFTER CLAIMING TO KNOW THE IDENTITY OF MISSING CHILD TRENTON DUCKETT'S ABDUCTOR
This is a developing story.