NAVY SEALS TO "ARREST" TIMOTHY CHARLES HOLMSETH LIVE "ON AIR" IF HOLMSETH GIVES INTERVIEW ABOUT MICHAEL FLYNN AND CHILD TRAFFICKING
by Pentagon Pedophile Task Force on December 29, 2021 at 4:29 P.M.
On December 27, 2021 broadcast journalist Reba LIVE proactively contacted Timothy Charles Holmseth and requested Holmseth be a guest on her program to discuss "fraud, corruption, and child trafficking".
On December 28 Holmseth announced on GAB social he would be appearing with Reba.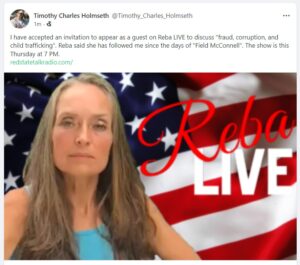 On December 29 a GAB account under the name Deep_State_Dave announced Timothy Holmseth will be "arrested" by Navy SEALS "live" during the interview.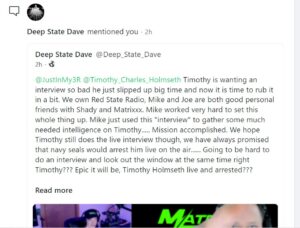 TIMOTHY CHARLES HOLMSETH IS A FEDERAL WITNESS
Holmseth was interviewed by the FBI in 2010 regarding a high-profile kidnapping in Florida he covered as a journalist. The case involved international baby sales through the Ukrainian Embassy in Washington DC and ultimately led to the CIA FINDERS. Holmseth was deemed credible by Special Agent A.J. Eilerman. Holmseth is a law-abiding American; an award-winning news reporter; author, and journalist.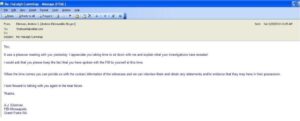 Navy SEALS have no arrest powers on American soil and the threat to locate Holmseth during the interview and seize him is a kidnapping and terrorism threat.
FORT CAMPBELL AND U.S. DEPARTMENT OF HOMELAND SECURITY
The death threats against Timothy Charles Holmseth are credible, and evidence of rogue U.S. Special Forces threatening (and actively attempting to carry out the threats) to kidnap, torture, rape, and murder Holmseth (and his children) (and his Publisher) was already in the custody of the Criminal Investigation Division at Fort Campbell, Kentucky, and the Department of Homeland Security, and other law enforcement, before the most recent threats.
DEEP STATE DAVE
On December 25, 2021 we reported 'MIAMI LAW FIRM REPRESENTING KYLE RITTENHOUSE'S 'HANDLER' DAVID HANCOCK WADES INTO KIDNAPPING, EXTORTION, TORTURE, MURDER, AND ASSASSINATIONS' which revealed the attorney for disgraced Navy SEAL David Hancock inexplicably mentioned a social media account called Deep_State_Dave in a Cease and Desist Notice to investigative journalist Gordon Rose.
ATTORNEY LIN WOOD
The Deep_State_Dave account is targeting Timothy Holmseth and Attorney Lin Wood with threats that include threats to plant Wood's and/or Holmseth's DNA at a crime scene.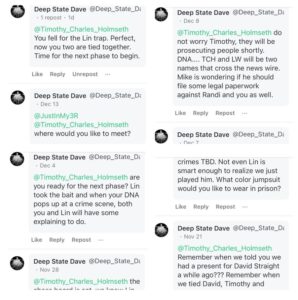 According to Attorney Lin Wood, disgraced former Navy SEAL David Hancock, whom Wood refers to as "Fraudcock" was engaging in conduct that forced Wood to expel disgraced SEAL Hancock from his home and property in South Carolina. Wood said Hancock's shenanigans at his home were followed up by nefarious CIA intelligence operations at his home conducted by General Michael Flynn and Attorney Sidney Powell.
Deep State CIA-FBI operatives are furious with Attorney Wood for publishing a MEMO Holmseth sent to AG Jeff Sessions wherein Holmseth warned President Trump about Mike Pence and an international human harvesting operation. The attacks against Wood intensified after Wood publicly stated that he'd seen evidence that indicated Holmseth was telling the "truth".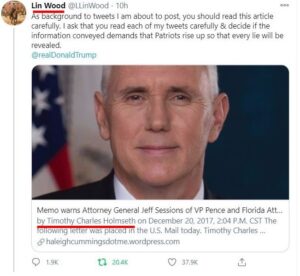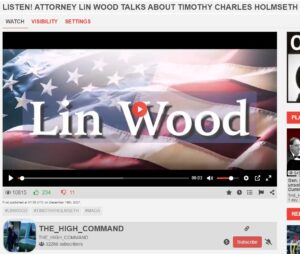 DOMESTIC TERROR THROUGH U.S. POSTAL SERVICE AND WORLD WIDE WEB
The domestic terror group hunting for Timothy Holmseth has published WANTED/REWARD posters on the Web for Timothy Holmseth, and, for the Trustee of www.timothycharlesholmseth.com Randi Erickson. The posters falsely claim many things such as the false claim Holmseth and Erickson are "fugitives" and are "armed and dangerous".
People have been receiving Wanted/Reward information about Timothy Holmseth sent from Arizona through the U.S. Mail.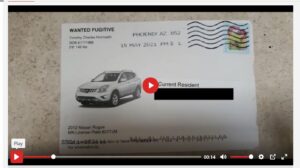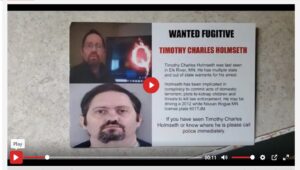 This is a developing story.
About Author