OBAMAGATE – [Military] arrests inevitable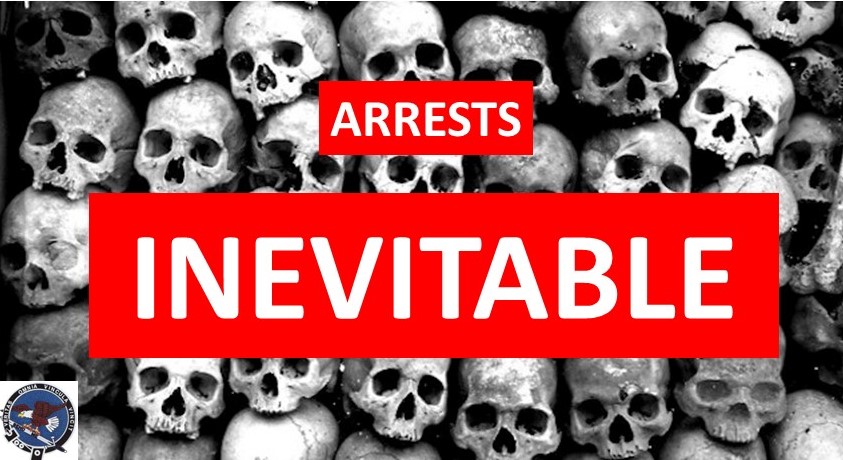 by Timothy Charles Holmseth on May 24, 2020 at 9:16 A.M.
MAKE NO MISTAKE…
It is inevitable that Barack Obama, Hillary Clinton, Joe Biden, Nancy Pelosi, Adam Schiff, and others involved in the coup will be arrested.
If the coup members are not arrested by the Department of Justice – they will be arrested by the U.S. Military.
The bad guys cannot win.
Joint Special Operations Command received "actionable intelligence" from the United States Army Support Intelligence Activity of international trafficking and crimes against humanity.
The U.S. Military acted upon it.
When President Trump tweeted the word "OBAMAGATE" he was simply using a one-word-version for 'they kidnap, torture, rape, and murder, babies and little children'.
The word UKRAINE causes EXTREME panic in all the OBAMAGATE players such as Barack Obama, Joe Biden, Hillary Clinton, James Comey, John Brennan, James Clapper and many, many more.
Here's why.
The word UKRAINE is simply code-speak by President Trump for BABIES and CHILDREN that are KIDNAPPED using privatized (i.e. licensed) CHILD PROTECTIVE SERVICES (CPS) and then TRAFFICKED throughout the world in a HUMAN TRAFFICKING operation that exists both above ground and subterranean.
The earthquakes across the country are not earthquakes. The ground is shaking from explosives being detonated in underground facilities and tunnels where crimes against humanity were occurring.
The U.S. Military continues to receive and act upon incoming intelligence and has rescued thousands upon thousands of victims.
The Pentagon Pedophile Task Force will be soon releasing elaborate details of just one of the many massive child abduction schemes created by attorneys and judges that feed the Beast system the children.
Have no fear.
The COVID-19 false flag will fail.
The weaponized enemy media will fall.
The United State of America will never be turned back over to the Luciferian cabal.
The patriotic military is in control.
MATTHEW 24:6 You will hear of wars and rumors of wars, but see to it that you are not alarmed. These things must happen, but the end is still to come.
7 Nation will rise against nation, and kingdom against kingdom. There will be famines and earthquakes in various places.
8 All these are the beginning of birth pains.…
Believe in me I'm with the High Command 
About Author