OHIO RAPIST ADMITS SHE SENT A VAGINA POHOTO TO A JUDGE [DELPHI MURDER CONNECTION]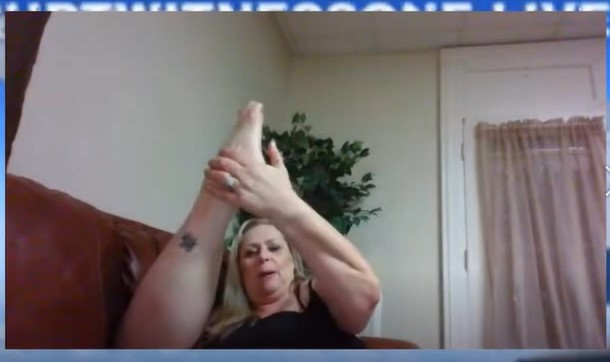 Pentagon Pedophile Task Force on November 14, 2022 – USA
Alexandria Goddard, Ohio, publicly admitted she transmitted an image of a vagina via interstate electronic communications. Goddard admitted she texted the image to former Minnesota Truth and Taxation judge Randi Lynn Erickson.
"Randi is having a fit. I sent her a picture of a vaj because she is so concerned with what I do with mine LMFAO," Goddard said.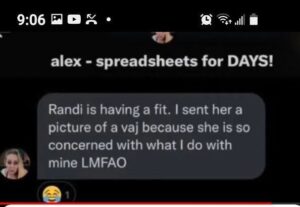 Evidence shows the image of the vagina Goddard transmitted unsolicited to Erickson is connected, on some level, to the Delphi, Indiana double-murder investigation of Abigail Williams and Liberty German.
Evidence shows the vagina image was used in a premediated plot by Goddard and others to 'plant' the suspicious image onto Erickson's telephone. In the same text exchange wherein Goddard texted the image, she told Erickson that soon there would be posters all over of Erickson that say the word "pedophile" and that Erickson was going to be "arrested".
Erickson immediately told Goddard she (Erickson) would be traveling to Ohio to report Goddard to law enforcement and alert everyone to the vagina image. Goddard then quickly had Erickson (and Timothy Charles Holmseth) criminally charged with "stalking" by her local police department (Martins Ferry, Ohio) for an alleged incident of stalking that allegedly occurred on August 12, 2022 (despite Erickson and Holmseth not being in Ohio; Erickson and Holmseth not being together; Erickson and Holmseth not even being in the same State as one another).
Goddard publicly said Erickson stalked her by returning a telephone message that Erickson had received from Goddard. Goddard had called Erickson from a California area code, and Erickson had merely called the number back, which means Ohio officials are LYING about having any jurisdiction over the matter whatsoever.
In order to believe the fabricated fantasy of the 'stalking' charges, one would have to believe Goddard was victimized on August 12, 2022, and then the next day, August 13, 2022, Goddard proactively began texting and inviting Erickson to watch her (Goddard) have sex on Facetime; and then transmitted an image of a vagina to Erickson.
Observe…
August 12, 2022 – STATE OF OHIO charges Randi Lynn Erickson (and Timothy Charles Holmseth) for "stalking" based upon (according to Alexandria Goddard in live interviews [there is no other public record whatsoever of the details of the charges]) a message left by Erickson on an answering machine at a California number for Goddard.
August 13, 2022 – Alexandria Goddard text messages Randi Erickson and invites her to watch her have sex online. Goddard repeatedly asks Erickson if she wants to see her (Goddard's) "pussy". Goddard then tells Erickson she (Goddard) has to Facetime her boyfriend and "get him off". Goddard said, "you want to watch?" Goddard said she would be right back because "he gets off fast". Goddard then said, "he came". Goddard, who is morbidly obese, then texts a photo of a small naked female (no face) that is zoomed in on the small vagina with no pubic hair and strange bruising – possibly a corpse.
The timeline shows why so many people, including cops, are doing strange and crazy things.
Details of the plot indicate the graphic image Goddard texted to Erickson is connected to the arrest of Justin Foley in Ohio for child porn charges, which occurred on September 20, 2022.
Erickson caught on to what was happening (i.e., Erickson was being framed) and telephoned the investigator on the Foley prosecution and told him to compare the image Goddard transmitted to her, to the child porn photos that were seized from Foley.
During the same time window that the STATE OF OHIO brough false charges against Erickson and Holmseth (while trying to hide the fact Goddard transmitted a vagina image of a small naked female), there was an eruption of activity in the Delphi case. Law enforcement abruptly transferred a prisoner and Delphi suspect named Kegan Kline to their area. Kline is charged with child pornography crimes. At that time a search of a river in Indiana began.
In late October 2022 rumors were swirling that an arrest had been made in the Delphi case. Goddard appeared on a You Tube program called Websleuths and offered her opinion that because of the developments with Kegan Kline, the murders of Abigail and Liberty may have been filmed for "snuff". Goddard said snuff film production is very lucrative on the Dark Web.
On October 31, 2022, law enforcement announced Richard Allen had been arrested and charged with two counts of murder.
Holmseth then sent the vagina image (that originated from Goddard) to the Indiana State Police superintendent Douglas Carter and told Carter what Goddard said about "snuff".
Goddard screenshotted Holmseth's press release and said, "Someone is begging for additional charges. Will be sending all of this to my police department and asking for referral to the prosecutor. This is disgusting to do to the families of these murdered girls. #delphi," Goddard said.
Goddard was now publicly declaring that the 'stalking' charges against Holmseth (who is from Minnesota) in Martins Ferry, Ohio, were based upon news and information Holmseth (an award-winning news reporter with the North Dakota Newspaper Association) was reporting and publishing about a vagina photo, and that Holmseth would be charged by local cops in Martins Ferry, Ohio, for sending a tip to the Indiana State Police regarding the Delphi murders.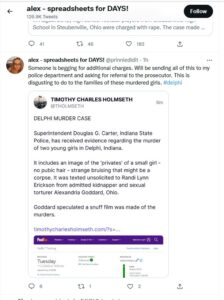 Evidence also exists that suggests law enforcement should investigate William K. Murtaugh, Florida, John Taylor, Virginia, and Levi H. Page, Tennesse, for matters regarding human trafficking.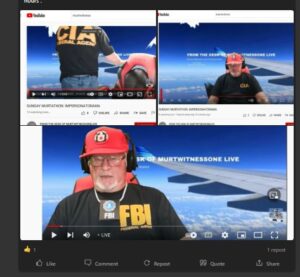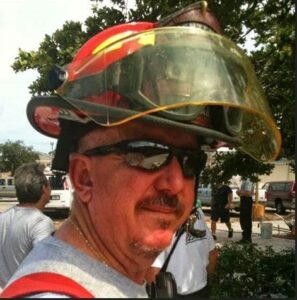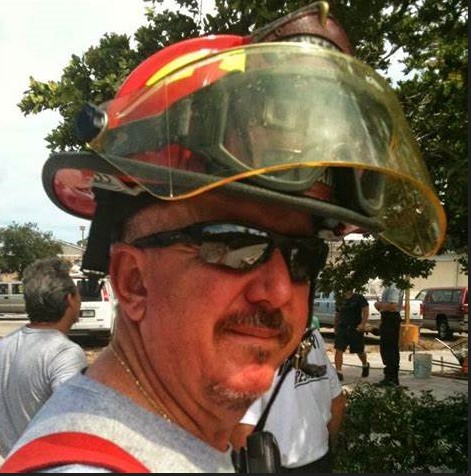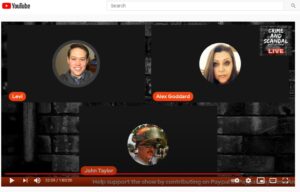 Ohio Governor Mike DeWine, Ohio Attorney General Dave Yost, Cleveland FBI, Cincinnati FBI, Jacksonville, Florida FBI, Indiana State Police, Belmont County Courts, Ohio, Attorney Kevin Flanagan, RICO Attorney Steven Biss, and President Donald J. Trump all have copies of the vagina photo and evidence of criminal extortion connected to agents of attorneys, law enforcement, and rogue FBI agents.
On November 8, 2022, FBI Task Force Officer obtained an arrest warrant for Justin Foley from a federal judge in the Southern District of Ohio.
Goddard openly admits and brags that she entered a conspiracy with cops in Ohio to lure a man into a situation where they kidnapped him, handcuffed him to a bed, and sexually tortured him with "hot sauce" before releasing him "crying" and naked into the Ohio winter.
You can hear Goddard talk about the hot sauce torture incident on this video: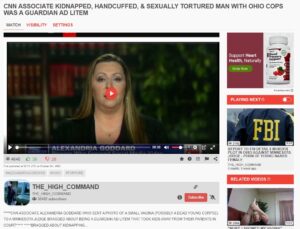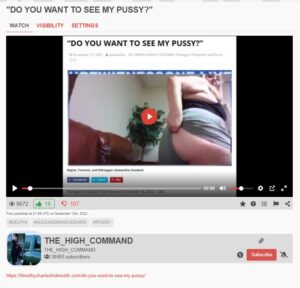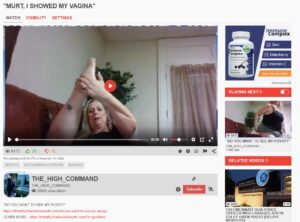 MORE ABOUT ALEXANDRIA GODDARD – – – You searched for goddard – TIMOTHY CHARLES HOLMSETH™ Reports
About Author