PIZZAGATE: MEET TIME MAGAZINE'S COVID-19 WITNESS – PIZZA AND NO PANTS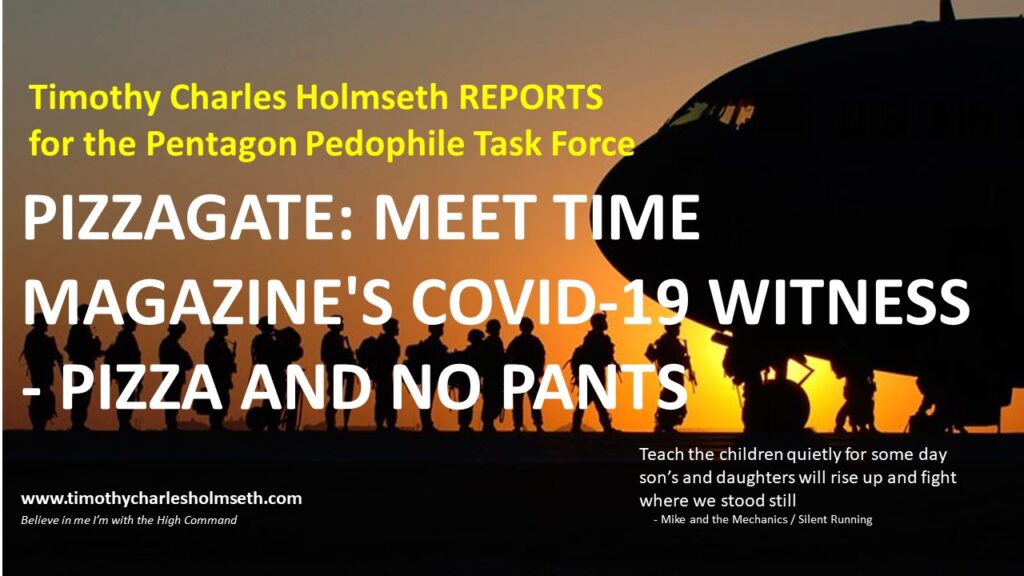 by Timothy Charles Holmseth on April 21, 2020 at 2:29 P.M.
On March 31, 2020 TIME Magazine online published a COVID-19 story headlined 'I Still Can't Believe What I'm Seeing.' What It's Like to Live Across the Street From a Temporary Morgue During the Coronavirus Outbreak
The TIME story featured Alix Monteleone, events planner, Brooklyn, New York.
"I spend my entire day like this," she says, propping her elbows onto the back of her couch and looking out toward the Wyckoff Heights Medical Center, the hospital across the street. "I still can't believe what I'm seeing." – TIME ONLINE INTERVIEW WITH Alix Monteleone 
The story then goes on to describe Body Collection Points.
The deployment of temporary morgues across the city—known to emergency planners as Body Collection Points, or BCPs—marks a new phase of the COVID-19 pandemic for New Yorkers, whose city has rapidly become the global center of the crisis. By late Monday, the state's death toll had surpassed 1,200, with more than 66,000 confirmed infections. More than 900 of the deaths were in New York City. – TIME ONLINE 
America – below you can get to know Alix Monteleone, TIME Magazine's eyewitness to their riveting Body Collection Point story.
Ms. Monteleone wants you to know how much she loves pizza, as you can see by the photos she put on her Instagram.
Believe in me I'm with the High Command