Q – PROJECT AMBITION – The 'fake' photo of kidnapped child HaLeigh Cummings used to defraud the public – FBI evidence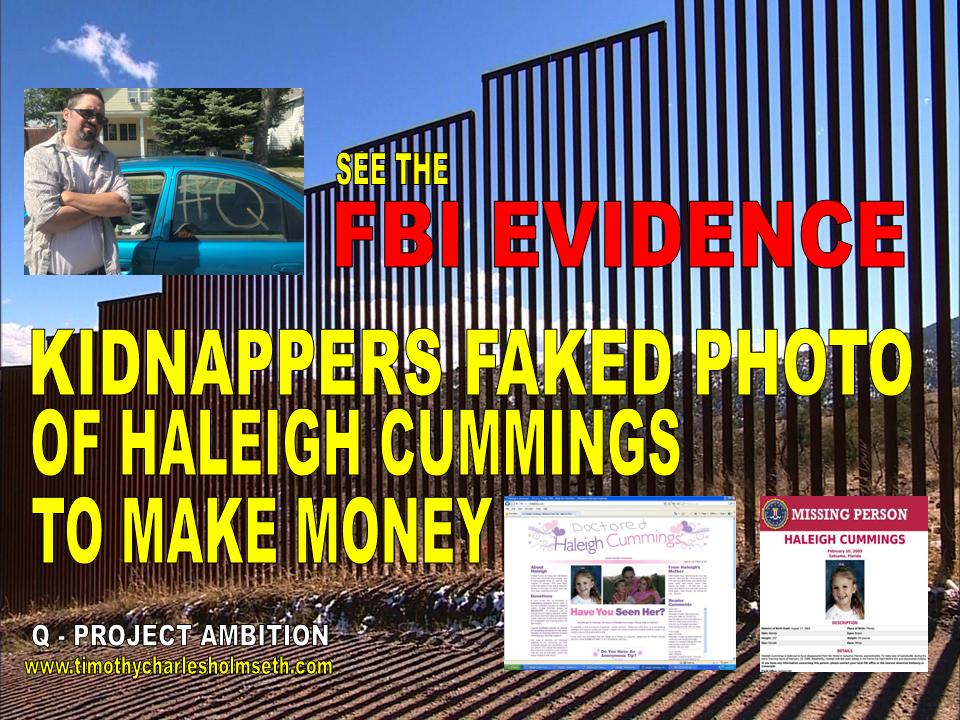 by Timothy Charles Holmseth on February 7, 2019 at 6:42 P.M. CST
In 2009, I began conducting interviews regarding a national profile kidnapping of a five year-old from Florida named HaLeigh Cummings.
I stumbled upon an international crime syndicate of CIA-FBI child sex traffickers connected to Clinton Global. I acquired names, methods, and routes from operatives connected to the Pentagon and former U.S. Presidents. I obtained the most graphic of details of torture and rape (e.g. child raped by paying customers for so long the child died – split open – thrown in the garbage).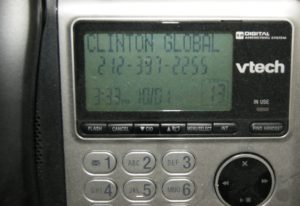 Orders were issued to operatives embedded into the Florida judicial system to obtain a "cyber-stalking" court order against me in Broward County to bring my reporting to a halt. The city government and police department in East Grand Forks, Minnesota were ordered to destroy my computer and use the Florida court order to arrest me if published information about the cartel.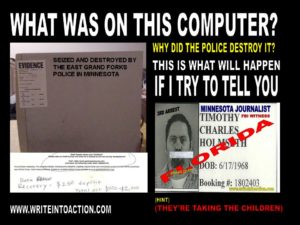 Sources in the intelligence community advised me that my information was being intensely suppressed because the high profile nature of the sources and cases would dramatically affect public opinion on the Trump Wall and the 2020 election.
After learning there was a hit put out on me – Q – PROJECT AMBITION was developed and initiated.
Q – PROJECT AMBITION – The 'fake' photo of kidnapped child HaLeigh Cummings used to defraud the public – FBI evidence
On February 10, 2009, HaLeigh Cummings, 5, mysteriously vanished from her father's trailers home in Satsuma, Florida.
Approximately one month later a shadowy group connected to the high profile child murder case of Casey Anthony in Orlando descended upon Satsuma to begin what they called a 'search' for HaLeigh Cummings.
I soon learned the truth, which involved a fake pastor named John Regan, Hastings, Florida, who told searchers, and others, that he was with the CIA; he also claimed he was an undercover pedophile for the FBI.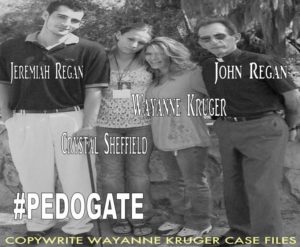 During my journalistic investigation I quickly learned somebody set up a website to ask for donations and 'tips' regarding HaLeigh. I learned from HaLeigh's grandmother, Teresa Neves, that the photo on the website was a fake that was created to make it appear HaLeigh's mother, Crystal Sheffield, posed with her lovingly (because HaLeigh's mother had absolutely NO such pictures with her daughter).
I interviewed Elvin Thomas, a Photoshop expert, who walked me through the image and showed me how and why it was a fake.
I am now releasing some of the information I submitted to the FBI regarding that photo.
In 2010, I was interviewed by the Minneapolis FBI at the Federal Courthouse in Grand Forks, North Dakota.
I didn't learn until 2012 that the East Grand Forks Police Department had begun secretly conspiring to "stop" me with Art Harris, a member of the shadowy group who was with CNN and Nancy Grace. They used personal private emails accounts (instead official police department accounts) after I submitted this evidence (below) to the FBI. The EGFPD also hid a copy their copy of a 22 page report I authored for the FBI that detailed everything I knew about the kidnapping at that time including names, places, incidents, etc.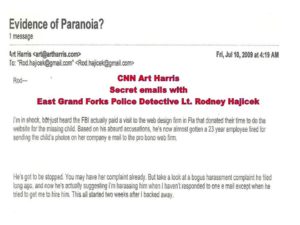 In 2011, I was served with a court order from Broward County, Florida that accused me of stalking. The order would require me to retroactively remove everything I had legally obtained and legally published and never speak of certain things again.
When I made records requests to the City of East Grand Forks Police Department as I tried to prepare a defense for the Broward County action, the emails did not come up because they were PRIVATE. The EGFPD and Polk County Attorney Greg Widseth had purposely hid the records so I could not  defend myself.
As you know – the EGFPD continue to arrest me and Attorney Ronald Galstad continues to prosecute me.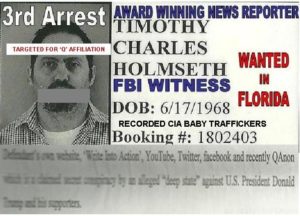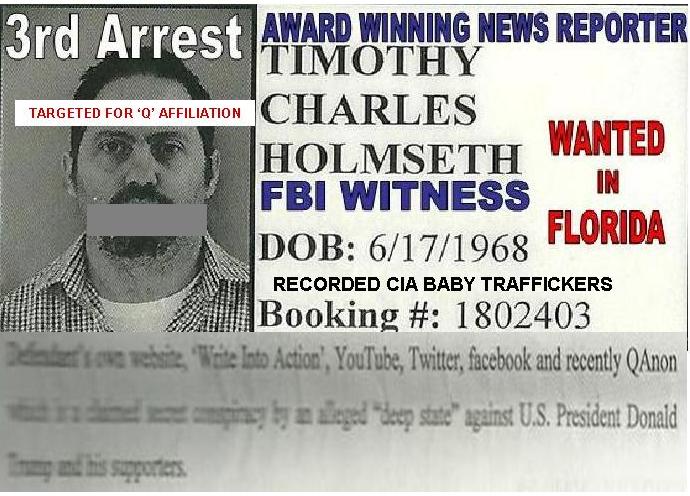 Galstad and EGF police conspired to violate my constitutional rights. They covered up an international child sex trafficking operation.
Below is some of the 2009 FBI evidence.
– – – – –
Timothy Charles Holmseth
320 17th Street N.W.
Apt# 17
East Grand Forks, MN
56721
218.773.1299
507.381.0250
July 6, 2009
Special Agent in Charge
FBI
Federal Building
102 N. Fourth Street, Room 304
Grand Forks, ND 58203-3738
Phone: (701) 772-0812
Fax: (701) 772-6950
In Re: HaLeigh Ann-Marie Cummings/Missing from Satsuma, FL.
Dear Agent:
I am an investigative reporter covering the disappearance of five year-old HaLeigh Cummings. She was reported missing on February 10, 2009, from her home in Satsuma, Florida.
It is a high-profile case so you are likely familiar with it.
Enclosed you will find a CD that contains photographs I obtained while working on a story about Photoshopping done to pictures of the missing child – pictures faked to create the appearance the mother of the missing child, held her lovingly.
The fake photo is used on a website set up to solicit donations called www.haleighbug.com.
My information tells me that the "HaLeigh Bug Foundation" has pulled in un-told thousands of dollars – all because that child remains "gone" – and this photo is helping to accomplish that.
Some people went well out of their way to tug at the heart-strings of possible donors when they created these bogus photos and published them on the internet.
Obviously, it is not natural behavior for grieving family members to develop a business plan to get rich when their child is abducted.
It is significant to me that the mother, Crystal Sheffield, and her mother, Marie Griffis, along with – – – – –  – – – – –  – – – – –  – – – – – , deliberately operated under the legal radar as long as they could, gathering donations from churches and the public in general, until a complaint was filed against them to the state of Florida by Rebecca Thomas, West Palm Beach, Florida, wherein – – – – –  – – – – –  – – – – –  – – – – –  non-profit status.
Marie Griffis told the press and media (FOX NEWS) repeatedly, shortly after the child disappeared, that she believed her grand-daughter is ok but no one is going to see her for awhile.
Meanwhile, the money flooded in.
Some four months passed before the authorities in Putnam County, Florida searched Sheffield's home (unbelievable) for the child.
This evidence clearly supports the possibility that the Sheffield family took this child. Crystal Sheffield was facing jail time and driver's license suspension because of un-paid child support, and was due in court on those matters shortly before the child disappeared from her bed with no fight.
When the child disappeared, all of Crystal Sheffield's problems went away. Her court hearing was cancelled, and later, her $12,000 in child support was paid by an "anonymous" donor – the money routed through her – – – – –  – – – – – , – – – – –  – – – – – .
Life got good – not bad, for this girl who did not even have a photo of herself holding her own daughter.
She then pursued custody of the other child (that wasn't abducted that night.) If she accomplished that task, she would have no more child support obligations and an online scam that purports to search for missing children, to live on.
Whoever faked these photos made a lot of money.
I believe Crystal Sheffield and her family should be interviewed by the FBI and asked who faked these photos that were placed on haleighbug.com.
I have a statement that verifies to me Crystal Sheffield admitted she is not the person in the picture.
If you shut off the money – the little girl might pop up.
Respectfully yours,
Timothy Charles Holmseth
Cc: Klass Kids Foundation
Summary of Photos by Number
This is a screenshot taken from www.haleighbug.com. This website was created to ask the public for money so Crystal Sheffield (missing child's mother) could have spending money. Later, the professed purpose of the donations was to pay for searches. No known searches were ever funded with any of the donations received.
On June 16, 2009, I contacted Ed Butera, ibi Designs, Boca Raton, FL. I asked him about the photo of Crystal Sheffield and her two kids that was scrolling across haleighbug.com. I asked him because his company's name was listed at the bottom of the page. He replied and said he did not doctor anything. He had his web guy send me the original email with attachments that showed the photos he received. That email provided me with the source of the photo and where it came from. The photo was sent to him on March 24, 2009, by Donna Wagoner, Xentel Inc., Fort Lauderdale, Florida. She said she got the photos from – – – – –  – – – – – . – – – – –  – – – – –  _- – – – –  – – – – –  Crystal Sheffield. This photo has been cleaned up, as you will see when you look at photo number three.
On June 23, 2009, this photo was sent to me by Private Investigator William Staubs, Ft. Lauderdale, FL. He received it from a man named Don Knop. Don Knop is – – – – –  – – – – – – – – – –  and did some work – – – – – . It would seem that this, dark and un-cleaned up version, was sent to Xentel for cleaning up. However, that does not have to be a fact. But, when I asked Donna Wagoner about the photo she called the East Grand Forks Police Department and reported me (for what I'm not sure.) During the same time window, – – – – –  – – – – –  also called the East Grand Forks Police on me. On June 29, 2009, I contacted Len Wolstenholme, director of regulatory and public affairs for Xentel DM Incorporated. He advised me his company did not touch up the photo or do any work on the matter whatsoever. He advised me that Donna Wagoner had violated company policy by conducting personal business on the company email account. I have heard (un-confirmed) that she was disciplined.
Please see Microsoft Word file entitled "Analysis By Number" to see a brief look at some of the problems with this photo.
On June 25, 2009, I reported and published my interview with Elvin Thomas, Florida, Photoshop expert, 18 years experience, 15 as an instructor. Thomas said the photo of Crystal Sheffield with the two kids was clearly a fake. On June 30, 2009, Art Harris, journalist, who sometimes appears on CNN, published the photos deemed fake. I had advised him and others not to exploit HaLeigh Cummings, yet he did it anyway without having the photo examined independently. He also personally vouched for the photo's originality and authenticity without having it examined. He also published this photo of Ronald Cummings Jr. and HaLeigh Cummings. If you look at the little boy near his right ear – he does not seem to have one. It looks tampered with.
Photo number five matches the little boy in this photo. Here, Crystal Sheffield appears to have no thumb on her left hand. The place where the little boy's face is tampered with in number five is the exact same spot he is touching his face against his mother.
Screenshot of Art Harris' publication. Notice that Harris made the previously un-released photo of Crystal Sheffield and the boy small and hard to analyze – its quality is reduced and it is hard to examine – it is smaller than the other photo he published even though he says they were shot seconds apart. The quality reduction would then seem deliberate. Harris also provided factoids under the photos that did not match the story he wrote (the pictures are not related to the story content at all.) It appears Harris was acting as a media agent for Marie Griffis, Crystal Sheffield, and/or – – – – –  – – – – – .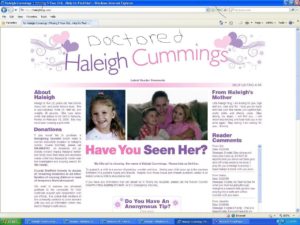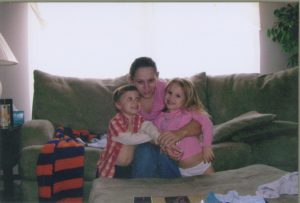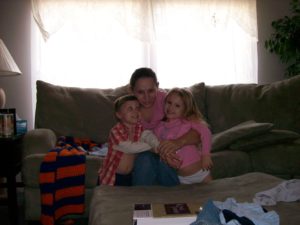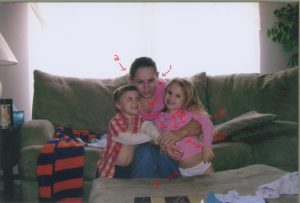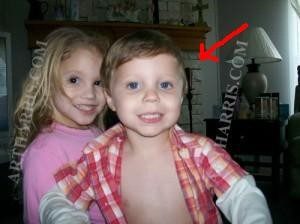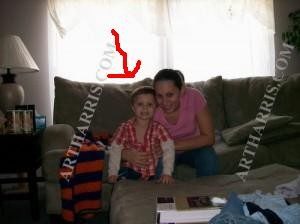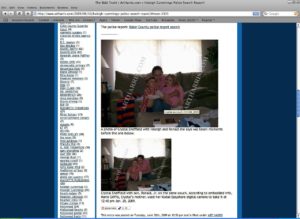 About Author